Since she was a child, Professor Jane Howe (MSE, ChemE) always wanted to teach at a university, but along the way she took what she calls "a little bit of a detour."
Before joining U of T Engineering as an Associate Professor this month, Howe spent nearly 20 years in industry, working on advanced materials and imaging methods, including at the U.S. Department of Energy's Oak Ridge National Laboratory and at Hitachi High-Technologies in Canada and America.
"I never expected to be away from academia for so long, but I actually think it puts me into a good position to be a mentor," she says. "The places I worked represent the institutions where the highly-qualified personnel we train at U of T Engineering are likely to go after they graduate."
At Oak Ridge — the birthplace of the atomic bomb, now a leading institution in renewable energy research— Howe got her start studying the nanostructured carbon for methane gas storage. From there, she moved on to a wide range of renewable energy research, such as studying the materials used to make the cathodes and anodes in lithium-ion batteries. "I worked on everything from alumnia to zirconium," she says.
The performance of such materials depends on their structure, and one of the key tools used to understand this structure is electron microscopy. Howe became an expert in operating and optimizing electron microscopes, so much so that she eventually went to work for Hitachi High-Technologies Canada, a company that designs and manufactures advanced analytical equipment, including electron microscopes.
"Many people don't know it, but some of the most advanced machines for analyzing materials are developed right here in Toronto," she says. Howe worked closely with the Ontario Centre for Characterization of Advanced Materials (OCCAM) to install some of the leading-edge equipment that defines the facility. It wasn't her first time at U of T: in 2004 she spent six months as a visiting scientist in the lab of U of T chemistry professor Geoffrey Ozin.
Howe is very excited to be returning to the university, this time as a U of T Engineering faculty member. "I feel at home here," she says. "The students are so creative, hardworking and curious. They are truly exceptional, and I am very inspired by them."
Her research will continue to focus on the potential of electron microscopy to provide insight into the structure and function of advanced materials. "One of the things we are working on is graphene oxide, which has great potential to be used in LED displays and sensors due to its electronic properties," she says.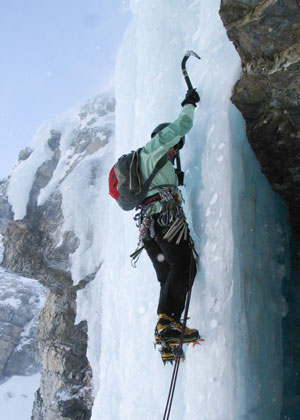 Howe also hopes to develop new microscopy techniques that could allow researchers to capture images that they currently can't get.
"I am working closely with Professor Elizabeth Edwards (ChemE) on imaging the microorganisms responsible for digesting wastewater," says Howe. "Today, if you want to look at them in an electron microscope, you have to fix them with chemicals and study them in a vacuum. We want to look at them in their native state, ideally when they're still active in the wastewater."
When she's not in the lab, Howe is an avid ice-climber, and has taken many trips to northern Canada and Alaska.
"Ice is a material too," she says. "And if you're hanging off the side of a mountain, you'd better make sure you understand its mechanical properties!"