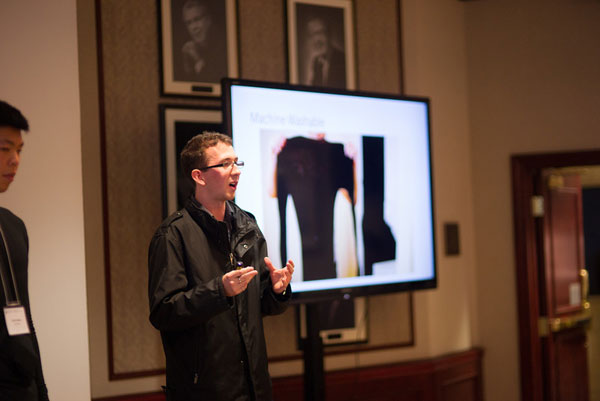 It began with the polar vortex of 2014. That's when University of Toronto engineering alumni Jason Yakimovich (CompE 1T3+PEY) and Alex Huang (ElecE 1T3+PEY), fed up with low temperatures, developed the first intelligent heated base layer.
The "smart" shirt monitors body temperature to provide just the right amount of warmth for its wearer to enjoy outdoor sports—or simply walk from the front door to the subway entrance in comfort.
"That cold winter was the instigator," said Yakimovich. "We had the idea, and things got pretty serious pretty quickly."
The team launched a crowd-sourcing campaign on IndieGoGo, calling their star up FuelWear, and raised more than $84,000. They exceeded their target funding by 400 per cent.
Since then, FuelWear joined a U of T incubator for early-stage ideas called the Entrepreneurship Hatchery. They walked away with the program's highest honour, the Lacavera Prize, which earned the team $20,000 to further develop their company.
FuelWear has attracted media attention from CBC, Financial Post, Huffington Post and elsewhere. And consumers are intensely interested, too.
"As we underestimated the demand for our product, we hit the production cap of our manufacturer in Canada within the first two weeks," co-founder Clement Zhou told the Financial Post.
"Alex and Jason researched the market and refined the product until they had something that really resonated with people—truly smart clothing that adapted its heating to your activity level and temperature, yet remained comfortable and washable," said Vaughn Betz (ECE), an associate professor in the department of electrical and computer engineering.
"The combination of engineering excellence, business acumen and sheer tenacity that they bring to a project has been the secret of their success, and a pleasure to witness."
Now that they're a year into building their startup, members of the FuelWear team say they've learned a lot and are using that knowledge to grow. Below, co-founder Yakimovich shares the latest news with U of T's Brianna Goldberg.
What's new with FuelWear since you won the Lacavera Prize? 
We are working on producing the best possible quality Flame Baselayer. It hasn't been easy; dealing with suppliers requires a very close watch, but we are well underway. We are also investigating potential product improvements and new products such as heated pants or heated leggings. We are looking to join U of T's Creative Destruction Lab accelerator, a Silicon Valley-based accelerator called Y-combinator and we are seeking investors.
What have you learned about running a startup in the past few months?
We've learned a great deal about manufacturing. You can't expect your suppliers to stick to any schedule you lay out, even if they agree to it. You have to allow for extra time to deal with things that go wrong. For example, our manufacturer of the actual shirt sewed approximately 100 heated patches incorrectly – they all had to be redone.
How has U of T helped you along the way?
The U of T Hatchery and its director, Joseph Orozco, as well as Professor Vaughn Betz, have been very useful.
Joseph has put us in contact with lawyers and accountants to help us with our incorporation, patent and payroll. And they have provided lots of useful advice regarding how to run a business.
Clement is still in school and is only taking a small course load so it is easy for him. Alex is working full time. And I am splitting my time between working for Amazon as a software engineer and working on FuelWear
What's next for your company?
Next year is going to be an interesting one for FuelWear. Our aim is to grow by 10 times. As such, we are looking for both investment opportunities and another crowdfunding campaign. We have plans to reduce the size of the battery, relocate the heating zones and streamline production. Additionally, we are planning to build our online shop so that we can directly process sales.