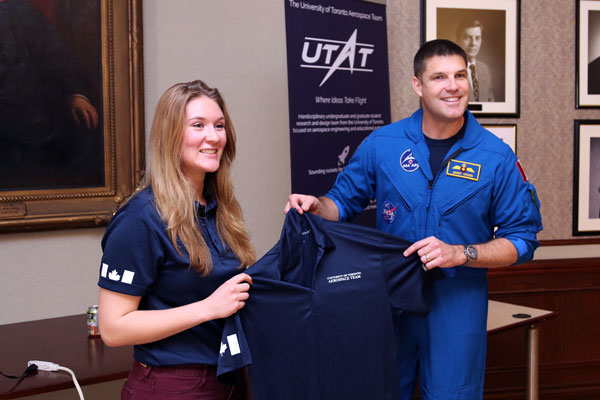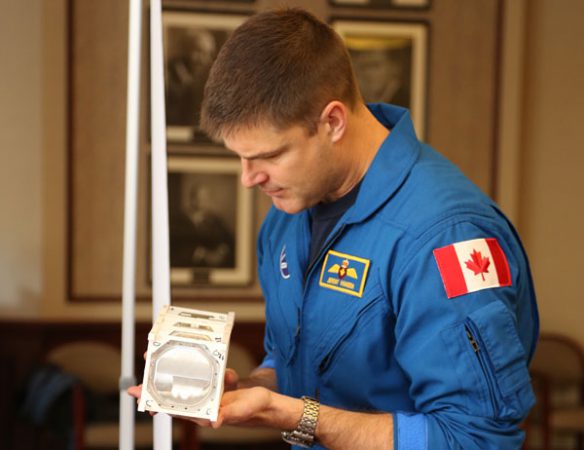 Canadian astronaut Jeremy Hansen visited U of T Engineering Friday, meeting with undergraduate engineering students and students from local elementary and high schools. In a public talk attended by more than 200 people, he spoke passionately about the past, present and future of space exploration, as well as the importance of goal-setting, teamwork and believing in yourself.
"Space encourages us to set big goals," said Hansen. He cited the rise of private space companies, which are steadily reducing the cost of sending both equipment and people into orbit. "If it becomes less expensive, more people will fly to space and more space industries will exist. In the next decade, we are going to see massive change."
Before his talk, Hansen met with members of the University of Toronto Aerospace Team (UTAT) to view some of their latest vehicles, including a drone known as the Whirlybird, their "HERON" astrobiology satellite and "Deliverance" Hybrid Sounding Rocket. All of the vehicles, built on limited budgets, will be competing in national and international competitions in the months to come.
Learn more about UTAT's vehicles and their upcoming competitions.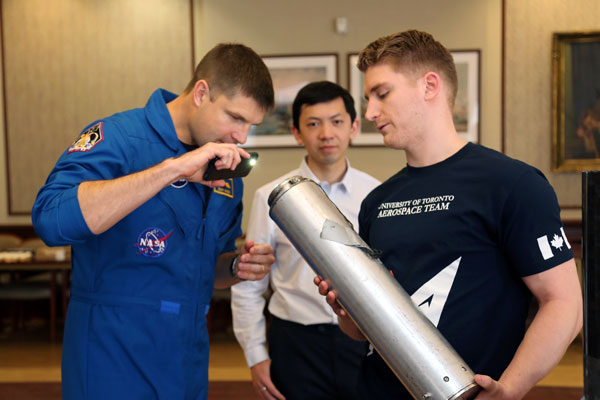 Hansen also met with high-school teacher Suzanne Monir and her students from University of Toronto Schools who have designed a microgravity experiment that will be sent to the International Space Station in June. The experiment consists of a rubber tube containing nematode worms (C. elegans), along with food and oxygen. After spending six weeks in space, the worms will be compared with other worms that remained earthbound. By measuring levels of key proteins, the students hope to learn more about how microgravity causes muscle atrophy and how to prevent it.
Learn more about the "UTS on ISS" experiment.
"This is impressive," said Hansen. "Whenever I see efforts like this, I'm really proud of Canada. As a small country, we need to pack a lot of punch for the resources that we have. That's why the lessons you're learning here are so important."
"An event like this is so important for our members — it gives us a chance to directly interact with the space industry before we even leave our university," said Katie Gwozdecky, (Mech 1T7 + PEY), Space Systems Thermal Lead for UTAT. "We work on these projects because we truly do love them and are committed to innovation in design — but having Jeremy Hansen reaffirm for all of us that we're doing the right stuff was the icing on the cake."
Hansen had lots of encouragement for aspiring space explorers and engineers in the audience. "Keep doing what you're doing," he said. "You're already head and shoulders above the crowd. There will be a strong, vibrant industry in Canada and you are going to be very well positioned."