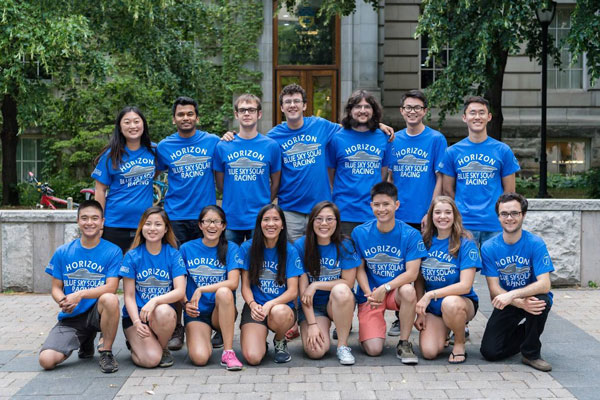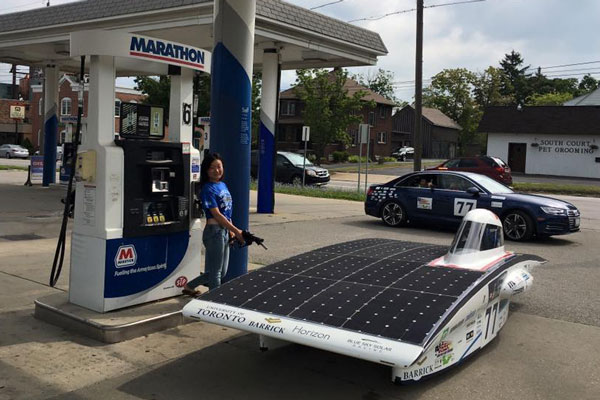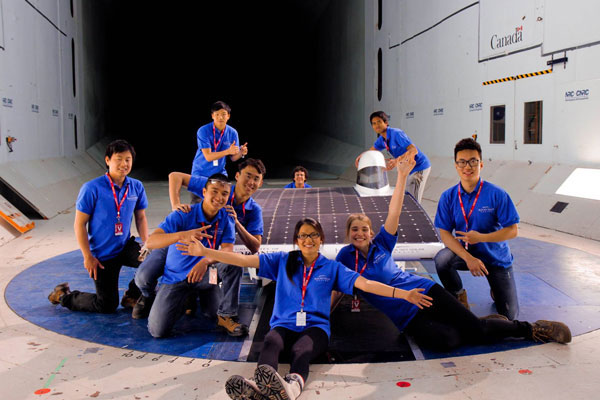 U of T Engineering's Blue Sky Solar Racing team has finished third at the American Solar Challenge 2016, taking the title of top Canadian team.
Horizon — Blue Sky's eighth-generation vehicle — zipped across the finish line Saturday to cheers and shouts from the 18-member race crew. The American Solar Challenge is an eight-day rally-style solar car race. The event is divided into four stages, covering 1,975 miles (3,178 kilometres) through the American Midwest states of Ohio, Indiana, Illinois, Missouri, Kansas, and Nebraska, finishing at Wind Cave National Park near Hot Springs, South Dakota. Horizon made the trip with an official time of 62 hours, 11 minutes and three seconds, powered only by electricity generated from sunlight.
Of the 16 solar car teams from colleges and universities across Canada, the United States and Switzerland that qualified to race, only 11 completed the challenging course.
"We always knew this would be an incredible experience, but to place third is really special," said Frank Gu (Year 3 ECE), managing director of the Blue Sky Solar Racing team. "It's a tribute to the hard work of all the team members who have spent countless hours designing, building and testing this vehicle over the last two years."
Horizon was officially unveiled last summer, and in October competed in the biennial World Solar Challenge in Australia, where it placed 12th in a field of 27 vehicles. Since racing in Australia, the team has made some modifications to meet the safety regulations of the American Solar Challenge.
The vehicle's body is designed for aerodynamic efficiency and in June, the team took it to Ottawa for testing at the National Research Council's wind tunnel. Horizon's upgraded solar array and new batteries offer improved performance and reduced weight compared to previous-generation vehicles.
Blue Sky Solar Racing is composed of students from across all engineering disciplines. Specialist groups, under the guidance of a 'team lead,' focus on particular tasks, such as maximizing the power from the photovoltaic array or optimizing the airflow around the body's surface. The students are also responsible for logistics, sponsorship and outreach, and have showcased Horizon at a wide range of events, including exotic car shows and maker festivals.
"On behalf of the Faculty, my warmest congratulations to the entire team," said Cristina Amon, Dean of the Faculty of Applied Science & Engineering. "We are tremendously proud and inspired to see our students shine on the world stage. The competencies our students have developed through this multidisciplinary project will serve them well as they take their place among the next generation of global engineering leaders."