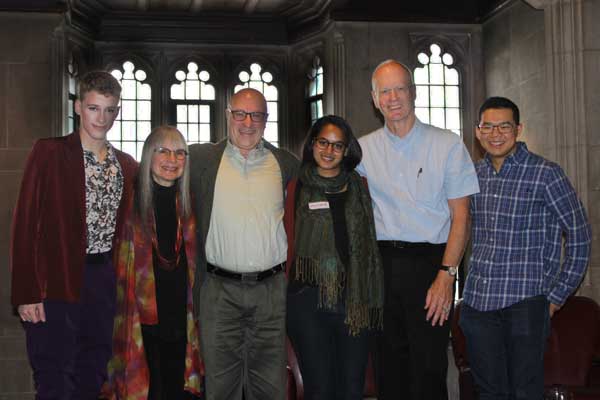 Members of the U of T Engineering community joined students, staff and faculty from across the University this week to celebrate the 20th anniversary of the U of T Positive Space Committee with a panel discussion at Hart House.
Founded in 1996, Positive Space at U of T started with a simple, yet effective idea; using small stickers to mark areas where members of the LGBTQ community could feel free to be themselves.
"It was meant to start a conversation," said Professor David Rayside. Rayside, a professor emeritus of Political Science and founding director of the Bonham Centre for Sexual Diversity, made the first stickers — featuring the now-iconic rainbow triangle — at his kitchen table. "It was deliberately open-ended; we wanted others to copy and run with it."
Today the stickers are everywhere. Professor Peter Eliot Weiss, an Associate Professor with the Engineering Communication Program, recalled spotting one on a university campus in a very rural area of Minnesota. Student James Didier said that seeing the sticker on a window in his high school was the first time he realized LGBTQ issues could be discussed openly.
In celebration of 20 years of positive space on the U of T campus, Weiss moderated a panel discussion featuring:
Rona Abramovitch, the former Status of Women Officer for U of T
James Didier, a third-year undergraduate student in Geography, Biology and Sexual Diversity Studies
David Rayside, Professor Emeritus of Political Science and founding director of the Bonham Centre for Sexual Diversity
Ron Suprun, a third-year undergraduate in Industrial Engineering
Stephanie Sawah, a recent alumna of the Sexual Diversity Studies program
Suprun shared his experiences as the first non-binary person to take on the role of Godiva's Crown. A spirit position within the Engineering Society that has historically been held by female students, Godiva's Crown is fixture during F!rosh Week.
Ron Suprun (Year 3 IndE) as "Godiva's Crown" with Joshua Calafato (Year 3 EngSci) as "Mr. Blue and Gold"
"If it weren't for the incredible allies here at the University of Toronto, particularly within the undergraduate student body of Engineering, I would not have nearly as many opportunities as I have had," said Suprun.
Until the end of last year, Suprun was also an active member of Out on Bay Street, an organization that facilitates the professional development of Lesbian, Gay, Bisexual, Transgender, Queer & Ally (LGBTQA) students as they transition from school to career in order to build a national network within the LGBTQA community.
"I think that one of the most important aspects of being a great ally is a willingness to learn," said Suprun. "No matter how much you think you know about the LGBTQ experience, there are always more voices to hear, and more experiences to open yourself up to. Never stop learning from other people."