More than 180 students, professors, alumni and industry partners gathered to celebrate 40 years of excellence in experiential education at the inaugural Professional Experience Year (PEY) Co-op Recognition Reception.
The event, held Feb. 28, 2019 in the Great Hall of University of Toronto's historic Hart House, honoured those who have been instrumental to the success of the program. Awards were presented in categories including Student of the Year, Employer of the Year and for advancing Equity, Diversity and Inclusion.
PEY Co-op is U of T Engineering's flagship work-integrated learning program. Students who have completed the third year of their undergraduate degree programs have the opportunity to work at leading companies around the world for up to 16 months.
More than an internship, PEY Co-op is a full-time position with a competitive salary to match. Participants are empowered to apply their engineering competencies to industry challenges while making valuable connections and strengthening their professional development. Many return to complete their degrees with job offers waiting for them after graduation.
Today, the number of companies that partner with U of T Engineering on PEY Co-op has risen to more than 100, ranging from dynamic startups to multinational corporations such as IBM and General Motors. In the most recent cohort, more than 850 engineering students chose to participate, representing 70 per cent of those eligible. The average salary was more than $49,000 and the highest was more than $89,000.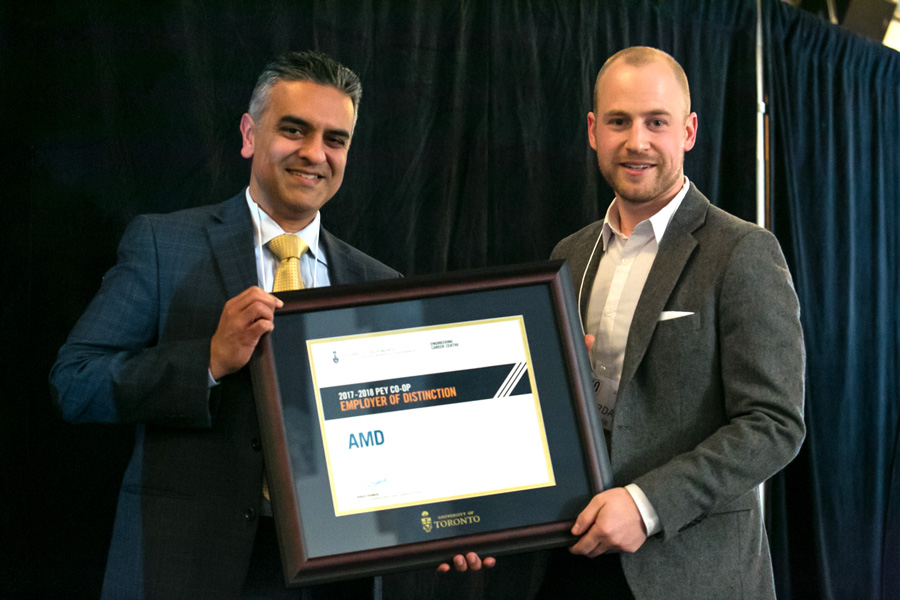 "PEY Co-op is a model for experiential engineering education in the 21st century," said Cristina Amon, Dean of U of T Engineering. "We have achieved many significant milestones over our first 40 years, and we look forward to evolving the program as we continue to prepare the next generation of engineering leaders to excel."
"IBM has had a longstanding tradition of investing in talent and skill development in Canada, and we're very proud of this tradition," said Jeff Heath, senior software development manager at IBM, which was named an Employer of Distinction at the event. "Congratulations to the PEY Co-op Program on 40 years, and we look forward to the next 40 years and beyond."
The complete list of awards and award winners is:
Student of the Year
Ognjen Kelec (Year 4 MinE)
Employer of the Year
Mentors of the Year
Dominic Bergeron, BA Group
Dennis Merino, BiblioCommons
Employers of Distinction
Equity, Diversity & Inclusion Employer Recognition
AMD
IBM
Nulogy
Procter & Gamble
Security Compass
The Toronto Transit Commission
Ultimate Software Group