On May 16, the Centre for Sustainable Energy (CSE) brought synergy to sustainable energy by uniting members of industry and academe to discuss current sustainable energy practices at its first Energy Showcase.
The multidisciplinary Centre – which is hosted in the Department of Mechanical & Industrial Engineering (MIE) – strives to facilitate interactions and collaborations to advance an extremely important issue: the development of cleaner and more efficient energy in Canada.
Russell Blades, Manager of Energy and Greenhouse Gas at Barrick Gold, addressed the reduction of energy use in the mining industry. Jim Sarvinis, Global Director, Thermal Energy and Michael Morgenroth, Associate, Renewable Power, presented the renewable energy work being implemented today by engineers at Hatch Ltd.
The afternoon session included an interactive Q&A panel featuring Jack Gibbons, Chair of the Ontario Clean Air Alliance; Mathew Hoppe, Technical Manager of the Ontario First Nations Technical Services Corporation; and Professor Ibrahim Dincer, Faculty of Engineering and Applied Science, University of Ontario Institute of Technology (UOIT). Professor Dincer, whose research includes hydrogen and fuel cell systems and renewable energies, is also Vice-President of the World Society of Sustainable Energy Technologies (WSSET).
U of T graduate students, from engineering and other faculties across the university, also had the opportunity to present posters on sustainable energy research.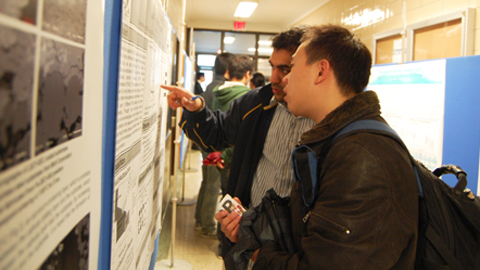 "It was a wonderful opportunity for people with an interest in clean energy to come together to hear perspectives from speakers from industry, academia and first nations organizations, as well as share information and discussions about research activities focused on energy at U of T," she said.
The CSE is open to students, faculty, industry and government members interested in increasing energy efficiency and reducing the environmental impact of energy use and conversion.
According to Professor Kesler, future CSE events will continue to provide a forum for CSE members to discuss their work and the broader societal impacts of their research.