The U of T Blue Sky Solar Team is trying to get to Australia, and they need your help.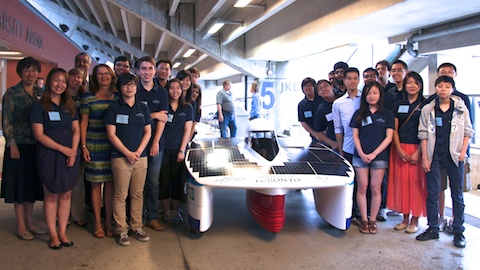 The U of T Engineering-based team, which has built the B-7 solar car, has started a IndieGoGo campaign to raise funds to get the car to Australia for the 2013 World Solar Challenge Race, taking place in October.
Inaugurated in 1987, the World Solar Challenge continues to showcase the development of advanced sustainable transportation technologies. Every two years, teams from leading international universities and technical institutes, together with private entrepreneurs, come together Down Under to test and promote the ultimate synergy of nature, motion and innovation.
The 2013 World Solar Challenge will welcome 47 teams from 26 countries to Australia to take part in what is the world's largest solar electric vehicle event.
For the past 18 months, Blue Sky members have spent countless hours working on B-7. The team of over 30 full time students, spanning a wide range of academic backgrounds, has come together to design, build and test our newest solar car, B-7.
The Indiegogo campaign lasts until midnight, August 26. The team is trying to raise $15,000 and have a number of different perks to acknowledge donations:
$1000 – the Blue Sky car will attend your event
$200 – 3d printed B-7 model
$150 – invitation to attend a solar car workshop
$75 – own a piece of the car
$50 informational DVD
$40 – official race crew t-shirt
Other perks are also available. See Indiegogo for full details.