Leading up to International Women's Day on March 8, U of T Engineering is celebrating some of our remarkable female alumni, faculty and students. These women are inspirational role models who are "making it happen" in engineering and beyond.
---
Since 1873, U of T Engineering's alumni community has grown to more than 50,000 worldwide, including innovators in medicine, sustainable energy, education and urban development.
Here are eight female alumnae who are making an impact on our world, from the outer reaches of the universe to the inner workings of the human brain. They are pushing boundaries and blazing a trail for generations of engineers to come.
Joelle Javier (MSE 1T0)
Engineer-in-Training, Technical Standards and Safety Authority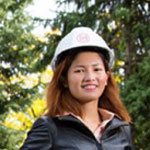 Not many engineers get to add "thrill-seeker" to their resume, but for Joelle Javier, it's essential. As a safety specialist in amusement park rides for Ontario's Technical Standards and Safety Authority (TSSA), she makes sure devices stand up to diehard adrenaline junkies.
"I get to imagine the worst thing a person could do to make the experience more fun," she says. "I try to push the boundaries of the design, and then test it for safety."
Javier reviews design submissions for new rides and inspects existing installations at the Canadian National Exhibition (CNE), Canada's Wonderland and other parks. Relying on her knowledge of materials science—and especially her training in failure analysis at U of T—she pinpoints the potential causes of equipment malfunctions. She also meets with international committees to develop standards for the newest thrills, like zorbing and ziplining.
"The industry is growing and there are gaps in expertise," she says. "In the future, I'd like to combine my skills and knowledge to design new rides."
Catherine Lacavera (ECE 9T7)
Director of Intellectual Property Litigation, Google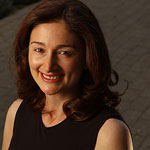 She's been called "Google's secret weapon in the smartphone wars" and named one of Fortune Magazine's 40 Under 40 for 2013. But before she became one of the tech industry's most powerful women, attorney Catherine Lacavera got her start at U of T Engineering. She earned her B. Sc. in Computer Engineering in 1997, followed by an MBA and law degree, also at U of T.
Since she was hired at Google in 2005, she has led her legal team to victory in many multi-million dollar litigation matters in the U.S. and internationally, including Viacom's copyright lawsuit against YouTube and the Apple, Microsoft and Oracle litigation directed at Android. She also advises on licenses and acquisitions, including the $12.5 billion purchase of Motorola Mobility. At any given time, she oversees more than 100 pending patent and intellectual property cases.
Loyal to her roots, Lacavera remains involved at ECE, serving on the faculty's Board of Advisors since 2012.
Maryam Modir Shanechi (EngSci 0T4)
Assistant Professor, Ming Hsieh Department of Electrical Engineering, University of Southern California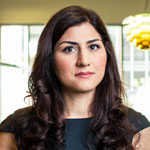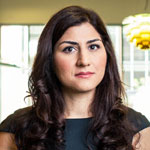 Named one of Technology Review's Top 35 Innovators under 35 for 2014, Maryam Shanechi ranks among the world's most promising young brain researchers. She has been tapped to join the Obama BRAIN initiative, a $300 million brain mapping collaboration that has been compared to the Human Genome Project in scope.
A PhD graduate from MIT, Shanechi's work with brain-machine interfaces combines technology with neuroscience to decipher the brain's electrical signals, potentially allowing researchers to manipulate those signals to treat neuropsychiatric disorders like depression. It could also help paralyzed patients move robotic limbs using only their thoughts, and automate anesthesia using feedback from the brain during surgery.
She credits her undergraduate experience at U of T Engineering with giving her the tools to pursue her passion for neuroscience. "At U of T, I learned how to be an independent thinker and forge my own career path," she says. "I got the best possible education as an undergrad, which prepared me well for graduate school at MIT."
Camila Londono Ferroni (EngSci 0T7 + PEY, IBBME PhD 1T5)
PhD Candidate, Faculty of Applied Science & Engineering, University of Toronto
A pioneering researcher in cell migration, Camila Londono Ferroni is the first author of a foundational study published February 2014 in the Proceedings of the National Academy of Sciences (PNAS).
Londono's team discovered that, much like strangers in a crowd, cells in groups communicate by pushing each other as they move. Interestingly, these pushes come together to create long-range communication, which means the cells do not need to be connected to each other to move as a single unit. Her research could change our understanding of how the body heals wounds, how cancer metastasizes and other biological processes.
"The next step would be to try to understand how to make cells move more efficiently," she says.
Londono says she is excited by the possibilities offered by the field of biomedical engineering. "As the population gets older, there is more need for problems to be solved," she says. "This field has so much new ground left to cover."
Rachelle McCann (ChemE 1T2 + PEY)
Consultant, Compass Renewable Energy Consulting Inc.
Over the next 50 years, renewable energy sources are expected to supply most of the world's electricity requirements. To help Ontario's solar, wind and biomass power developers meet the growing demands of the sustainable energy market, engineering grads like Rachelle McCann are offering their technical expertise and problem-solving acumen.
McCann's firm, Compass Renewable Energy, provides support for companies involved in the province's Feed-in Tariff contracts, which allow renewable energy providers to sell power to the grid at fixed prices. Among her many responsibilities, McCann monitors a portfolio of solar ground mount projects to ensure the materials used meet local content standards.
Her passion for the environment drives her enthusiasm for the job, and she enjoys the wide range of challenging projects. "I never settle into the same way of thinking or solving problems," she says. "This creates an interesting work environment."
Natalie Panek (UTIAS MASc 0T9)
Mission Systems Engineer, MDA Robotics and Automation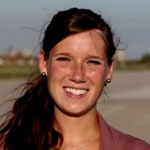 An aspiring astronaut and passionate advocate for women in science, Natalie Panek takes a no-holds-barred approach to everything she does. Whether she's designing spacecraft, trekking in Patagonia or building and racing a solar-powered car across North America, her enthusiasm for adventure is contagious.
With MDA's Robotics and Automation division, which created the original Canadarm, Panek is helping develop the next generation of technologies to support Canadian and international space missions. Her project portfolio includes a robotic tool to repair and refuel broken satellites, reducing the amount of debris in orbit. "If we can use hardware that's already up there, it makes space exploration more sustainable," she says.
Named one of Forbes' 30 Under 30 for 2015, Panek is a popular speaker on female empowerment. She is involved with Cybermentor, an online program through the University of Calgary that allows young women to ask questions and engage with female mentors in STEM fields.
Caroline O'Shaughnessy (MIE 1T0 + PEY)
M.D. Candidate, University of Toronto Faculty of Medicine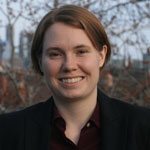 As an undergraduate in Mechanical and Industrial Engineering, Caroline O'Shaughnessy hadn't originally considered a career in medicine. But when her extracurricular activities brought her into the world of first responders, she found her calling.
She started out as a volunteer with the University of Toronto Emergency First Responders, which began in 2006 as a small group of MIE students providing First Aid during Skule™ events (such as the famously full-contact Chariot Race). Eventually, they expanded their patrols to the entire campus, covering events and teaching CPR.
O'Shaughnessy credits her fellow Engineering students for their camaraderie, inclusiveness and work-hard, play-hard ethos. "It's really easy to get involved, because everyone's involved," she says.
"Engineering teaches you how to think and work through problems," she says. "I found that gave me a huge advantage in my clinical placements."
Mary Alexander (CivE 1T3, MEng 1T4)
Structural Designer, Moses Structural Engineers
Working alongside architects, Mary Alexander designs wood and timber constructions, providing engineering assistance on a variety of new projects. Her firm, Moses Structural Engineers, has been involved with some of Canada's most innovative wood builds, such as the Art Gallery of Ontario (AGO) in Toronto and the TD Place Stadium in Ottawa.
Recent changes to Ontario's building code allow wood and timber construction up to six storeys, ushering in a new era of desirable mid-rise buildings. "Wood is a lot faster to go up, it's lighter, and there are significant cost savings," Alexander says. "It's also more eco-friendly—it has a net zero or negative carbon footprint."
All this adds up to more demand for skills like Alexander's. As an undergrad in Civil Engineering, she became interested in building science and chose to further specialize with an M. Eng. in Structural Engineering.
"I love what I do, it's basically my dream job," she says. "As our infrastructure ages, there are huge opportunities for new grads."