Eleven outstanding members of the U of T Engineering community were recognized Nov. 5 at the 2020 Engineering Alumni Network (EAN) Awards.
The evening awards ceremony, held virtually this year, celebrated alumni and students for their accomplishments and their contributions to the Skule™ community.
"The Faculty has just been amazing in its resilience, and tonight's winners really embody that spirit," said Dean Christopher Yip. "You illustrate the role that engineers can play in meeting the world's most daunting challenges."
"When I came to Toronto from Hong Kong in the late 1980s, I didn't know that getting an engineering degree from U of T would set me up for a lifetime of success, but it has," said Allen Lau (ElecE 9T1, ECE MASc 9T2), one of this year's winners of the Engineering Alumni Hall of Distinction Award. "I call on my fellow engineering alumni to think about how the training and skills you've gained at U of T can improve business, society, diversity and equity in the city and country we call home."
This year's recipients were:
Engineering Alumni Medal
First awarded in 1939, the Engineering Alumni Medal is the highest honour awarded by the Engineering Alumni Network. High achievement is the common thread that links past recipients of this medal. In their diverse careers, these individuals have demonstrated superior accomplishments and have responded with flair and excellence to the challenges they have faced. They are outstanding role models for U of T Engineering students.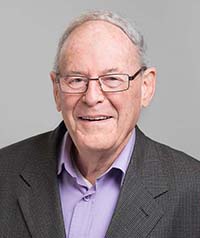 Edward J. Davison (Eng Phys. 6T0, MA 6T1) received the A.R.C.T. degree in piano in 1958, the B.A.Sc. in Engineering -Physics and the M.A. in Applied Mathematics from the University of Toronto in 1960, 1961 respectively, and his Ph.D. degree and Sc.D. degree from Cambridge University in 1964 and 1977, respectively. Ted began his service to the Department of Electrical Engineering in 1964, progressing to become University Professor for ECE, and later Professor Emeritus in 2004. This also included time as an Assistant Professor at University of California, Berkeley, from 1966-1967.
Ted was inducted into the University of Toronto's Engineering Alumni Hall of Distinction in 2003, and was awarded the Electrical and Computer Engineering Club Teaching Award in 2002. His research interests are in the area of Control Systems Theory and Automation, with a particular interest in Large Scale Systems, Decentralized Control, Robustness, Controller Design of Large Flexible Space Structures, and Process Control.
Learn more about Edward J. Davison (video)
Engineering Alumni Hall of Distinction Award
The Hall of Distinction is an assembly of extraordinary alumni, selected for membership by their peers for their exemplary accomplishments. These are graduates whose performances have ultimately defined what is most outstanding in our graduates and in our profession. The careers of the members stand as examples and add a sense of reality to the aspirations of successive generations of U of T Engineering students.
Patricia Burchat (EngSci 8T1) is a Professor in the Physics Department at Stanford University. Her research focuses on studies of the Universe at both the largest and smallest scales. She helps lead a large international team of scientists preparing to analyze data which will provide the most extensive census of the Universe to date. She and her collaborators will use these data to investigate the nature of dark matter and dark energy, and the cosmological evolution of the Universe.
At Stanford, she has served as Chair of the Physics Department and has numerous awards for excellence in teaching. She was elected as Fellow of the American Association for the Advancement of Science and the American Physical Society. Pat has played a leading role in the growth of the APS Conferences for Undergraduate Women in Physics, and has been recognized for her dedication to mentoring students.
Learn more about Patricia Burchat (video)
Howard Ginsberg (EngSci 8T9) is a graduate of the University of Toronto Neurosurgery Program (0T3), with additional fellowship training in neurosurgical and orthopedic spinal surgery techniques. He also holds degrees from U of T in Engineering Science (8T9), an MD (9T3), and a PhD in Biomedical Engineering (0T1). He is an Assistant Professor in U of T's Department of Surgery, and a neurosurgeon and the Spine Program Director at St. Michael's Hospital.
Dr. Ginsberg's research focuses on engineering applications to neurosurgical procedures with the goal of improving safety and outcome for patients. He has supervised several engineering students on research projects, trained surgeons from around the world and helped thousands of patients during his career. Dr. Ginsberg is the co-founder and chief medical officer of Point Surgical Inc., a spin-off company that has developed new technology for immediate and accurate intra-surgical identification  of  cancer  types  through  a  combination  of  laser  vaporization  and  affordable  mass spectrometry.
Learn more about Howard Ginsberg (video)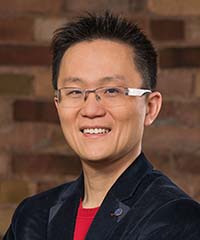 Allen Lau (ElecE 9T1, ECE MASc 9T2) is the CEO and co-founder of Wattpad, the global multiplatform entertainment company, where he leads the company's vision to entertain and connect the world through stories.
A leader in Canada's technology sector and startup ecosystem, Allen is a member of the Canadian Council of Innovators, a lobby group that advances the interests of Canadian technology companies at all levels of government. He is also the co-founder of Two Small Fish Ventures, a fund that invests in Toronto and Waterloo-based early stage internet companies with strong network effects.
Prior to Wattpad, Allen co-founded FeedM8, a mobile advertising company that was later acquired. He also previously co-founded Tira Wireless, where he helped leading brands optimize content for mobile delivery.
Allen received his Bachelor's and Master's degrees from the University of Toronto's Electrical Engineering program.
Learn more about Allen Lau (video)
Shumin Zhai (MIE PhD 9T5) is a Principal Scientist at Google where he leads and directs research, design, and development of input systems, interaction methods, and mobile haptics. His past research career has contributed to theoretical models and understandings of human-computer interaction as well as broadly deployed practical user interface designs and product innovations.
He originated and led the SHARK/ShapeWriter project at IBM Research and a start-up company that pioneered the swipe typing keyboard paradigm. His academic publications have won the ACM UIST Lasting Impact Award and a IEEE Computer Society Best Paper Award, among others. He served as the 4th Editor-in-Chief of ACM Transactions on Computer-Human Interaction. He received his Ph.D. degree at the University of Toronto in 1995. In 2006, he was selected as one of ACM's inaugural class of Distinguished Scientists. In 2010 he was named Member of the CHI Academy and a Fellow of the ACM.
Learn more about Shumin Zhai (video)
2T5 Mid-Career Achievement Award
The Class of 2T5 was the first class in Canada to receive iron rings at The Ritual of the Calling of an Engineer. Since 1975, the Class of 2T5 annually presents the 2T5 Mid-career Achievement Award. This award recognizes a graduate (11 to 25 years from undergraduate graduation) who has earned respect within the profession as well as the broader Canadian community.
Michael Helander (EngSci 0T7, MSE PhD 1T2, ChemE PDF 1T4) is President and CEO of OTI Lumionics Inc., an advanced materials company he cofounded during his PhD at the University of Toronto in 2011. The company commercializes disruptive materials and process technology for OLED displays and lighting, from headquarters in Toronto and offices in Asia. The company's technology, based on more than a decade of intensive research and development and backed by a robust intellectual property portfolio, offers substantial savings and performance and lifetime improvements.
Helander received a BSc in Engineering Science and a PhD in Materials Science & Engineering from the University of Toronto. He was a visiting scientist at the Xerox Research Centre of Canada and was a Governor General Gold Medal winner, Vanier Canada Graduate Scholar, and Chorafas Prize winner. He is also an alumni of the Creative Destruction Lab, the Next Founders, and the Canadian Technology Accelerator.
Learn more about Michael Helander (video)
Angela Tran (EngSci 0T5, ChemE MASc 0T7, ChemE PhD 1T2) is a native Torontonian who calls San Francisco home, where she is a General Partner at Version One. Investing in the US and Canada, she has a unique perspective on both ecosystems. Angela's desire to help others and work with people who are bringing about positive transformational change led her to the world of VC, where she quickly made a big impact.
Angela focuses on health/bio, AI/ML, social platforms and other startups leveraging network effects. She is a firm believer that good investing is both value- and data-driven. Prior to Version One, Angela co-launched Insight Data Science, a YC-backed startup designed to help PhDs transition from academic research to careers in industry via a six-week training program.
Angela is a trustee on the board of the Computer History Museum where she chairs the NextGen advisory committee. She is a board member for the C100 and is involved with the Creative Destruction Lab in Vancouver.
Learn more about Angela Tran (video)
7T6 Early Career Award
The Class of 7T6 annually presents the 7T6 Early Career Award to engineering graduates who have attained significant achievement early in their career and shows promise of further contributions. The award is presented to an individual who is distinguished early in their profession, community, university and other related fields.
Bin Liu (CivE 1T4) graduated from the civil engineering program at U of T in 2014, he is the Co-Founder and CEO of iMerciv. iMerciv's mission is to cater to the orientation and mobility of people living with vison loss. The first product, the Buzzclip is a wearable sensor that help users safely navigate around any objects that they may encounter. It is currently in market and empowering the lives of people with vision loss in over 25 countries.
iMerciv is currently launching Mapinhood with the support of the Microsoft AI for accessibility grant, Mapinhood is a crowdsourced pedestrian navigation app that provides personalized and barrier free navigations for all pedestrians.
Learn more about Bin Liu (video)
Malcolm F. McGrath Alumni Achievement Award
Named in honour of Malcolm McGrath on his retirement as assistant dean — alumni liaison, this award recognizes contributions of personal service to the Faculty, the University or to the community. McGrath was the first assistant dean responsible for alumni affairs and development in the Faculty. Among his many accomplishments are the growth of the Annual Fund, the Engineering Open House, the introduction of the Skule™ Stage Band, and the establishment of the Graditude Campaign.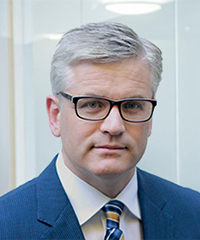 Eric Matusiak (MechE 9T1) is an experienced consultant with a passion for retail and the broader consumer business sector. He has over 20 years of consulting to leading retailers in North America across multiple formats including department stores, specialty apparel, footwear and mass merchandise.  He has worked across all departments and functions from store to back office, enabling him to address client challenges and opportunities from multiple perspectives.
As the National Retail Industry Leader at BDO, Eric leads a group of retail and IT professionals who implement ERP, POS, BI and other retail technologies that enrich consumers' experiences and improve retailers' business results. Eric also advises retailers on technology strategy and helps organizations manage the process and organizational components of their business to ensure that technologies align to business strategy.
Based in Toronto, Eric is a member of the Retail Council of Canada, an alumni board and committee member at the University of Toronto and alumni mentor at the Richard Ivey School of Business.
Learn more about Eric Matusiak (video)
L.E. (Ted) Jones Award of Distinction
This award was established to acknowledge the contributions of Professor Emeritus L.E. (Ted) Jones and is in recognition of the contributions over his long and distinguished career to students, alumni and the Faculty. It also pays tribute to his continuing support and dedication to the Engineering Society and the Engineering Alumni Network (EAN) of the University of Toronto. The award endorses Jones' great appreciation of the arts and his love of music.
Kate Sohn (EngSci 1T9 + PEY) was exceptionally dedicated to music and dance during her time at U of T, often fulfilling not only artistic roles but also positions of leadership and mentorship in the community. While regularly performing as a violinist in various orchestras and chamber ensembles, she also directed Skule Orchestra as Managing Director and Concertmaster. She often volunteered as an independent musician, most notably for events hosted by the Division of Engineering Science.
As a freelance composer, her composition has been featured in an animated short which was accepted to the Reel Asian International Film Festival 2019. She began her dance training in university and performed with community and competition teams whose styles ranged from hip-hop, jazz funk, heels, street and K-Pop cover. Kate hopes to continue to nurture her passion for both music and dance alongside a career in medical devices.
Learn more about Kate Sohn (video)
Honourary Member of the EAN
Acknowledges the exceptional contributions of an individual who is not a member of the EAN but has contributed in a very significant way to bettering the Faculty, the EAN and/or the lives of current or future members of the EAN.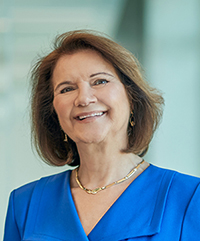 Cristina Amon is Alumni Distinguished Professor in Bioengineering and Dean Emerita at the University of Toronto's Faculty of Applied Science & Engineering. Under her leadership, Canada's #1 ranked engineering school has become a global hub for inter-disciplinary research and education known for its strategic Faculty-wide initiatives, cross-Faculty centres and institutes, and innovative undergraduate and graduate programming. Her commitment to outreach and diversity has set a new standard for Engineering schools worldwide: the number of women faculty members at U of T Engineering has doubled in the last decade and the Faculty celebrated an historic 40% women first-year undergraduate enrolment for its second consecutive year in 2017.
Prior to her deanship at U of T, Amon was the Raymond J. Lane Distinguished Professor of Mechanical Engineering and Director of the Institute for Complex Engineered Systems at Carnegie Mellon (until 2006). She received her master's and doctorate degrees from MIT in 1988. Her research pioneered multidisciplinary thermal designs and made ground-breaking innovations to transient thermal management, optimization algorithms for renewable energy, nanoscale transport in semiconductors and biological systems. Her scholarly contributions are published in 16 book chapters and over 350 articles in education and research literature.
She has been inducted into the Canadian Academy of Engineering, Hispanic Engineer Hall of Fame, National Academy of Engineering, Royal Academy of Spain and Royal Society of Canada, and elected fellow of all major professional societies in her fields. Additional accolades include the ASEE Westinghouse Medal, ASME Heat Transfer Memorial Award and SWE Achievement Award, the highest honour.
Professor Amon received the Engineers Canada Award for the Support of Women in 2010, was named one of the YWCA's Women of Distinction in 2011 and one of Canada's 25 Most Influential Women in 2012, and received the Ontario Professional Engineers Gold Medal in 2015 – the most prestigious honour for engineering public service, technical excellence and professional leadership.