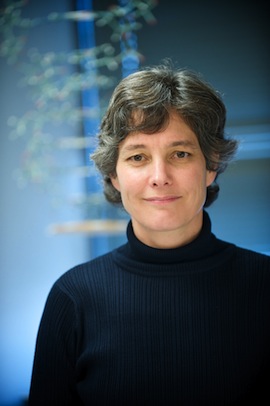 Professor Elizabeth Edwards (ChemE) has been named Director of the BioZone , it was announced on Friday.
"I am grateful for the extraordinary contributions Professor Elizabeth Edwards has already made to BioZone," said Dean Cristina Amon, Faculty of Applied Science & Engineering. "As BioZone's founding Director, she brings a distinguished research background, strong leadership, compelling vision and a true spirit of collaboration to this exciting research centre."
Professor Edwards' honours include a 2009 Synergy Award for Innovation in the category of partnership with a large company. The award from the Natural Sciences and Engineering Research Council of Canada (NSERC) honoured outstanding achievements of university-industry collaboration. Professor Edwards' partnership with Geosyntec Consultants focused on the development of effective techniques for using bacteria to clean up contaminated groundwater sites; she and Geosyntec Consultants were also key partners in the creation of BioZone.
BioZone is a Faculty-wide, multidisciplinary centre for collaborative bioengineering research located in the Wallberg Memorial Building. BioZone began in 2007 as a common research space and was approved as an EDU:C (an educational unit for teaching and/or research) in December 2010 by Faculty Council. Further expansion of BioZone in the Wallberg Memorial Building will be completed by 2012.
BioZone's research space opened in 2008, and on September 22, 2010 an open house was hosted for the university. Professor Edwards was also a key presenter in the "Hot Topics in Engineering Research" session during U of T Engineering's Faculty Day on February 25, 2011.
The goal of BioZone is to advance and capitalize on recent developments in biology, particularly in genome science and genome analysis tools. As a centre for information on applied and environmental microbiology, BioZone will focus on urgent societal needs such as energy, environment and health. In addition, its EDU:C status allows BioZone to coordinate a set of graduate courses in bioscience, bioengineering and related disciplines. Its mandate is to "engineer a sustainable future."
BioZone is comprised of nine research groups led by ChemE Professors Grant Allen, Levente L. Diosady, R. Mahadevan, Emma Master, Alison McGuigan, Alexei Savchenko, Bradley Saville and Alexander Yakunin, along with Professor Edwards. The university-wide BioZone community comprises more than 130 people, including undergraduate and graduate students, research associates as well as administrative and technical staff. They conduct research situated at the interface of biology and engineering, with most groups focusing on understanding enzymes.
The group also works with researchers from other areas at U of T, including medicine, cellular and biomolecular research and biomaterials and biomedical engineering, as well as industry partners such as Tembec (forest products) and Geosyntec Consultants.
As of last fall BioZone had raised $42.6 million, including $6.5 million from U of T for the construction of a new wing on the roof of the Wallberg Memorial Building.