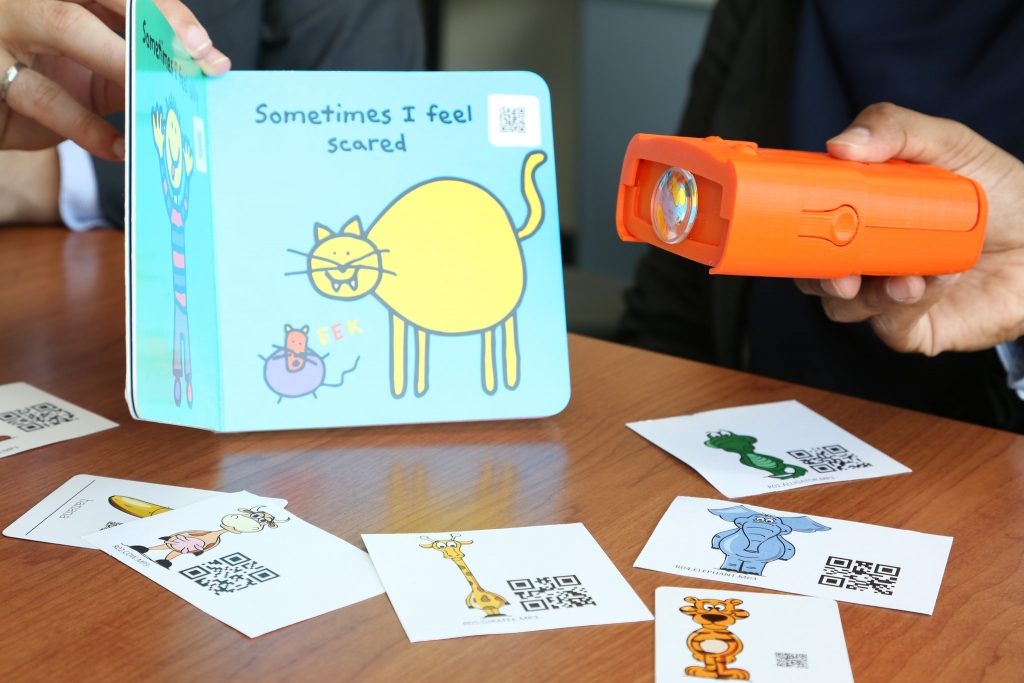 A handheld device and "talking stickers" are a University of Toronto startup's strategy to improve the vocabulary and communication skills of children in impoverished communities.
"We wanted to create something that was play-based," said Aisha Bukhari (ElecE 0T8), a graduate of both U of T Engineering and the Rotman School of Management MBA program, who is also the co-founder of Attollo Social Enterprise, the team behind the innovative solution. "We wanted it to be affordable, scalable and loved by children."
Worldwide, more than 100 million impoverished children under the age of six lack the opportunity to develop their cognitive skills fully, mainly due to a lack of adults talking, singing and reading to them. Attollo's innovation is designed to address this deficit.
Attollo stickers feature illustrations of familiar objects and come with pre-programmed quick response (QR) codes that are activated by a simple, low-cost reader with playback and recording functions. Parents and caregivers can customize the stickers to talk, sing and read in any language. They are designed to be placed on any household item, transforming it into an educational toy.
Bukhari and the Attollo team, which is composed of Rotman MBA and Engineering alumnus Peter Cinat (CompE 0T2), as well as recent Rotman MBA graduates Jamie Austin and Lak Chinta, have been attracting international attention since last December, when they finished first in the U of T Hult Prize competition.
They then won the Hult regional rounds in Dubai in March, and are now preparing for the global final at the Clinton Global Initiative Annual Meeting in New York in September. There, they will compete against five other teams from universities in Europe, Asia and America.
The Hult Prize, which bills itself as the world's largest student competition, awards $1 million USD in seed capital each year to the winning team. Designed to foster social entrepreneurship, the prize was named as one of the top five ideas changing the world by Bill Clinton and Time magazine.
This summer, the Attollo founders will travel to Hyderabad, India, and Mombasa, Kenya, to pilot their project. They will also spend time at an incubator at the Hult International Business School in Boston, where they will receive mentoring and strategic planning advice.
The team is working on two prototypes. Bukhari said one model is a minimum viable product (MVP) — a basic version of the device — that the team will use to pilot the concept in Hyderabad and Mombasa.
"We're working with Autodesk Research Toronto on the MVP, with a focus on product design and form factor," she said.
Attollo is also collaborating with electrical engineering professor David Johns (ECE). His company, Icewire Makerspace, is helping the group with electronics to develop a low-cost solution that is scalable.
"We were impressed by Attollo's energy and desire to make an impact on early education worldwide," Johns said. "Although they had an excellent business plan and worthwhile goals, they needed technical help. We want to give the Attollo team support so that they can make the best pitch they possibly can in September."
The team has been receiving additional mentorship from Monica McGlynn-Stewart, a professor at the School of Early Childhood at George Brown College. McGlynn-Stewart has provided feedback on content and oversaw a local pilot in Toronto where children were exposed to talking stickers for the first time.
Product development was also undertaken by Matt Ratto at the Semaphore Lab at U of T — a research cluster on mobile and pervasive computing that focuses on accessibility and emerging digital technologies.
Bukhari said piloting the concept and fundraising are Attollo's main priorities leading up to the Hult Prize final.
"We will iterate the solution and business model based on the field results," she said.
Homepage banner photos courtesy of United Nations and Roberta Baker.