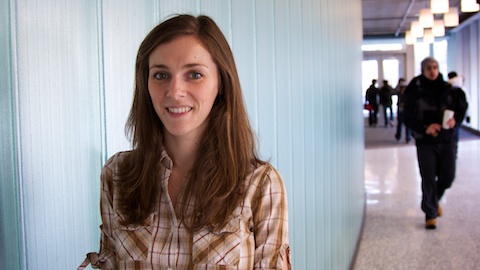 Beverly Bradley, a PhD candidate working in the Centre for Global Engineering(CGEN), is the recipient of the 2013 Claudette MacKay-Lassonde Scholarship.
The $15,000 scholarship is provided through the Canadian Engineering Memorial Foundation (CEMF), and is awarded to a top female doctoral student each year. Bradley was not only chosen for her passion for biomedical engineering and its applications to poverty and global development, but also her mentoring and volunteer work.
Bradley runs a global development-themed enrichment program to provide interdisciplinary learning opportunities for high school students. She has spoken at U of T events held by Women Empowered in Engineering, and Leaders of Tomorrow. She has also served as a volunteer and vice president of content development for the Social Change and Youth Leadership Conference held at the University of Toronto.
"My participation as a mentor shows students, particularly young women, that engineers have an important role to play in finding solutions to big, global challenges," said Bradley.
As a researcher, she has lived and worked for 14 months in Gambia, where her work focuses on the scarcity of medical oxygen in developing countries. She plans to propose new technological solutions, allowing for more efficient and reliable treatment of childhood pneumonia, as well as other serious illnesses.
She has presented her research at four conferences to date, with the majority being at an international level, and to audiences extending beyond the engineering profession. "I feel it is important to showcase what engineers are doing in the global health arena and beyond," she said.
Since 1990, CEMF has been promoting engineering as a career choice for young Canadian women through its extensive scholarship program. Bradley is among a number of U of T Engineering students recognized by the foundation. Last year, Industrial Engineering students Hanna Janossy (1T3) and Lea Janossy (1T4) won the Vale Undergraduate Scholarship and the CEMF Undergraduate Scholarship – Ontario Region, respectively. In 2011, the latter scholarship was won by EngSci student Vivian Hui (1T2 + PEY). And, in 2010, that scholarship was awarded to EngSci graduate Evelyn Mukwedeya (1T0 + PEY).
"Bev is an exceptional researcher, dedicated to addressing the developing world's most pressing issues. Her leadership serves as inspiration, not only to aspiring women engineers, but to those working in the engineering profession as well," said Dean Cristina Amon.  "On behalf of the Faculty, heartfelt congratulations to Bev on receiving this richly deserved scholarship."