When U of T Engineering first opened the Entrepreneurship Hatchery two years ago, executive director Joseph Orozco had an ambitious goal: 20 student teams annually by the program's fourth year.
Now, a year ahead of schedule, the early-stage ideas factory has sailed past expectations – unveiling 37 groups at a recent Hatchery Kick Start event on May 2.
"[The Hatchery] owes such remarkable engagement to our students' interest in entrepreneurship and the value this experiential learning opportunity brings to them," said Orozco. "With the support of our mentors and the passion and hard work of our students, we look forward to a lively and engaging journey. I can already see a lot of promise and potential in the ideas the students have brought forward so far."
The Hatchery – which offers students mentorship, along with unprecedented access to the Faculty's vast research infrastructure – encourages students to form new ideas and turn them into start-up companies. Popularity for the program continues to grow, with organizers attracting students through outreach events, like speaker series and "idea markets".
At the Kick Start event, several student groups presented innovative ideas they want to develop through the program – from a new jacket with customized heating abilities to a showerhead that offers live commentary on your water usage.
Take a closer look at three teams in this year's cohort:
---
The Shour
Aakash Goel, Govind Peringod & Kramay Patel (all EngSci 1T6)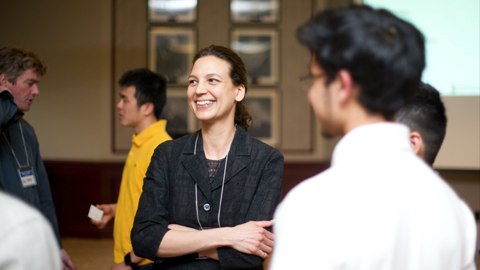 Have you ever felt like time stops when you're in the shower? You think you're in for five minutes, but 30 minutes go by, the water runs cold and you hear your roommate banging on the door?
Here to help with this thoroughly first-world problem is the Shour, conceived by co-inventors Aakash Goel (EngSci 1T6), Govind Peringod (EngSci 1T6) and Kramay Patel (EngSci 1T6). The Shour is an innovative showerhead that provides live feedback on showering habits, as well as customized controls to save water, time and money.
"Shour is an amazing team to mentor," said Isis Caulder (EngSci 8T9, ElecE MASc 9T1, LLB 9T5) Partner, Intellectual Property at Bereskin & Parr LLP and head of B&P's Clean Tech Practice Group, and the team's new mentor. "Not only are they creating customer-friendly technology with potentially far reaching environmental impact, they are also an incredibly talented and passionate team."
---
Northern Spark
Tammi Hawa, Jenniver Rovt & Katie Gwozdecky (all MechE 1T7)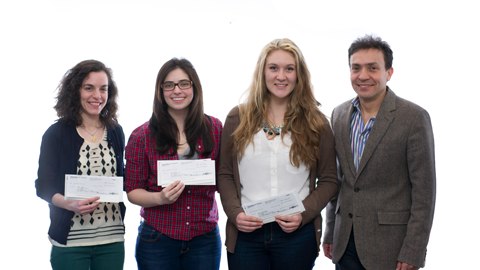 The team behind Northern Spark invented a new type of temperature-controlled outerwear – a jacket that gives its wearer the ability to individually control heating within various parts of the garment.
"When we commute to school or work, we leave feeling comfortable, yet arrive feeling sweaty in some areas and cold in others," said Tammi Hawa (MechE 1T7), who developed the technology alongside co-inventors Jennifer Rovt (MechE 1T7) and Katie Gwozdecky (MechE 1T7). To solve this everyday problem, they set out to design a product that would, "overhaul the current standards for comfort and style."
The team's mentor, Hadi Aladdin (ECE 1T2), co-founder and CEO of Coursepeer, was very impressed by the group. "I see in these three smart ladies the ingredients of being extremely successful together."
Northern Spark's designers also won $500 at a Hatchery accelerator weekend earlier this year.
---
Dabble It
Maxim Antipin (ECE 1T6), Amir Motahari (Biology 2016) & Victor Chen (MIS 1T5)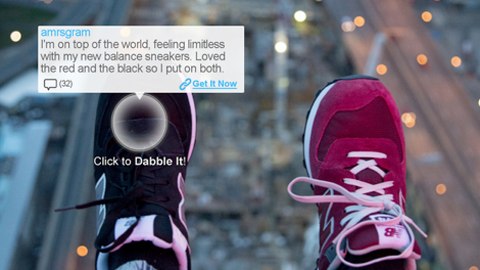 "Express your creativity with Dabble It – where your style speaks for itself."
This is the tagline and promise of Dabble It, a new social media platform designed by Maxim Antipin (ECE 1T6), Amir Motahari (Biology 2016) and Victor Chen (MIS 2015) where users can annotate pictures, such as details of their outfit and where their friends can purchase it. Other users can "dabble it," or request more information on the image.
The product's current target is young fashionistas, but ultimately the goal of the product is to expand the way users interact with all images by adding new layers of meaning and communication.
Dabble It's mentor, Chris Ouslis (EngSci 8T5, ElecE MASc 8T8), saw "great potential in their concept. Dabble It is a way of changing how we interact, using pictures on social media and in e-commerce."
---
With the guidance of experienced mentors and peers, students are working towards the creation of their start-ups throughout the summer. They'll present their final pitch at a Hatchery Demo Day this September, competing for two Lacavera prizes of $20,000 each.
With such rapid increases in enrolment, the Entrepreneurship Hatchery looks forward to having dedicated space in the new Centre for Engineering Innovation & Entrepreneurship (CEIE). Read more about the CEIE.