This story is Part 6 of an eight-part series, Engineering Experiential Learning, running throughout spring and summer 2015.
Next month, U of T Engineering will begin construction of the Centre for Engineering Innovation & Entrepreneurship (CEIE) — a vibrant new hub that will foster hands-on learning and multidisciplinary collaboration. With state-of-the-art facilities, the building will bring together students, faculty, alumni and industry partners to tackle some of the world's greatest challenges.
With all of this creativity colliding in one place, it seems inevitable that ideas for new businesses — maybe even new industries — will be sparked. This is all part of the plan: embedded into the design of the CEIE are features that will nurture fledgling companies along their journey from concept to prototype to market.
Find out five ways the CEIE will cultivate tomorrow's entrepreneurs:
---
1. The Entrepreneurship Hatchery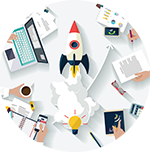 Since its inception in 2012, the Entrepreneurship Hatchery has provided teams of engineering students with space, equipment, mentoring, funding connections and all the other ingredients necessary to incubate new ventures. It also hosts collaborative events and competitions that further inspire ideation, networking and team-building across the Faculty and wider University.
With a new permanent home planned on the fifth floor of the CEIE, the Hatchery will continue encouraging students to develop new ideas and take action. This space will also include unique "hotelling suites"—fully equipped offices that can be used by alumni or other mentors to work with Hatchery teams on advancing their businesses.
2. Fabrication Facilities
Building prototypes and other physical models is often one of the most resource-intense challenges of getting a new business off the ground. The third floor of the CEIE will make this process easier, with a supervised rapid-prototyping room that includes a powerful multi-material/composite materials 3D printer — the first of its kind in Canada. This will allow students and faculty members to quickly fabricate 3D parts, models and renderings, watching their ideas literally take shape before their eyes.
The prototyping room is surrounded by design/meet rooms, allowing teams of students to move rapidly between model construction and planning the next stage of their venture.
3. Technology Enhanced Active Learning (TEAL) Rooms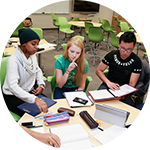 With moveable desks and screens visible from every direction, TEAL rooms are specially designed learning spaces that can be rearranged at a moment's notice into any required configuration. The CEIE will include 16 of these rooms, which will foster the creativity needed to generate new business ideas by facilitating multidisciplinary collaborations and incorporating experiential learning into all kinds of undergraduate courses.
The TEAL rooms will also be available to students outside of regular classroom hours; in fact the plans are for 24-hour access. This will enable entrepreneurially minded teams of students to hash out new ideas and plan strategies whenever inspiration strikes.
4. Collaborative Student Space
On the lower level of the CEIE, an extremely versatile space will be available for engineering students to collaborate on group projects and other activities associated with the Faculty's more than 80 clubs and societies. Supported by a generous $1 million commitment from the Engineering Society, this space will also be available for social events and building end-of-year capstone projects.
These types of extracurricular, co-curricular and curricular activities not only develop crucial teamwork, leadership and communication competencies needed for entrepreneurship, but they also can enable technical breakthroughs. One example is the University of Toronto Supermileage team, which designed a car with an efficiency of 3,421 miles per gallon, winning this year's Shell Eco-Marathon Americas in Detroit, Michigan.
The lower level will also include project rooms that can be used by nascent companies to host meetings or optimize product design, with an arena-like events area perfect for launching the products from tomorrow's U of T Engineering startups.
5. Multidisciplinary research institutes and centres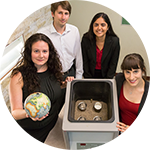 The CEIE will also provide a new home for a number of the Faculty's world-leading research institutes and centres, including those that are already accelerating innovation in areas such as water, sustainable energy, robotics and mechatronics, cyber security and global engineering. These areas bring together knowledge and experience from a wide variety of areas to conduct high-impact research and act as engines of engineering innovation.
One of these institutes, the U of T Institute for Multidisciplinary Design & Innovation (UT-IMDI) creates a unique project-based learning environment. Industry partners bring their technical challenges directly to multidisciplinary teams of students, who develop solutions either through the full-year Multidisciplinary Capstone Projects course or summer internships with partner companies. These experiential learning opportunities are already spawning spin-off companies, including Syncadian Inc.