When it comes time to launch their careers, these U of T Engineering students may be stepping into jobs they created themselves.
Four promising startups shared a total of $42,500 in seed funding at the seventh annual Demo Day, hosted by U of T Engineering's Entrepreneurship Hatchery. The student-generated innovations range from contactless aircraft braking technology, to tools that will help nurture the next generation of e-sports superstars.
Held at the Myhal Centre for Engineering Innovation & Entrepreneurship, the Entrepreneurship Hatchery welcomed 14 finalists to pitch their startups to a panel of entrepreneurs, prospective investors and U of T Engineering faculty.
"We started this journey early this year with more than 100 teams applying to the Hatchery. Now we present to you our 14 finalists, who we see as being the next big startups of tomorrow," says Joseph Orozco, executive director of The Entrepreneurship Hatchery.
"The Entrepreneurship Hatchery is a startup that creates startups," added Dean Christopher Yip in his opening remarks. "But it's also one of the ways that we future-proof our graduates. When they learn the skills of entrepreneurship, they learn how to anticipate a world that doesn't yet exist, and how to find their place within it."
Demo Day is the culmination of the Hatchery Nest program, a four-month accelerator that connects student teams with experienced mentors and industry leaders to develop their businesses. Student teams receive detailed feedback on their business plans, explore their proposed markets, learn about patents and marketing, as well as build prototypes using 3D printers and other fabrication resources available at the Myhal Centre.
This year, the top four startups took home a total of $42,500 in seed funding, composed of one $20,000 grand prize and two $10,000 runner-up prizes.
A $2,500 Orozco prize is furnished through funds raised by the students themselves. The Orozco prize was awarded through live audience voting via Pheedloop, an event technology platform first developed at the Hatchery by U of T Engineering alumnus Rahul Goel (EngSci 1T6).
This year's winners are:
$20,000 Hatchery Prize: Aeroflux — Wear-free aircraft brakes poised to change the aviation industry
When a commercial plane lands, the wear-and-tear on its brakes could lead up to 25 brake replacements in its lifetime, grounding the aircraft and costing airlines worldwide billions of dollars.
Aeroflux has developed a non-contact magnetic braking technology that eliminates the wear and maintenance of braking systems. This could help airlines save millions of dollars per plane.
"We've created a new type of magnetic-field generator that produces an entirely different magnetic distribution across the braking plate, feasibly improving the aircraft's braking performance," says co-founder Nikola Kostic (MechE 1T8 + PEY).
After winning first place at Demo Day (and also recently the Clarke Prize), the Aeroflux team sees a clear path to their first flight. The team has filed a patent, and is looking to industry to further develop their technology. Aeroflux hopes to develop a full-scale prototype in 2020 and commence Federal Aviation Administration (FAA) certification in 2022.
"It feels amazing to have the support of the U of T entrepreneurship community. Our team is so grateful to the Hatchery and the University for helping us succeed," says Kostic, adding that the team plans to stay within the U of T entrepreneurship ecosystem to further grow their startup.
$10,000 Hatchery Prize: Sparrow — An AI-enabled e-sports coach 
Becoming a top League of Legends player may have just gotten easier. The team behind Sparrow have developed an analytical tool that delivers personalized, interactive feedback to help competitive gamers improve their performance.
Their software leverages artificial intelligence (AI) to help 'coach' players, by providing pointers on where they've made mistakes in their game and suggestions on how to improve their strategy.
Game coaching is nothing new — some competitive gamers hire real-life coaches, or pay for existing analytic software. "This is what makes us unique. We are the only gaming software that melds analytics and that human 'touch' in an affordable package," says co-founder Tong Yu, (MMI Master's candidate).
"After this win, it's back to business. We're excited to keep going with this and scale up our program and market our company to gaming lounge," says co-founder Yukuan Wu, (Year 3 Computer Science), who not only lends his programing expertise — Wu is ranked in the top 0.01% among League of Legends players.
The team hope to release a beta version in November and have already partnered with gaming lounge Invictus Game Station in Toronto.
$10,000 Hatchery Prize: eXamify — Taking the pain out of tests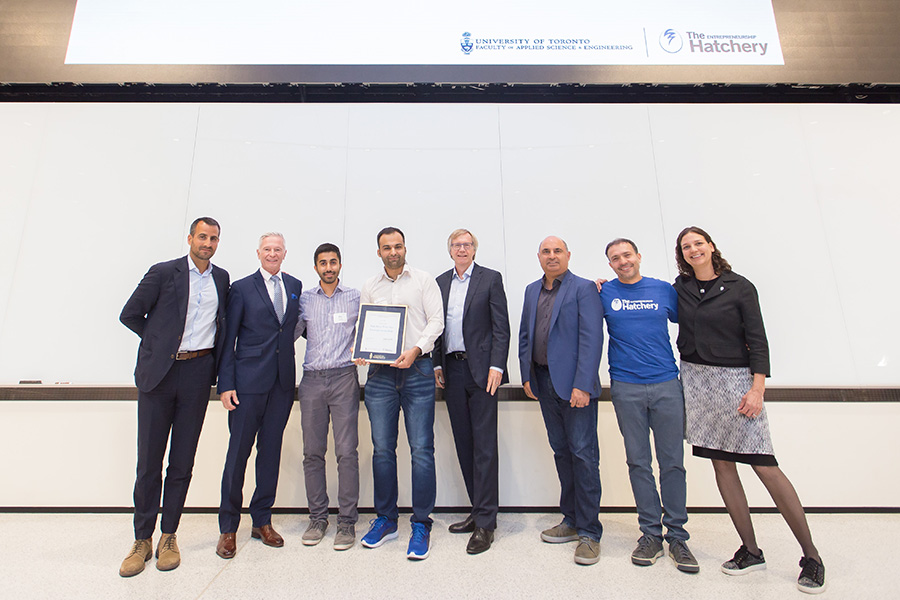 Professors and TAs spend about a third of their time creating and marking assessments, such as quizzes and exams. And while there are various tools available to assist with this — LaTeX for constructing diagrams, crowdmark for evaluation, etc. — so far nobody is offering an end-to end-solution.
"A lot of educational technology companies only focus on one aspect of the problem," says Kia Shakiba (ECE PhD candidate), who co-founded the company with MIE PhD candidate Mehdi Ataei. "We want to make the whole process better for everybody involved: students, TAs, professors and even the institution itself."
With simple drag and drop tools and cloud-based storage, eXamify's software makes it easy to create, share, evaluate and archive assessments. User can create a single test for all students or customized ones with subtle differences for each individual student to combat academic dishonesty. Marking is semi-automated, saving time and money for educators.
The team will use their prize money to complete a beta version of the software, which they are planning to roll out at U of T by the end of the year.
$2,500 Orozco Prize: Brainloop – Leveraging AI to diagnose brain disorders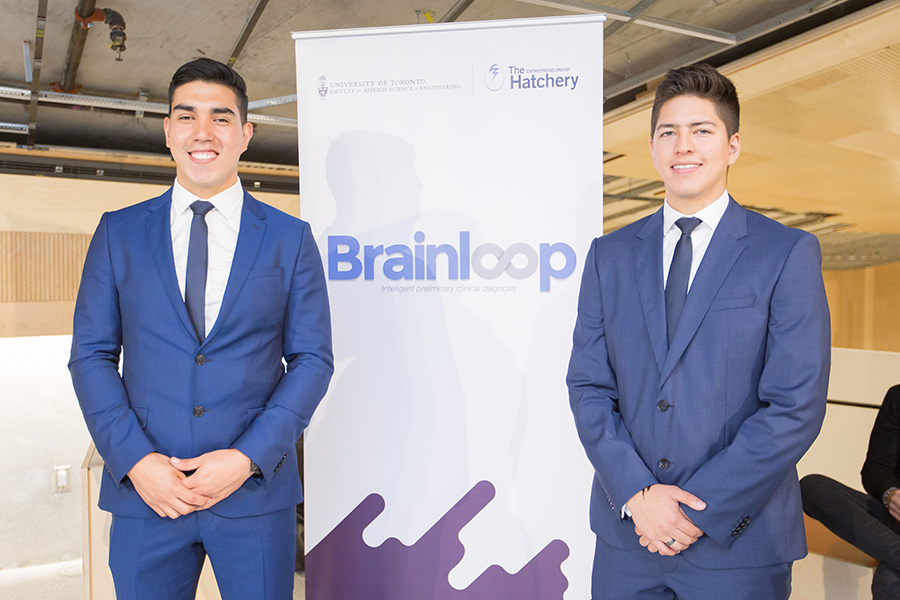 Brainloop started because of an unfortunate medical error. After experiencing a seizure, a close friend of founders Esteban Arellano (Year 2 Computer Science) and Juan Egas (Year 3 MSE) was misdiagnosed with epilepsy. The drugs she was prescribed were ineffective and had negative side effects, but it was several years before the misdiagnosis was discovered. Upon further research, the team was surprised to find out that this sort of thing happens often — up to 20% of brain disorders are initially misdiagnosed.
"Artificial intelligence is a powerful emerging tool in clinical diagnosis," says Arellano. "It's estimated that 90 per cent of hospitals will adopt it in the next few decades. We wanted to be the first to do it for brain disorders."
Arellano and Egas are developing an artificial intelligence algorithm that can analyze data from tests such as electroencephalograms (EEGs). By detecting anomalies in these tests and correlating them with diagnoses from experts, they aim to create a tool that can provide faster, earlier and more accurate detection of brain disorders, including epilepsy and non-epileptic seizure disorders.
The team is currently working on data collection and analysis with two neurologists from the University Health Network, and hopes to launch the first iteration of their tool in April 2020.