For many students starting university, a question lurks in the back of their minds: how will they conquer this new challenge? For Mehdi Essoussi (ECE Year 1) and Kirti Saxena (MechE Year 1), thriving under pressure is just part of their training.
The two first-year students are elite athletes who compete on the world stage — Essoussi is a midfielder with the Toronto Football Club feeder team TFC III, and Saxena is a seasoned wrestler who has represented Team Canada at several world championships.
Now, they're ready to apply the work ethic, determination and perseverance they've each developed over years of practice and training to their next challenge: first year in U of T Engineering.
Essoussi and Saxena sat down with U of T Engineering News to share their plans for the year ahead — both in and out of the gym — and their approaches to managing the demands of both training and school.
---
Kirti Saxena
"Procrastination is never an option"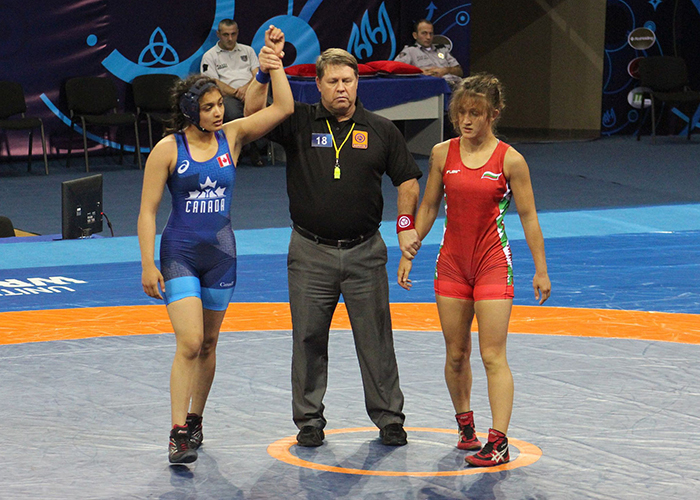 Why did you choose to join Mechanical Engineering at U of T?
I always preferred understanding how a problem was solved, rather than memorizing the the solution. I specifically chose mechanical engineering because in addition to being more science- and math-oriented, I am big on art and design. I've always wanted to be able to create and learn not only a design, but the mechanics and underlying factors that are crucial to the functioning of any structure or system.  
What has been your most memorable moment in your sporting career to date?
I represented Canada internationally throughout most of my high school years [at Erindale Secondary School in Mississauga, Ont.], trained and competed in many tournaments around the world. My most memorable moment would have been when I competed in the Cadet World Championships in Tbilisi, Georgia. I was still a year younger than the qualifying age for a Cadet, so there were no expectations on me — it was more for the experience. I ended up performing the best out of everyone on Team Canada that year and qualified for the bronze medal match — I finished the tournament with the official placement of fifth in the world. Because of this I also received the award for "Best Cadet Wrestler" in all of Canada. 

What are you most looking forward to about athletics at U of T?
I'm looking forward to the experience of being on a university team and being able to bring in some school pride by competing.
Will you continue wrestling for the national team during school?
If I qualify, I hope to be on one or two Team Canada teams for two different age groups —Under 19 and Senior-All. I train two to three times a day, and my ultimate goal is to compete and place at the Olympics. I intend to wrestle at the trials for 2020, but since I will still be fairly young and am currently recovering from knee surgery, the more realistic goal would be 2024 and various world championship medals throughout the years.
Can you share your approach to balancing school with competitive sport?
Time management, dedication and perseverance. Being able to strictly follow a pre-determined schedule is a must. There are certain times to eat, go to lectures, do homework and attend practice, and it's vital to follow the schedule, even when you would rather stay at home wrapped in a blanket, sleeping all day.
Being able to follow such a busy and intense schedule calls for dedication, especially in a high-demand program such as engineering. Spending so much time working towards something so physically and mentally draining; it's not an easy thing. Sometimes it takes away from being completely 100% during other aspects of your life, but the important thing is learning how to find the balance — or for all the engineers out there, the equilibrium. That's when perseverance plays its part. You always have to be ahead of the game, especially academically. Procrastination is never an option, and preparing when you can is crucial, because you never know when you may miss a whole week of class due to a training camp abroad.
---
Mehdi Essoussi
"It's all driven by self-discipline and passion"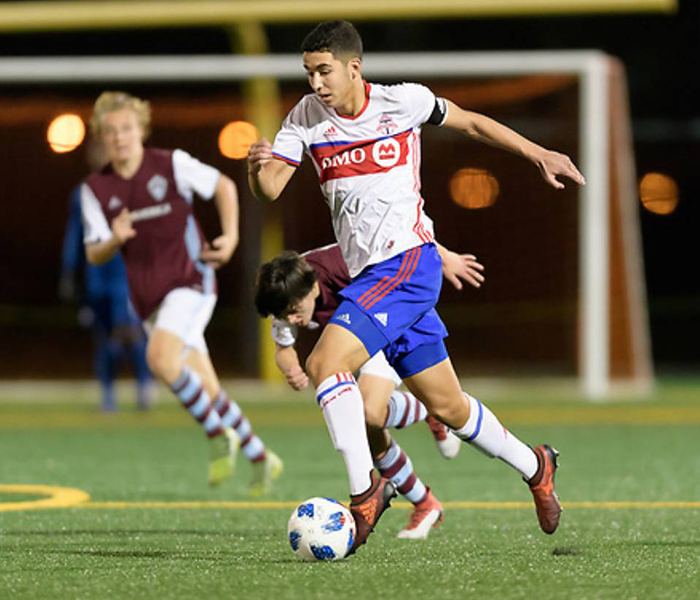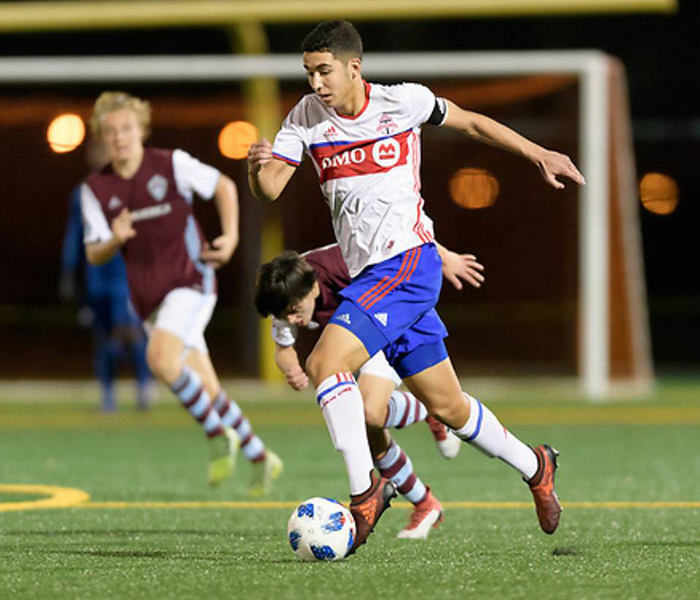 Why did you choose to join Electrical & Computer Engineering (ECE) at U of T?
The engineering program at U of T is one of the best and well-renowned. I choose Electrical and Computer Engineering because I like the combination of science and technology with creativity and innovation, and the applications of ECE are endless in many sectors. Also, the fact that I play soccer with Toronto FC made it easier for me to make the decision to stay in the city.
What has been your most memorable moment in your sporting career to date?
There are several memorable moments in my soccer life, like playing with Team Ontario, being called  to a Canadian National team Identification Camp, and being recruited by Toronto FC Academy.
But signing a United Soccer League professional contract this year is my most recent memorable moment and one of the most exciting!
What are you most looking forward to about athletics at U of T?
As a professional player with Toronto FC, I am not able to play Varsity.
Will you continue playing with TFC III during school — how often, and what are your goals with that group?
Yes, I will continue playing during school. I have practice on a daily basis and games on weekends (mainly in Canada or in the US). I am now participating with the TFC III team in the USSDA U18/19 league. My goal is to constantly work hard in every single training and game to continue evolving as a player, perform well with my team, and reach the maximum of my potential.
Do you have any unique approaches or tricks for balancing school with competitive sport?
It is challenging to do both, so I manage it like a project. This allows me to plan my days and study in advance as much as possible, organizing and managing my time efficiently. Putting maximum effort and concentration in everything I do helps me not lose precious time and keep the balance between studies and soccer.
Study and exam times, practices, games, days away – they have to all fit in a tight schedule. Self-discipline and perseverance is what helps me continue my journey. Since expectations are high for both soccer and studies, it takes commitment and dedication, and it's all driven by self-discipline and passion.
These interviews have been edited and condensed for length.