When U of T President Meric Gertler led a delegation to Mexico City last year, he noted that international students at U of T encounter "new ideas, perspectives and approaches that in turn inspire mutual understanding and stimulate knowledge."
That's a perspective echoed by many of the Mexican students who chose to pursue their studies at U of T Engineering.
Here are a few of their stories:
Mexico City's Adriana Diaz Lozano Patino (Year 1 EngSci) got to know U of T Engineering when her brother, Ernesto Diaz Lozano Patino (CivE 1T5+PEY, MASc 1T8) was accepted into the civil engineering program seven years ago.
Patino's brother was the first member of her family to study abroad. She says he cleared the path for her.
"My brother loved it here, he stayed after his undergraduate studies and he did his master's here," she says. "Now he works in Toronto.
"He passed on that love to me I guess."
Patino, who plans to major in biomedical engineering, says U of T's global reputation, its welcoming approach towards international students and its research opportunities were also factors that brought her here.
A top student in high school, Patino won a Lester B. Pearson International Scholarship to attend U of T Engineering. She says she was aware she was entering a competitive environment. What she didn't expect was how much she would struggle with the language.
"I remember coming to a physics lab and people started talking about these concepts and I was like, 'Excuse me?'" Patino says. "Then I realized that I actually know the concepts, but in different words; I got used to the fact and built my own strategy within a couple of months."
Patino says she enjoys being a part of the engineering community.
"You don't have this feeling of unhealthy competition within the engineering community.  If you have a problem, you know people will be there for you."
For students who are considering whether to study abroad, Patino has some advice.
"For Latin American families, the idea of leaving the family at such a young age is frightening," she says. "But they should come. They shouldn't be scared – they are going to find amazing people, amazing professors.
"There is something here that is going to be for you, whether you like dancing, writing or designing a Formula 1 car."
It's also important for students to remember that it is possible to "help your country even though you don't live there," she says. "We can all help to rebuild what is being broken every day by pursuing your passion and you coming here, experiencing this world."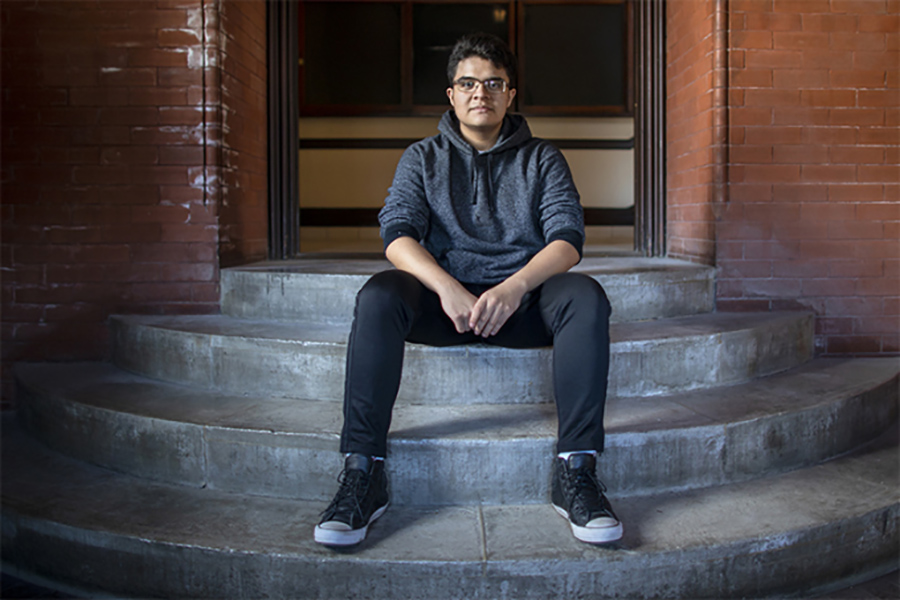 Home for Marcos David Madrigal Albores (Year 1 EngSci) is the southern state of Chiapas's capital city, Tuxtla Gutiérrez. But Albores always wanted to see Toronto, the setting for Canadian author Bryan Lee O'Malley's Scott Pilgrim versus the World.
Albores loved the popular graphic novel so much that, when he started high school four years ago, he and his family planned a vacation to Canada's largest city.
He took a tour of the downtown Toronto campus and says he was impressed with the facilities and the programs offered.
"We were just joking that it would be great if I studied here at U of T," he says. Four years later his wish came true: Albores is now an engineering science student, hoping to specialize in machine intelligence.
Getting here wasn't easy. "My state is not the richest in Mexico. It would be very hard to pay the tuition unless I got a scholarship," he says.
During the final days of the application cycle, he won the Engineering International Scholar Award, which partially covered his tuition. With the financial help and support of his family, he says, he had the chance to follow his dream.
Albores defines himself as a "global person" and says that it's the diversity that he likes most about Canada and Toronto.
"In every country there is racism, in Mexico there is, but here I haven't felt it," Albores says.
He also enjoys the scenery of the city.
"Tall buildings, blue sky, snow in the streets, the tiny communities like Greektown, Little Italy. I feel like they are all part of the city's character and I love it."
Albores says he hopes that one day his brother, 10, will also study at U of T.
"U of T is the number one school in Canada, among the top 20 in the world," he says. "The engineering program's level of detail and depth is much more than you could get in Mexico or other parts of the world."
A scholarship from the CONACyT program, supported by the Secretary of Energy in Mexico, brought Arturo Reza Ugalde (MIE PhD candidate) to U of T Engineering.
Ugalde, whose research is in sustainable energy, completed his undergraduate and master's degrees in Mexico City. Under the supervision of Professor Hani Naguib (MIE), he works on composite materials for electrochemical applications and the reduction of carbon dioxide into synthetic fuels.
Ugalde says he could have chosen to study anywhere in the world with the scholarship, but selected Canada and U of T Engineering for very important reasons.
"Mexico is trying to do something about clean energies because Mexico City is one of the most contaminated cities in the whole world – and Canada is really good at [clean energy research]," Ugalde says. "I love everything related to clean energies. I am passionate about it."
He adds that U of T's global rankings helped seal the deal.
Ugalde visited Toronto before making a decision and liked the people and the city. While he knew Toronto was diverse, the level of multiculturalism in Toronto still surprised him once he got here.
"For some reason, I imagined that I was going to be surrounded by Canadian people – but then when I came here, I realized that Canadian people are people from all over the world," he says. "You can go to a restaurant and, all of a sudden, you start hearing six, seven languages at the same time."
Ugalde says the Faculty provides a variety of options and opportunities to graduate students.
"We have access to a lot of resources, labs have a lot of good equipment and we also have access to any other department – so that makes easier to work in any type of research," he says.
For any students of any age planning to attend U of T, Ugalde has some advice.
"We Mexicans are really tied to our roots, families and home and that is what makes it harder for us to emmigrate to another country, but when you are here you feel very supported by others – your colleagues and professors – and it makes things easier," he says. "I would love others to experience what it is [like] to be in a world-class university with pretty much unlimited access to resources and equipment.
"Here, for example, students start doing research and internships during undergrad – and I would like Mexican students to experience working in the industry, and really experience research from a very early stage."
Ugalde says he is considering a post-doctoral position at U of T in the coming year. "I am pretty sure whatever I do here – all the research – it will be really, really beneficial for Mexico when I go back."