This story is Part 6 of an eight-part series, Global Engineering Impact, running throughout fall 2015
Two students from Jordan and Singapore are the first recipients of the International Scholar Award, a new scholarship that enhances U of T Engineering's ability to attract top students from around the world.
The award covers full tuition and is renewable for up to four years. It recognizes students studying abroad who have exceptional marks, are involved in extra-curricular activities and want to use their engineering degrees to improve the world. Tamara Abugharbieh (Year 1 EngSci) and Katherine Bancroft (Year 1 General First Year) are this year's winners.
Another first-year student, Minh Tue Pham (Year 1 EngSci), received a U of T International Scholar Award, which is open to students from any Faculty.
"On behalf of the Faculty, I would like to extend my heart-felt congratulations to Katherine, Tamara and Minh," said Dean Cristina Amon. "Engineering challenges know no borders, and our ability to draw exceptional students from other countries enriches our Faculty and enhances the global perspectives of all our students."
International interest in U of T Engineering has increased substantially over the past decade thanks to the Faculty's strong global rankings, targeted recruitment strategies and scholarships aimed at students from abroad. International students comprise 30 per cent of this year's entering undergraduate class, and more than one-quarter of the total student body comes from outside Canada, representing 109 countries.
U of T Engineering caught up with the three scholarship winners, as well as an upper-year international student, to find out how they are enjoying the year:
Tamara Abugharbieh — Engineering Science
Abugharbieh, the child of two engineers, was raised in Jordan. She was always eager to follow in her parents' footsteps. At school, Abugharbieh was a member of the robotics team and won a medal for innovation and critical thinking. "I enjoy researching projects that help improve society," she says.
While working on a school essay, Abugharbieh came across the writing of U of T alumnus Malcolm Gladwell. She was inspired by his thinking, and by that of other U of T experts such as Nobel laureate John Polanyi. "I saw U of T as a place where I can learn how to become an innovative thinker and a leader of change," she says.
Abugharbieh received the news of her acceptance with "bouncing and dancing." She enrolled in Engineering Science, a program known for its academic rigour. While she admits it has been challenging, Abugharbieh says the close-knit community of students is a great source of strength. "It is creating a special bond between me, my colleagues and the program," she says.
In the future, Abugharbieh wants to specialize in energy systems engineering, and ideally carry her knowledge back to her home country. "Jordan and the Middle East in general have a great solar energy resource that needs investment and technology," she says. "My dream is to be a Jordanian pioneer or entrepreneur who transfers knowledge or creates a spinoff company in this area, which is desperate for a breakthrough."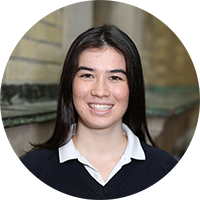 Katherine Bancroft — General First Year
Bancroft, who describes herself as a "third culture kid," was born in Toronto but has spent significant portions of her life living in Sydney, Australia, and Singapore. She became fascinated by engineering design in high school when she toured a chemical engineering lab and saw a "switchable solvent" designed to help clean the material left over from oil sands extraction. "The link between applied science and environmental sustainability definitely captured my interest," she says.
What attracted her to U of T was the vibrant nature of the Skule community. "The diversity and inclusiveness, coupled with the fun traditions, made U of T a place I wanted to be," she says. "The opportunities available through the Professional Experience Year and the incorporation of design from year one made the engineering program especially appealing."
Bancroft is enjoying the challenge of first year, particularly the variety of her courses. "There's something different going on every single day," she says. Bancroft has volunteered at Hi-Skule's Mentorship Coffeehouse, which brought together 50 high school students to learn more about engineering from undergraduates like her. She has also joined Iron Dragon, the Skule dragon boat team, and plays flute in the Lady Godiva Memorial Bnad [sic].
Bancroft plans to use her U of T Engineering degree to address global issues such as water scarcity and sustainable use of resources. She sees herself working for industry or in research, ideally collaborating with people across many nations and cultures. "I believe that economic growth and environmental sustainability need not be mutually exclusive," she says. "I hope to work to make this more of a reality, especially in developing nations."
Minh Tue Pham — Engineering Science
Pham was born in Vietnam, and from an early age showed an immense passion for mathematics and natural science. "I was captivated by their power to express and describe the world," he says. In high school, he co-created and managed a volunteer community service organization, which showed him the importance of working to improve society and shifted his career aspirations from theoretical science to engineering.
Pham was attracted to U of T by the quality of its education and the reputation of the Engineering Science program. He likes that it combines theory and practice and provides valuable exposure to many disciplines within engineering. Pham has not decided what discipline he will pursue, but his favourite courses are civil engineering and computer science. "My favourite thing about U of T is how easily approachable the professors and the teaching teams are," he says. "I feel very comfortable coming to the EngSci office to chat with my student counsellor about the future."
Outside class, Pham is participating in The Game, a competition run by the Institute for Leadership Education in Engineering (ILead) that aims to identify a problem facing society and design a possible solution. "Working together with completely new teammates, most of them upper years, has proved to be a very valuable experience," he says.
As for the future, Pham sees many possibilities. He may choose civil engineering, computer engineering or something else. He may work in industry, pursue graduate studies or "combine my engineering background with my newfound passion in business and economics to start up a firm all of my own." Wherever he goes, Pham is sure that his U of T Engineering education will prove invaluable. "I believe that it will give me the necessary knowledge and skills to take on any challenge after I graduate," he says. "The possibilities are endless."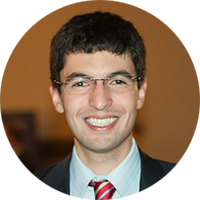 Ernesto Diaz Lozano Patiño — Year 4 Civil Engineering
Diaz Lozano Patiño has engineering in his blood: his father, uncle, great-uncle and great-grandfather were all engineers. But for Patiño, who was born and raised in Mexico City, studying engineering at home was not enough.
"In the movie The Motorcycle Diaries, they say 'Let the world change you, and you can change the world'," says Diaz Lozano Patiño, who is president of U of T's Engineering Society. "I saw coming to Canada as my opportunity to let the world change me."
Diaz Lozano Patiño cites the excellence of the faculty members as one of the best things about his U of T experience. "The Civil program is absolutely wonderful," he says. "I have been amazed at how tightly knit the department is, and how much the professors care to connect with their students."
Like many international students, Diaz Lozano Patiño plans to use his education to address challenges that apply to both his home country and to other places around the world. "I see myself helping build the cities of the future," he says. "We live in a world full of inequality; it was almost impossible for me to believe, when I was in Mexico, that there were people living under cardboard roofs a mere hour drive away from the some of the wealthiest people on earth. We need change, and I believe engineers will be instrumental in leading this change."