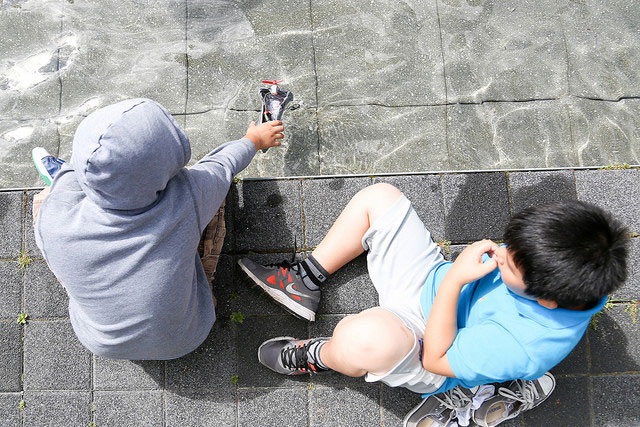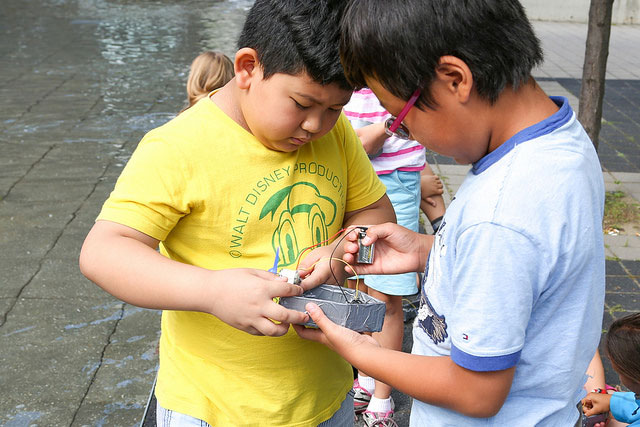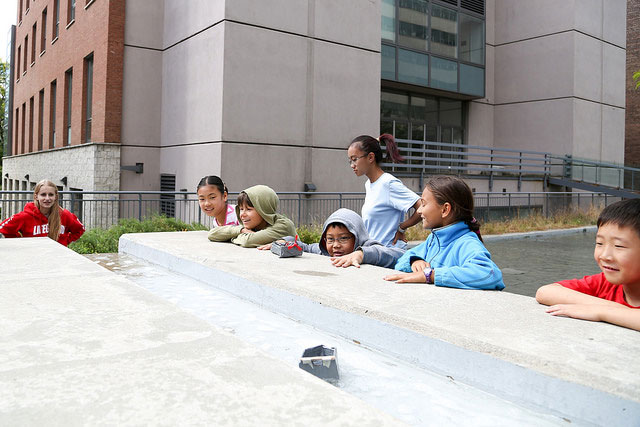 It's a sunny summer morning, and engineering student Karen Mukwedeya (Year 4 ChemE) is up to her ankles in water. As an instructor for this year's Jr. DEEP outreach camp, she's standing in a fountain outside the Bahen Centre helping a dozen girls and boys eagerly test model boats they designed and built themselves.
These campers are part of a growing cohort of children attending Jr. DEEP at U of T Engineering. Total participation this summer is reaching nearly 1,000 students, a 30 per cent increase from 2014. The program provides kids in grades three to eight with hands-on experience exploring science, technology and engineering.
"We were trying to get [our boat] to have a cotton candy kind of shape, but it turned out more like a teardrop," said nine-year-old Cash Cayen. A small electric fan powers her model, imitating the giant fan boats that are used in Florida to navigate the everglades without damaging the underwater aquatic vegetation.
The Faculty offered Cash a scholarship to attend one of this year's Jr. DEEP camps after she gathered more than 35,000 signatures this spring on a petition to allow her to attend a boys-only robotics camp back in her hometown of Timmins. Read more.
Cash and her fellow campers are taking a course called Natural Habitats: Protect the Earth, which focuses on environmental engineering. In addition to the fan boats, students built model greenhouses, which they got to compare with the real thing on a field trip to Toronto's Allan Gardens Conservatory.
"It's not like a classroom where it's all talking and writing," said Allison Xie, age nine. "Here you actually get to experience what engineering is."
Eight-year-old Andrew Hua agreed. "It's pretty cool to learn about all the different types of engineering and science," he said. One of his favourite activities — and one of the most imaginative — involved designing an animal out of clay that would be adapted to a particular environment. Hua created a donkey with a jetpack powered by biofuels, while his friend Thomas Lavery, age nine, made a penguin adapted for desert life that included eyelashes modelled on those of camels.
Mukwedeya said campers arrive with varying levels of knowledge about what engineering is. "They may have a sense of engineering in general, but they may not have a sense of how it's related to the course they're in that week," she explained. For many students, Jr. DEEP is also the first chance they get to meet an engineer in the flesh.
"Everyone — including me when I first heard about it — thinks that chemical engineering is just mixing chemicals together," Mukwedeya said. "Here, students have a chance to ask people like us. 'Well, what do you actually do?'"
Jr. DEEP's mission is to inspire young minds. Modelled after the Faculty's Da Vinci Engineering Enrichment Program (DEEP) Summer Academy for high school students, the program offers courses targeted for elementary school kids that cover topics from the fundamentals of computer programming to the biological, mechanical and physiological principles behind sports.
Not only is Jr. DEEP a wonderful experience for our campers, but it's also an enriching one for the instructors, most of whom are current engineering students," said Dawn Britton, associate director of outreach at U of T Engineering. "These students learn how to communicate the knowledge they've gained through their own studies to non-experts, and they gain valuable experience organizing and managing a complex project."
"I really like it," said Cash, as her tapered boat glided across the fountain. "I like trying to save the world."