As the University of Toronto implements energy retrofits to buildings across its three campuses to meet its ambitious greenhouse gas emission reduction targets, one group of researchers will use the opportunity to improve the well-being of students, faculty and staff.   
The research project, titled 'Wellbeing and The Built Environment: A New Framework for U of T Campus Building Performance Assessment,' will be co-led by Professor Marianne Touchie (CivMin), and aims to create a new standard for holistic building performance.      
"We want to inform the retrofit process by trying to link specific aspects of the built environment to wellness outcomes of the people living and working in these spaces," says Touchie. "We plan to do this through pre- and post-retrofit assessments using indoor environmental quality measurements and inhabitant feedback."  
The project is supported by U of T Engineering's Dean Strategic Fund and includes Professors John Robinson (Munk School, Environment), Alstan Jakubiec (Architecture) and Blake Poland (Public Health). The researchers will also work alongside the facilities teams led by U of T's Chief Operating Officer Ron Saporta. 
The researchers will deploy sensors to measure indoor air quality and temperature, and employ an app that accepts real-time feedback from building inhabitants.  
"One aspect of the study that I am really excited about is testing the large-scale use of a technique called Photovoice," says Touchie. "We will prompt respondents to take photos of aspects of the campus-built environment that add to or detract from their well-being."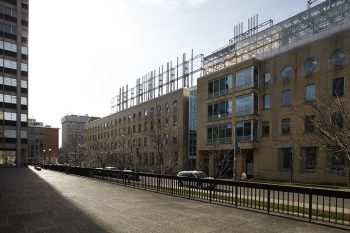 Not only will the project assess environmental and economic benchmarks, but it also intends to measure the impact of these retrofits on people working and living in these buildings.   
"This is a complex topic with many distinct aspects of the individual, the space, the building and the broader community all impacting how the inhabitant feels," says Touchie. "Previous research has tended to focus on thermal comfort, visual comfort or indoor air quality independently, and what we are really trying to do is to bring all those elements together into a common framework."   
Touchie and her collaborators will be developing the assessment approaches this year and begin pre-retrofit evaluations in early 2023. They hope the project will contribute to the growing body of knowledge on how aspects of the built environment influence inhabitant well-being, and that the assessment methods they develop can be integrated into U of T's building retrofit process.   
"While these retrofits are designed to reduce greenhouse gas emissions to mitigate climate change and reach U of T's climate-positive-by-2050 goal, through this project we are hoping to find ways to leverage these retrofits to also be 'people positive' by retrofitting spaces to improve comfort, productivity, health for students, staff and faculty."