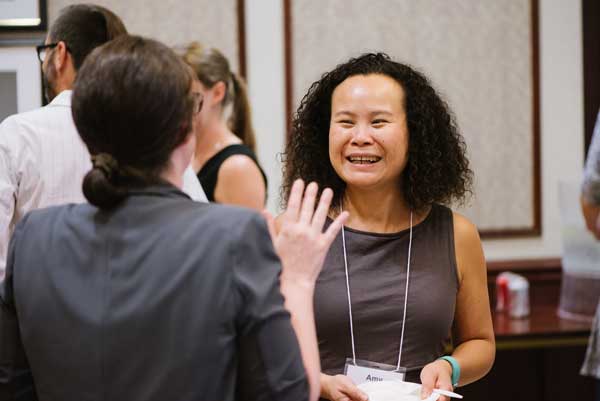 Academics, industry professionals and policymakers from across Canada convened in Toronto this week for a first-of-its-kind conference on engineering leadership education.
The National Initiative on Capacity Building and Knowledge Creation for Engineering Leadership (NICKEL) aims to create dialogue on how best to integrate leadership training into engineering curricula. The inaugural NICKEL conference was organized and hosted by U of T Engineering's Institute for Leadership Education in Engineering (ILead).
"This was a great opportunity to bring together people who have been thinking about these issues, from Vancouver to St. John's and everywhere in between," said Mike Klassen, ILead Assistant Director, Community of Practice on Engineering Leadership. Among nearly 40 people attending the meeting were professors, instructors and deans from Canada's major engineering schools, as well as representatives from industry and Engineers Canada.
"We are here to share with one another best practices, challenges and aspirations," said Professor Doug Reeve (ChemE), ILead's Director, during his opening remarks. "Together, our goal is to realize the full potential of engineering in Canada."
Over the two-day the conference, participants shared their experiences imparting leadership skills, through workshops, undergraduate courses, conferences and co-curricular programs. The group also held round-table discussions on the relationships between leadership, creativity, innovation and entrepreneurship.
"For me, one of the key aspects of this conference was affirmation," said Marnie Jamieson, an Industrial Professor in the Department of Chemical & Materials Engineering at the University of Alberta. "It's great to know that we're not the only ones thinking this way, and that we now have this national resource to draw on as we go forward."
"Leadership is a subject many university faculties of engineering are beginning to emphasize," said David Colcleugh, the University of Toronto Engineering Faculty Leadership Development Professor with ILead. Colcleugh is a former President and CEO of DuPont Canada and the author of Everyone a Leader: A Guide to Leading High-Performance Organizations for Engineers and Scientists. "Graduates from every engineering school in Canada should receive the benefit of some development of leading and leadership competencies. Organizations with an abundance of competent leader/ engineers will more assuredly reach a higher performance level."
NICKEL grew out of the Engineering Change Lab, a collaboration between Engineers Canada and Engineers Without Borders. A core team of 40 senior leaders, including CEOs, vice-presidents, deans and directors representing 35 organizations from across the engineering profession, works to identify systemic challenges, one of which is the development of leadership skills among new graduates. After the Change Lab meeting last June, Reeve and Klassen got to work on the creation of a national network of communities of practice for engineering leadership.
"We hope the conversation we've started here will take root, and that we'll have many more meetings like this in the future," said Klassen.
See social media posts from the conference on Storify: