The Ontario Professional Engineers Foundation for Education invested in the future of engineering this week, as it awarded 10 scholarships to U of T Engineering undergraduate students.
On Tuesday, March 15, members of the Foundation presented two admission scholarships and eight in-course scholarships totalling $15,000 to students at a reception held in the Bahen Centre for Information Technology.
"We are honoured to be able to give 10 scholarships this year to U of T Engineering students," said Marisa Sterling (ChemE 9T1), president of the Foundation. "The Foundation was created to ensure that students are getting the financial assistance they need and we've been fortunate to sustain it. The scholarship money and the commitment to student success is coming from the over 80,000 professional engineers in Ontario to further the profession."
Professional Engineers Ontario (PEO) established the Foundation in 1959. Today, it is managed by an independent board of directors comprised of staff and engineer members of both PEO and the Ontario Society of Professional Engineers (OSPE). Over the past 56 years, the Foundation has contributed over $2.6 million of student funding to more than 3,000 engineering students in Ontario.
Professor Brenda McCabe (CivE), chair of the Scholarships and Awards Committee at U of T Engineering, said that presenting students with scholarships is a highlight of her committee work.
"But it wouldn't be possible without the support of organizations like the Foundation, PEO and OSPE that come together to help students both professionally and financially," McCabe said.
These students received scholarships from the Ontario Professional Engineers Foundation for Education:
Chia Hang (Kevin) Chang (Year 3 ElecE)
Chia-Hang (Kevin) Chang is a third-year electrical engineering student. He recently interned at the Connected Context Computing Center, a sub-division of Intel Labs, where he contributed to the development of Internet of Things applications. Outside of his studies, Chang is the co-director of the senior design competition at University of Toronto Engineering Kompetitions. In January, engineering and non-engineering students alike worked on a problem statement that Chang had helped conceptualize, prototype and prepare. Starting this summer, he will begin a 16-month internship at Intel's Programmable Solutions Group (formerly Altera), where he hopes to continue developing industry experience with field-programmable gate arrays.
Lia Orders Codrington (Year 1 EngSci)
Lia Orders Codrington is a first-year engineering science student. She is currently interested in the infrastructure and biomedical options, following her passion for sustainable housing and human kinetics. Outside of class, Codrington is a member of the Varsity Blues cross country and track and field teams, representing the University of Toronto at the 2016 OUA Track & Field Championships in the 3,000-metre race.
Kun Yi Antonio Juan Ding (Year 3 ChemE)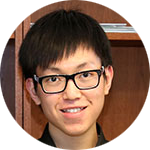 Antonio Juan Ding is a third-year chemical engineering student. Last summer, Ding worked at a research lab at U of T, where he helped test and develop processing methods to study the biodegradation of soil contaminants in a polluted site in Brazil. He has also been actively involved in several school clubs, including the Canadian Association of Food Engineers and the Water Environment Association of Ontario. Throughout the past year, he helped to plan and run various events, including seminars, networking events and a design competition. Through these events, Ding hoped to encourage his peers to both pursue their interest in the food and water industries as well as to help connect them to profesional development opportunities. This summer, he will be starting a year-long internship at Ontario's Ministry of Environment and Climate Change.
Haya Elaraby (Year 3 IndE)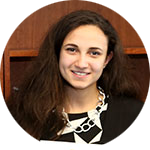 Haya Elaraby is a third-year industrial engineering student who is minoring in bioengineering. Last summer, she held a research assistant position at U of T. Since second year, she has been actively involved in AIESEC. She is currently mentoring first-year students as a peer-assisted study session leader and is volunteering as an MIE Ambassador. She aspires to use her engineering background to make a positive impact on society.
Savannah Forest (Year 4 CivE)
Savannah Forest is a fourth-year civil engineering student who is interested in researching concrete structures. She has worked as a research assistant at U of T, where her work was published and pictured on the cover of the American Concrete Institute's Concrete International Magazine. She is also the lighting designer of the annual engineering theatre show, Skule™ Nite. Forest plans on continuing to study concrete while pursuing her master's degree this fall.
Ran Hong (Year 3 MSE)
Ran Hong is a third-year materials science student with a great interest in global engineering. Last summer, she worked as a research assistant at Sunnybrook Research Institute, improving the fabrication process of contrast agents used in medical imaging for cancer treatment. She was also involved in UTwehelp, a club that organizes and provides volunteer activities in the GTA. Following graduation, she aims to complete graduate studies in engineering and globalization, where she can leverage her engineering skills to improve the quality of life for people in the developing world.
Katherine Lonergan (Year 3 MechE)
Katherine Lonergan is in her penultimate year of mechanical engineering. She has been very involved throughout her university career, competing with both the Varsity Blues volleyball team and University of Toronto Track Club, as well as chairing the Council of Athletics + Recreation, directing Blues Engineering, and working as an NSERC research student and T.A. mentor. She hopes to graduate with a minor in sustainable energy, and pursue a career in a fast-paced, multidisciplinary field.
Connor Jackson Smith (Year 4 CompE + PEY)
Connor Smith is a fourth-year computer engineering student. Last summer, he interned at Tophat, a company working towards improving post-secondary classroom engagement. He was also one of the directors for the TrackOne Mentorship Program, helping to transition the incoming TrackOne students into life at U of T Engineering. Next year, Smith will be doing four internships during his Professional Experience Year (PEY) at tech companies such as Microsoft and Yelp, and hopes to enter the fields of distributed systems and cloud computing.
Paul Minkang Suk (Year 2 EngSci)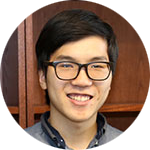 Paul Minkang Suk is finishing his second year in engineering science. Academically, he is interested in machine learning and artificial intelligence, and will be entering the robotics stream next year. Suk is vested in student development and mentorship, taking over as managing director of student development for the You're Next Career Network, the largest student-run career organization in Canada. In the summer of 2016, he will begin an internship at a mobile services/Internet of Things startup.
A tenth recipient was not available for the reception.