The University of Toronto's Connaught Committee has announced the recipients of its 2011-12 Innovation Award and Summer Institute competitions, which recognizes research excellence at the university.
Seven U of T Engineering researchers are among the 11 receiving Connaught Innovation Awards of between $40,000 and $80,000 to help with technology development, commercialization and knowledge transfer. They are: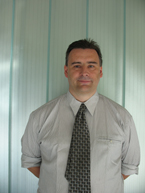 Stewart Aitchison (ECE), Vice-Dean, Research, for "Development of a portable cytometer for global health";
Tim Bender (ChemE) for "Precommercialization of novel compositions of matter: multifunctional organic materials for organic solar cells (electronically conductive and light absorbing boron subphthalocyanines)";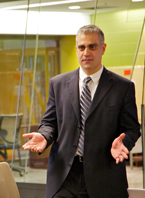 Constantin Christopoulos (CivE) for "Development of cast steel yielding bracing systems for the enhanced seismic protection of infrastructure";
Milos Popovic (IBBME) for "System and therapeutic intervention for restoration of voluntary upper limb function in individuals with severe paralysis following stroke or spinal cord injury";
Molly Shoichet (ChemE, IBBME) for "Injectable hydrogel for local delivery to the brain";
Yu Sun (MIE, IBBME) for "Development of a high‐speed, low‐cost ektacytometer for mechanical characterization of RBCs (red blood cells)"; and,
Shahrokh Valaee (ECE) for "Dynamic RSS radio map learning and generation for location estimation."
"Congratulations to all the winners," said Professor Paul Young (CivE), U of T's Vice-President (Research) and Chair of the Connaught Committee. "The competition was stiff this year, which reflects the fact that U of T is home to many excellent researchers. These projects have the potential to make an enormous impact in their respective fields of study and in society at large, and we were delighted to support them."
To see the full list of recipients of the Innovation and Summer Institute awards , as well as those moving on to the final round of the Global Challenge Award, visit U of T's News Site .