What do more sustainable steel mills, a flow sensor capable of working at harsh temperatures and new engineering leaders have in common? They are part of the dynamic partnership between Tenova Goodfellow Inc. (TGI) and U of T Engineering that has reached its 20-year anniversary.
TGI is a global leader in process optimization for steelmaking operations. They provide advanced industrial equipment that greatly improves the efficiency and sustainability of steel mills in many areas of the world.
For the last two decades, TGI has engaged in research collaborations with U of T engineers at Professor Murray Thomson's (MIE) Combustion Research Laboratory. Here, researchers are developing new sensor technology, computer modeling and optical spectroscopy to help TGI stay ahead.
"We are excited to celebrate a landmark 20 years with Tenova Goodfellow," said Professor Ted Sargent (ECE), Vice Dean, Research. "Partnerships with leaders in industry enable us to work on important problems whose solutions have major societal and economic impacts. They can help us to transfer the fruits of basic and applied research into commercial implementations."
Commercialization
In 2011, Professor Thomson's group developed a cross-correlation passive optical flow rate sensor that measures the rate of gases passing through various stages of the manufacturing process.
With its ability to operate in harsh, high-temperature environments, TGI purchased the sensor's patent, and in 2012, they incorporated the real time data it supplied into process models and control algorithms at three of their customers' steel mills.
This sensor and others developed through the U of T collaboration have been integrated into TGI's award-winning systems, eliminating greenhouse gas emissions by more than 200,000 tonnes and electricity consumption by over 300 gigawatt-hours, as well as reducing operating costs in the electric arc furnace market by as much as $90 million.
Training Engineering Leadership
This successful partnership also continues to train the next generation of engineering leaders. Currently, three masters students and one post-doctoral fellow from Professor Thomson's group are actively engaged in novel sensor development and combustion modeling projects with TGI.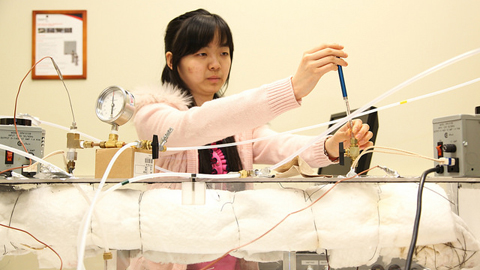 To date, more than ten U of T graduates have joined TGI's ranks, including Nick Kournetas (MIE MASc 9T8), Mohamed Boutazakhti (MIE PhD 0T4), and Salvador Rego (MIE PhD 0T8).
Continuing Impact
This unique exchange of research and commercialization expertise has also been validated through outside investment from the federal government, specifically the Natural Sciences & Engineering Research Council (NSERC) and Sustainable Development Technology Canada (SDTC).
And it isn't stopping there. With boundless possibility, researchers will continue to apply their findings across more and more intensive combustion processes – from biomass and coal-fired boilers to cement and oils sands applications.
Together U of T and TGI will continue training new engineering leaders and raising the bar of sustainability and efficiency in steelmaking and beyond.
—
Awards and Recognition for the Tenova Goodfellow EFSOP Technology:
2011 Consulting Engineers of Ontario Award of Excellence for the installation and commissioning of the Slop Detection System (SDS) Technology on five BOF vessels in Italy.
2009 Consulting Engineers of Ontario Award of Excellence for achieving EAF control at TenarisDalmine, Italy, using EFSOP® Technology.
2009 Tenova Goodfelow identified as a Cleantech company engaged in world-class research and environmentally friendly product innovation through the proprietary EFSOP® technology.