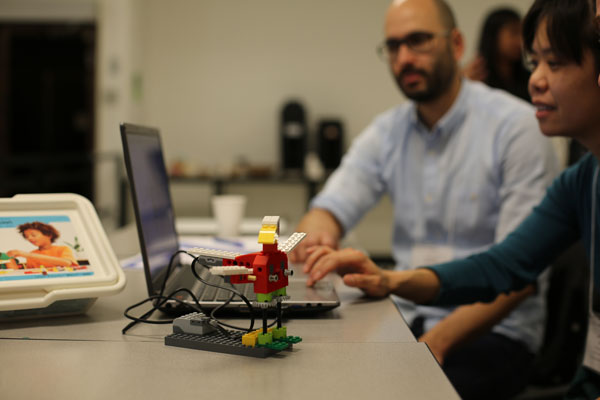 Nearly 350 elementary-school teachers from the Toronto District School Board came to U of T Engineering this week to learn how computer coding can help them teach everything from mathematics to literacy.
"This week is really about creating a space where teachers feel comfortable to explore coding," says Dawn Britton, Associate Director of Engineering Outreach at U of T Engineering. "The idea is for them to eventually bring it into their own classrooms."
Through a series of four full-day workshops, the teachers were given an introduction to Scratch, a visual coding tool created by the Lifelong Kindergarten Group at the Massachusetts Institute of Technology (MIT) Media Lab. Through a simple drag-and-drop interface, users can create animations, games and even program simple robots to perform tasks.
"I came in here looking at this through a science lens — using pulleys and gears — but what I'm realizing is that there's a whole literacy angle too: they can use this to tell stories," says Mary Heenan, a grade 4 teacher at Stanley Public School. "I think this would help some reluctant readers and writers; if they can create a story by coding it first and writing it afterward, it's going to totally change the game."
Antonio Santos, Central Coordinating Principal for STEM K-12 with the Toronto District School Board, says that the goal is to integrate digital literacy across the curriculum. "We want all students to be exposed to this. Learning about coding, robotics and the engineering design process will help them be creative, be innovative and collaborate with others," he says. "Partnering with U of T Engineering helps validate the work we're doing, and allows us to scale it up to reach hundreds of teachers in a short time frame."
The coding workshops were taught by engineering undergraduate students from a variety of disciplines. "My biggest passion outside of technology itself is seeing other people get excited about technology in the same way that I do," says Adam-Jeremy Chan (Year 4 ElecE) one of the workshop's instructors. "When you teach someone how to use coding to solve a problem, you get to hear their ideas and their perspective. Often, you discover new approaches you might never have come across yourself."
Funding for the initiative came from Codemakers, a national program delivered by Actua, in partnership with Google.org. It builds on a recognition that digital science is relevant not just to engineers and scientists, but to writers, graphic artists, musicians and all fields of endeavour.
This week's workshop series for elementary-school teachers is just the beginning for U of T Engineering Outreach. This spring, Britton and her team plan to invite about 40 of the teachers — those identified as STEM leaders within their schools — back to campus, but this time they will bring along students. The larger workshop will allow everyone involved to get more practice in using digital technology to enhance their teaching and learning.
"What we're trying to do is break down some of the fear and mystery that seems to accompany coding, and instead build excitement and momentum around technology in the classroom," says Britton.