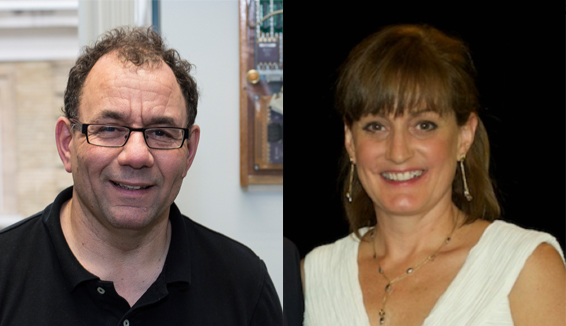 An electrical and computer engineering professor and an alumna who has become a leading mining executive are among those honoured by this year's Engineers Canada awards:
Professor Jonathan Rose (ECE) received the Medal for Distinction in Engineering Education for his exemplary contributions to engineering teaching; and,
Samantha Espley (Geo 8T8) received the Award for the Support of Women in the Engineering Profession for her engineering excellence and outstanding support of women in the engineering field.
"Jonathan Rose and Samantha Espley are remarkable examples of how U of T engineers pursue excellence in different disciplines," said Dean Cristina Amon. "Not only are they experts in their respective fields, but they also continue to encourage innovation, entrepreneurship and diversity in the next generation of engineering leaders. On behalf of the Faculty, I extend my heartfelt congratulations to Jonathan and Samantha and express my gratitude to Engineers Canada for recognizing these valuable contributions."
About Jonathan Rose
Joining the Faculty in 1989, Professor Jonathan Rose is well known for teaching his students through engineering design, where he encourages them to identify problems and then apply engineering concepts to build new technologies that solve them. He pioneered the creation of the course Digital Systems ECE 241, which gives students experience building and designing at the start of their second year, much earlier than other programs.
In 2011, Rose started the graduate course Creative Applications for Mobile Devices. The course brings together graduate student programmers — many of whom hail from engineering and computer science — to work with students from other fields across campus to create useful smartphone apps. The extremely popular course has already resulted in apps for surgery, museum navigation, asymmetric walking analysis, pain control, driving measurement, child medication dose control, high school education and addiction management.
Rose has successfully commercialized his own innovations in computer chip design, and is also passionate about incorporating entrepreneurship into the curriculum. In 2004, he founded the Engineering Entrepreneurship Seminar series to bring in guest speakers to share the story of their companies and inspire students to follow in their footsteps. Rose serves as the director of the Engineering Business minor, which he helped to develop, and was a key player in the creation of The Entrepreneurship Hatchery. Rose has also made significant contributions to engineering education beyond Canada through his role in the creation of the PhD program at the Addis Ababa Institute of Technology.
Rose's teaching style occasionally incorporates elements of improv theatre, such as asking students to shout out answers simultaneously. This technique helps students overcome inhibitions and makes large, early-year classes feel more intimate. He has received the The Edward S. Rogers Sr. Department of Electrical & Computer Engineering's teaching award four times and won the Faculty Teaching Award — the Faculty's highest teaching honour — in 2012. In 2014, Rose received the University of Toronto Faculty Award, presented to a faculty member from across the University who consistently demonstrates excellence in both teaching and research endeavours.
[youtube https://www.youtube.com/watch?v=4oPagA47FEc&w=560&h=315]
About Samantha Espley
Since completing her degree at U of T Engineering, Samantha Espley has moved quickly through roles of increasing responsibility at Vale (formerly Inco) and previously with Glencore (formerly Falconbridge). She is currently general manager of the Mines and Mills Technical Services Department in Vale's Ontario Operations, leading a multidisciplinary group of more than 200 engineers, geologists, metallurgists and technologists. She has also published and presented over 60 papers, reports and publications, with topics ranging from underground mine designs and automation systems to the role of women in the mining industry.
Ms. Espley is a founding member of Women in Science and Engineering (WISE) and has held leadership roles with WISE, the Canadian Institute of Mining and Metallurgy (CIM), Professional Engineers Ontario (PEO) and the Canadian Mining Research Network (CAMIRO). She has been a keynote speaker at numerous events, such as the Ontario-wide university initiative Go Eng Girl (for young women in grades seven to 10), WISE Gearing Up sessions (for high school students), Science North and WISE Fireball events, as well as Science Olympics (for girls in grades four to eight) and PEO Job Shadowing events.
In recognition of her achievements and contributions to the engineering profession, Espley has received the International Women's Week Award, the CIM Distinguished Service Medal, the U of T Engineering 2T5 Mid-Career Award and the Trailblazer Award from Women in Mining Canada.
[youtube https://www.youtube.com/watch?v=ObQiA4Xwqpg&w=560&h=315]