The word 'drone' often conjures up invasive images of military aircraft, but if Professor Hugh Liu of the University of Toronto Institute for Aerospace Studies (UTIAS) has his way, that perception is about to change.
Liu has just received $1.65 million from the Natural Sciences and Engineering Research Council of Canada (NSERC) to train 150 new experts in the use of unmanned aerial vehicles (UAVs) for a variety of useful purposes, from agriculture to environmental monitoring.
Ed Holder, Canada's Minister of State for Science and Technology, shared the news today at UTIAS. Liu's project is one of 17 from across Canada to receive a total of $28 million through NSERC's Collaborative Research and Training Experience (CREATE) Program this year.
"This grant will allow us to work closely with industry partners to explore new applications in this emerging market," said Liu. "It will give our students the opportunity to get practical experience and to prepare themselves to be the leaders in the field."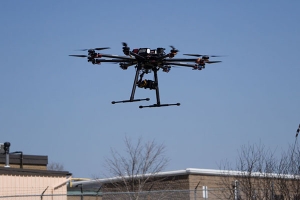 As founder of the Flight Systems and Control (FSC) Research Laboratory at UTIAS, Liu and his team are experts in autonomously controlled flight. They design computer algorithms similar to those used in the autopilot software for commercial aircraft.
For example, a passenger plane contains an altimeter that measures how high the aircraft is above the ground. The algorithm would take this input data and use it to determine how much to boost or cut the engines in order to maintain a constant cruising altitude.
While commercial flights are important, Liu's algorithms designed for UAVs can handle much more sophisticated inputs. For instance, one recent project with the Ontario Ministry of Natural Resources outfitted UAVs with thermal cameras, tuned to infrared light given off by hot objects.
Liu and his team designed algorithms that would enable the UAVs to find the edge of the blaze and fly along it. In this way, UAVs could help track the extent and spread of forest fires much more accurately than is currently possible, a boon to firefighters everywhere.
Another recent innovation was the creation of algorithms for synchronized flight. This allows a swarm of drones to sense each other's location and to fly as a coherent unit.
Flying in formation is critical as many commercially-available drones are too small to carry large payloads. If they can act together as a team, with each UAV carrying different sensors or pieces of a deliverable package, they could achieve more than by flying individually.
Liu and his team have already received a patent for the motion synchronization, and were recently honoured among of U of T's "Inventors of the Year". Liu and former graduate students Mingfeng Zhang (AeroE PhD 1T3), Henry Zhu (AeroE MASc 1T4) and Everett Findlay (AeroE MASc 1T1) have created a spinoff company, Arrowonics Technologies Ltd., to commercialize the technology.
"With its emphasis on preparing graduate students for careers in industry, government and academia, the CREATE program is of tremendous benefit to the University of Toronto Institute for Aerospace Studies and the Canadian academic research community," said David Zingg, director of UTIAS. "It facilitates fundamental, long-term research while at the same time enabling the universities to educate graduates who will be ideally placed to bring such cutting-edge research to fruition."
Other possible applications of UAVs include scouting for mineral deposits or other natural resources, monitoring pipelines or railways for damage, checking up on crops, applying fertilizers and much more.
"Thanks to a combination of technology, timing and demand, I think we're seeing the beginning of a golden age in the development of UAVs," said Liu. "As users in commercial and consumer applications start to see the potential of drones, they will need engineers who are deeply familiar with the technology. This is what this grant will allow us to create."