U of T Engineering recognized 10 outstanding faculty and staff members for their leadership, citizenship, innovation and commitment to the Faculty's teaching and research mission at the ninth-annual Celebrating Engineering Excellence reception on April 14. Five staff awards and two research awards were conferred at the celebration, which also honours the recipients of awards and major research grants over the past year.
"As we approach the end of another outstanding academic year, I am delighted to bring everyone together to celebrate the extraordinary contributions of our faculty and staff and to express our gratitude to everyone who makes this possible," said Dean Cristina Amon. "On behalf of the Faculty, I congratulate the richly deserving recipients of our staff and research awards, as well as those who received recognition over the past year."
This year's winners are: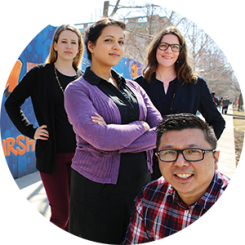 Roberta Baker, Raymond Cheah, Shilpa Gantotti, Catherine Riddell (Engineering Strategic Communications)
Innovation Award
This award recognizes staff members who have shown innovation in developing a new method, technology or system, or improving an existing system, to the benefit of the Faculty.
This team is being recognized for their work on the Centre for Engineering Innovation & Entrepreneurship (CEIE) graffiti installation. In partnership with a prominent Toronto-based graffiti artist, the team turned the extensive CEIE construction hoarding facing one of Toronto's busiest streets into an inspiring and highly visible piece of art that brought focus to the spirit and diversity of the Engineering community. Beyond the mural itself, the team led an innovative integrated communications campaign, creating an interactive online hub providing information on the mural and the CEIE, and listing the installation as a featured exhibit at Toronto's Nuit Blanche all-night arts and culture festival. This effort resulted in extensive media coverage. The installation was also unique for the speed with which it sped from concept to completion: despite the significant preparation and approvals required, the entire process took only seven weeks.
C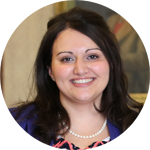 arla Baptista (MIE)
Quality of Student Experience Award
This award recognizes a staff member who has made significant contributions to the quality of student experience in the Faculty.
Carla Baptista is the Undergraduate Program Coordinator and Counsellor for MIE. Since taking on this role, she has led efforts to ensure students are better informed and better supported in their academic experience, and to encourage them to participate more fully in extra-curricular and co-curricular activities. In addition to streamlining and improving services, she has worked to improve resources for new students, developed a student success handbook, and instituted a career-coaching program. Despite the demands on her time from these projects, Carla always prioritizes individual students in need, personally ensuring that every student who reaches out to her gets the help and support they require and acting as an advocate and mentor for all MIE's students. In 2015 Carla was recognized for her commitment to the student experience with the Mechanical Engineering Student Club's Dedication Award.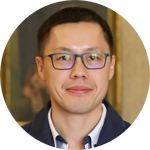 Matthew Chow (ECE)
Agnes Kaneko Citizenship Award
Named in memory of a valued staff member, this award recognizes staff who have served with distinction and made contributions to the Faculty's mission above and beyond their job description.
Matthew Chow joined ECE in 2005 as Junior Systems Administrator in the Research Computing Support Group. While this was envisioned as a junior role providing basic support to the group, Matthew's ongoing efforts to educate himself and improve his technical skills, combined with his willingness to take on additional responsibilities, led him to contribute well beyond expectations. Among other contributions, he helped the group streamline their department's research computing infrastructure, for which he received a U of T Excellence Through Innovation Award in 2012. Matthew was promoted to Infrastructure and Network Specialist for ECE in 2013. He continues to distinguish himself in his new role, training his colleagues in best practices, improving the structure and reliability of the ECE computer network, and helping researchers get the most computing value from their infrastructure funding.
Leslie Grife (Office of the Registrar)
Influential Leader Award
This award is for a staff member who demonstrates exemplary support for Engineering's endeavours and inspires others to realize their potential through their significant contributions.
Since joining the Faculty, Leslie Grife has held a series of roles with increasing responsibility, and now serves as Assistant Director, First Year Academic Services. Since she took on the management of the First Year Office in 2009, she has created a culture of excellence which has led to an outstanding level of student service and a commitment to effective and compassionate advising. Leslie has also had a tremendous impact on the Faculty through her leading role in the creation and implementation of a number of success-oriented programs and courses for students. These include Success 101, our primary summer transition program, and ReFresh, which provides targeted support and instruction to those students who did not progress past the first term of first year. Most recently, Leslie played a key role in conceiving, developing and implementing the innovative new course APS100: Orientation to Engineering.
Bruno Korst (ECE)
Harpreet Dhariwal Emerging Leader Award
This award, renamed in memory of an esteemed staff member who received this honour in 2011–2012, recognizes a staff member who leads by example in their dedication to the Faculty's mission.
Bruno Korst joined ECE in 2002 as the Communications Lab Engineer, and was promoted to Manager, Undergraduate Hardware Teaching Labs in 2007. Bruno has shown an outstanding commitment to advancing the teaching mission of the Faculty by continually improving equipment, operations and instruction in ECE's teaching labs. He is a role model and mentor for staff and provides above-and-beyond support to our students. Bruno has designed many of the ECE labs himself and has served as a co-instructor on lab courses. He was instrumental in the major three-phase renovation to ECE's Energy Systems Lab and took a leading role in the creation of the Faculty's online safety training program, for which he was a co-recipient of the Faculty's Innovation Award. Bruno's contributions have also been recognized with two U of T Excellence Through Innovation Awards and ECE's Gordon Slemon Award for Excellence in the Teaching of Design.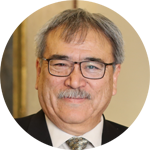 Alberto Leon-Garcia (ECE)
Research Leader Award
This award recognizes leadership in innovative interdisciplinary and multiple-investigator initiatives that have enhanced the Faculty's research profile within the broader community.
Alberto Leon-Garcia is a world leader in research on the design, operation and management of application-oriented multiservice packet networks. Most recently, he pioneered the concept of Software-Defined Infrastructure, a flexible, versatile, and evolvable infrastructure on which future application platforms will be built. Al has developed major research collaborations to advance this area of research. These include the NSERC Strategic Network on Smart Applications on Virtual Infrastructure (SAVI), a partnership of industry, academia, and high-performance-computing centres investigating key elements of future application platforms. Al is currently SAVI's Scientific Director, leading a team of 15 professors and more than 50 graduate students from 11 universities, working in partnership with 13 industry partners. He is also Scientific Director of Connected Vehicles and Smart Transportation, a university-industry-government partnership creating smart-management applications to improve the safety and efficiency of public transportation.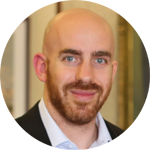 Adam Steinberg (UTIAS)
McCharles Prize for Early Career Research Distinction
This award recognizes exceptional performance and distinction in early-career research, typically on the part of a pre-tenure member of the Faculty.
Adam Steinberg has established an internationally leading research group in the fields of aerospace propulsion, gas turbine engines, combustion and laser measurement techniques. The primary aim of Adam's research is to improve the performance of aerospace propulsion and power generation systems, which would result in more efficient and sustainable aircraft. In the course of this work, he has developed novel measurement and data analytics techniques that have broad-reaching applications. For example, he developed techniques that can diagnose the mechanisms causing thermoacoustic instabilities in gas turbine combustors operating at flight relevant conditions; these instabilities are among the most challenging problems in combustion science.The impact of his work is demonstrated by his best paper awards and invited lectures at major conferences, including the Gordon Research Conference on Laser Diagnostics in Combustion. Adam is currently spearheading the development of the Advanced Combustion Energy Research Facility at UTIAS.