U of T Engineering faculty and staff gathered together on April 26th to recognize their colleagues' exceptional contributions to the Faculty's teaching and research missions at the 10th annual Celebrating Engineering Excellence reception.  This event honours the recipients of Engineering's staff, research and teaching awards, as well as those who received awards and major research grants over the past year.
"It's a great pleasure to bring our community together every year to acknowledge and celebrate the tremendous accomplishments of our faculty and staff" said Dean Cristina Amon. "On behalf of the Faculty, I offer heartfelt congratulations to the awardees, and thank all our faculty and staff members for their hard work, dedication and commitment to excellence."
This year's award winners are:
Joan DaCosta (UTIAS)
Agnes Kaneko Citizenship Award
Named in memory of a valued staff member, this award recognizes staff who have served with distinction and made contributions to the Faculty's mission above and beyond their job description.

Joan DaCosta has served as Manager of the Director's Office at UTIAS since 2006, playing a key role in supporting its tremendous growth over the past decade. Her dedication to both UTIAS and to the Faculty is exceptional, and her contributions have consistently gone far beyond her formal job description. Joan's positive attitude and passion for the educational and research missions of UTIAS have had a profound effect in creating and maintaining a sense of community within the Institute. She has distinguished herself in every aspect of her job, from the organization of popular events such as the industry-alumni formal dinner and the annual holiday lunch, to serving as an enthusiastic ambassador for UTIAS in her communications role, to her handling of sensitive HR issues with discretion and tact. The genuine personal concern she demonstrates for students, faculty and colleagues has made Joan the go-to person when someone at UTIAS needs a question answered, a problem solved, or just a friendly word of encouragement.
Greg Evans (ChemE)
Research Leader Award
This award recognizes leadership in innovative interdisciplinary and multiple-investigator initiatives that have enhanced the Faculty's research profile within the broader community.
Over the past 20 years, Greg Evans has established the Faculty as a world leader in the study of air pollution, both through his own groundbreaking research and through his leadership in establishing collaborative research networks at U of T, nationally and internationally. These networks include the Southern Ontario Centre for Atmospheric Aerosol Research, which brings together engineers, scientists and clinicians from various disciplines to study the impact of air pollution on the environment and human health in partnership with government agencies. Greg also led the creation of the Canadian Aerosol Research Network, uniting the collective expertise of leading aerosol researchers at U of T, Dalhousie and UBC. Studies conducted by these groups have been instrumental in advancing our understanding of the sources and effects of air pollution, and have helped shape government policy in this area. Most recently, Greg initiated a new collaborative program for exposomic research, a central part of U of T's first ever tripartite research agreement.
Cori Hanson (Office of the Registrar)
Quality of Student Experience Award
This award recognizes a staff member who has made significant contributions to the quality of student experience in the Faculty.
Cori Hanson serves as Assistant Director, First Year Student Success & Transition. She was instrumental in the development of the new APS100: Orientation to Engineering course, and continues to show leadership in ensuring this course both enhances the first year student experience and provides the upper-year engineering student TAs with opportunities for growth and development. She has also promoted this program beyond the University through publications and presentations at conferences and symposia. Cori has worked closely with the Engineering Society's Orientation Team to drive a cultural shift towards greater inclusivity and equity in these activities. She serves on the Faculty's Community Affairs & Gender Issues Committee and as Co-chair of the Engineering Engagement & Development Network. As an advisor, Cori creates a compassionate space in which students can explore, consider, and determine their own path to success, ensuring that students are reminded of their own strengths and skills even in the most difficult of circumstances.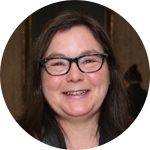 Pauline Martini (ChemE)
Innovation Award
This award recognizes staff members who have shown innovation in developing a new method, technology or system, or improving an existing system, to the benefit of the Faculty.
As Graduate Administrator for ChemE, Pauline Martini is an essential point of contact for graduate students, faculty members, and applicants. Through her innovation, she has tremendously improved the department's ability to share essential information with all these stakeholders. Pauline contributed to a project in which the graduate section of the departmental website was rewritten and reorganized to be considerably more user-friendly, and important information, such as year-by-year breakdowns of programs, was added. She also created a series of prepared responses to common student questions, allowing administrators to respond to these inquiries more quickly and efficiently. Perhaps most importantly, Pauline created individualized funding summaries for graduate students detailing exactly when they will receive their funding; information they did not have access to in the past. This has substantially improved their ability to budget and to make financial decisions. These innovations, in addition to Pauline's tireless day-to-day efforts, have resulted in a greatly improved experience for ChemE graduate students.
Andrey Shukalyuk (IBBME)
Harpreet Dhariwal Emerging Leader Award
This award, renamed in memory of an esteemed staff member who received this honour in 2012, recognizes a staff member who leads by example in their dedication to the Faculty's mission.
In his role as IBBME Undergraduate Teaching Laboratory Coordinator, Andrey Shukalyuk has made exceptional contributions to curriculum development and delivery for biomedical engineering lab courses. In particular, he played a key role in the expansion and improvement of IBBME's teaching facilities, and has worked with students and faculty to ensure the best possible learning experience for students using these facilities. Andrey spearheaded successful funding proposals which allowed for the installation of leading-edge audio-visual technology and the replacement of outdated microscopes with research grade equipment. He has also worked closely with faculty on the development of lab courses to ensure appropriate skill development and continuity and eliminate overlap. In addition, he develops and delivers content-specific safety training for every course that uses the lab, and provides ongoing mentorship and training to students and TAs. Andrey's leadership has resulted in a facility which has become a showcase for next-generation laboratory teaching.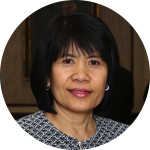 Endang (Susie) Susilawati (ChemE)
Quality of Student Experience Award
This award recognizes a staff member who has made significant contributions to the quality of student experience in the Faculty.
Susie Susilawati is the Lab Manager for BioZone, home to approximately 80 graduate students and postdoctoral fellows. She works tirelessly to ensure that the BioZone labs run smoothly and safely so that students have an outstanding research experience, and consistently seeks student feedback on how the labs can best meet their needs. However, Susie's contributions to the student experience go far beyond her official role – since joining BioZone in 2009 she has made it her mission to create an exceptional sense of community, making sure that every student feels welcome and connected. Susie takes the time to get to know each of BioZone's students and ensures that they get to know each other. She is the first person students seek out when they need assistance of any kind. Susie plans and hosts community-building events such as a weekly informal social and monthly birthday celebrations, and encourages all BioZone members to get involved. Her efforts have been instrumental in creating a cohesive student community within this unique centre.
Recipients of the previously-announced Faculty Teaching Awards were also recognized at this event.
See photos from the event below: