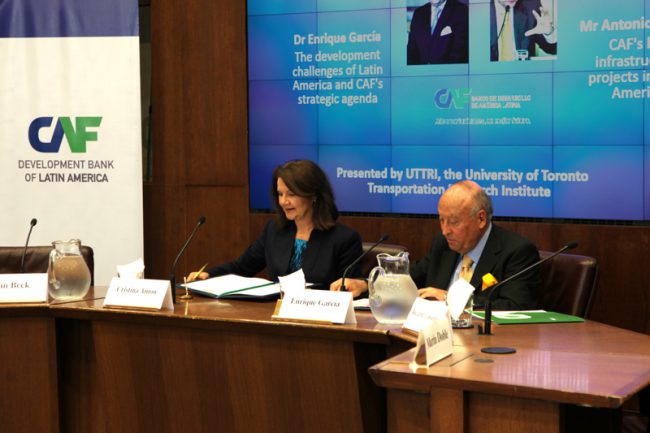 If emerging economies are to prosper and compete in the 21st century, Enrique García, president and CEO of Latin America's largest development bank, says there are two areas in need of critical attention:
"Education and infrastructure…that is why we are here at the University of Toronto."
Last Thursday, García and a delegation from CAF — the development bank of Latin America — signed a letter of intent with U of T's Faculty of Applied Science & Engineering to explore innovative methods for sustainable urban development.
"U of T Engineering is a global leader in transportation, water, energy and infrastructure research for sustainable cities," said Dean Cristina Amon. "We are excited to collaborate with CAF on developing innovative solutions that will benefit communities in Latin America and around the world."
CAF is one of the largest sources of financing for infrastructure in South America, providing more funding for projects than the World Bank and the Inter-American Development Bank combined. The organization stresses sustainable growth and regional integration, involving 18 countries in Latin America, the Caribbean and Europe, as well as 14 private banks in the Andean region.
Senior CAF officials, including García and Antonia Juan Sosa, CAF's vice-president of infrastructure, travelled to U of T last week for a day's worth of knowledge sharing, research exploration and facility tours.
"Their visit provided an extraordinary opportunity for U of T to showcase our extensive research in sustainable infrastructure and urban development, while learning firsthand about challenges in Latin America," said Eric Miller, director of the University of Toronto Transportation Research Institute (UTTRI), which hosted the group.
UTTRI will be the focal point for the University's collaboration with CAF. Launched earlier this year, the Institute is a transportation research hub led by the Faculty of Applied Science & Engineering. It brings together experts from engineering, economics, policy, urban geography and planning, computer science and more from across U of T.
"Our new agreement will leverage UTTRI's campus-wide research network," said Miller. "Building on our recent exchange of knowledge and ideas, the next step is to identify an initial set of projects for the two organizations to collaborate on."
Last Thursday's visit also involved keynote addresses from García and Sosa to an audience of U of T researchers and Canadian business and government leaders, as well as a panel discussion on Latin American infrastructure with John M. Beck, executive chairman of Aecon Group Inc., Riccardo Cossentino, vice-president of infrastructure investment with SNC-Lavalin Capital, and Martin Doble, global managing director of infrastructure for Hatch.
"The link between research and development is very tight," said García. "Applied research is a direct vehicle for the advancement of societies and the promotion of its productive capacities."
CAF has also recently signed with several other major universities, including Harvard, Oxford and the London School of Economics.