Dean Cristina Amon and Professor Javad Mostaghimi (MIE) have been awarded the 75th Anniversary Medal of the American Society of Mechanical Engineers (ASME) Heat Transfer Division. The U of T engineers were among only three recipients from Canada.
The medal, awarded to recipients on July 15 in Minneapolis, recognizes engineers who have made outstanding contributions to the heat-transfer community.
This is not the first time Dean Amon and Professor Mostaghimi have been honoured by ASME. Dean Amon was a recipient of the ASME Gustus Larson Memorial Award in 2000, while both professors have been honoured with the ASME Heat Transfer Memorial Award in 2009 and 2012, respectively.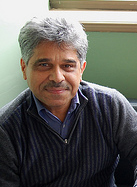 Dean Amon is regarded as a pioneer in the development of Computational Fluid Dynamics for formulating and solving thermal design problems subject to multidisciplinary competing constraints. At U of T Engineering, her research focuses on nanoscale thermal transport in semiconductors, energy systems and bioengineered devices. She has been inducted into four academies, the Canadian Academy of Engineering, the Spanish Royal Academy, the Royal Society of Canada and the U.S. National Academy of Engineering. She has been elected fellow or honorary member of all major professional societies in her field and has contributed 350 refereed articles in education and research literature.
Professor Mostaghimi is the founding Director of the Centre for Advanced Coating Technologies (CACT), one of the world's leading research centres in the area of thermal spray technology. Research results are widely used in the aerospace, automotive, power generation and resource extraction industries. He holds four patents, has published 148 refereed journal articles and has been cited more than 2,600 times. He is a Fellow of the American Association for the Advancement of Science, the American Society of Mechanical Engineers (ASME), the Canadian Society for Mechanical Engineering (CSME), the Canadian Academy of Engineering, the Engineering Institute of Canada and the International Union of Pure and Applied Chemistry.
"Congratulations to Cristina Amon and Javad Mostaghimi for this exceptional honour," said Professor Jean Zu, Chair of the Department of Mechanical & Industrial Engineering. "Both researchers exemplify innovation, always making significant contributions to the heat-transfer field. It is wonderful the ASME Heat Transfer Division chose to recognize our MIE professors on the occasion of its anniversary."