At the annual Undergraduate Engineering Research Day (UnERD), held August 19, students who spent their summer working in labs across U of T Engineering presented their findings to a wider audience. This year's event featured more than 100 poster and podium presentations on a wide variety of topics, including alternative energy storage, health care and rehabilitation, air pollution and much more.
"We aim not only to celebrate undergraduate research, but also to provide opportunities to refine skills necessary for research, from abstract writing to networking," said Esther Jang (Year 2 EngSci) who, along with Jennifer Chan (Year 4 EngSci), co-chaired this year's organizing committee.
Even before the conference began, the Engineering Communication Program facilitated workshops to help students make their abstracts more concise and compelling. At the event, students had an opportunity to practise their elevator pitches for potential supervisors or industrial partners during a networking reception, held for the first time this year.
"We really value the kinds of experiences that students can get in a conference like this," said Scott Whitty (EngSci 1T3 + PEY) of Altera Corp, one of the events sponsors. Whitty presented at UnERD himself in 2011. His research project attracted the attention of key mentors, which led to a Professional Experience Year (PEY) internship and eventually, a full-time job. He was only too happy to come back and meet with some of the current generation "It's about being able to give back to the kind of community that got me to where I am," he said.
UnERD can help kick-start a research career as well as an industrial one. The day's top presenters get the opportunity to publish their research in STEM Fellowship Journal, a peer-reviewed publication that aims to be a "showcase for original, interdisciplinary ideas and supports the inquiry-based approach of the Internet-educated generation." This year's winners are:
___
Catherine Gordon (Year 3 ChemE) – First Prize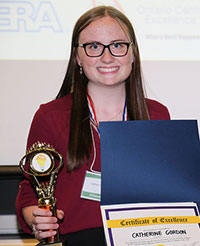 Gordon won the overall prize for her efforts to better understand and fight air pollution. Her research project focused on secondary organic aerosols, pollutants that are formed when chemical substances given off by plants react with man-made particles in the atmosphere. These tiny secondary particles can penetrate deep into our lungs and cause health problems. They also impact climate change by seeding cloud formation and scattering sunlight.
Gordon used a device called a flow tube to simulate the processes that create secondary organic aerosols in the lab. Her findings helped model how various factors — including hot, humid weather — impact their formation. Although we can't control the substances emitted by trees or the humidity, Gordon's results show the importance of reducing human-made pollution to prevent these reactions before they start.
"This was an excellent experience, very different from other summer jobs I've had in the past," said Gordon. "I feel like I've been exposed to how research really works." She said being immersed in atmospheric chemistry has put this subject on her radar, and that she is considering further studies in the field.
Colin Harnadek (Year 3 ChemE) – Second Prize
Harnadek worked on sustainable energy, specifically ways of improving the production of the alternative fuel known as biogas. Biogas is made by micro-organisms breaking down organic waste — in this case, old newspapers and cardboard — in a large vessel called an anaerobic digester. The process recycles waste into a fuel similar to natural gas that can be burned to create heat and electricity.
Harnadek's task was to measure the chemical oxygen demand (COD) of the paper and cardboard feedstock, which is a measure of how much degradable organic material is present. By comparing this with the COD of what comes out of the digester at the end, Harnadek and his colleagues could get a better sense of how completely the digester degraded the waste. This in turn could help them develop design changes that could improve the efficiency of the device.
"I really enjoyed this project," said Harnadek. "It gave me a great insight into this area of research. I had no experience with it at the beginning of the summer, but now I'm really interested in it." Harnadek plans to continue learning more about this area by doing a minor in sustainable energy.
Chen Fan (Year 3 ChemE) – Third Prize
Fan's project also involved alternative fuel production, in this case the upgrading of bio-oil — produced from waste agricultural or forestry biomass — into useful products. Current bio-oil upgrading processes involve using expensive catalysts, lots of hydrogen gas, heat and pressure. Fan is trying to find ways to lower these operational costs.
Fan proposed and demonstrated that adding carboxylic acids to the mix can increase the rate of hydrogenation reactions which are key to the conversion process. His experiments improved our fundamental understanding of the hydrogenation reactions, and then tested the new process under a variety of conditions. Lower-cost biofuels could help improve sustainability in energy-related fields.
"I found this summer research valuable, because it provides me with opportunities to improve my experimental, thinking and communication skills," said Fan. "My supervisors are very responsible and informative, and I have learned a lot from them."