The son of a Dutch farm labourer, William Troost (ChemE 6T7) didn't have much money when he was growing up – which is why he speaks so highly of the scholarship he received to study engineering at the University of Toronto.
"Without that award, I probably couldn't have gone to university," Troost has said of the J. Edgar McAllister Foundation Student Awards Program.
"So it had a tremendous impact on my life."
Decades later, Troost – who founded Peel Plastics, an innovative Ontario packaging company – and his wife, Kathleen Troost, have sought to have a similar impact on current and future students by giving generously to the university, particularly to U of T Engineering.
For his "outstanding service to the University, as a dedicated and transformative volunteer, mentor, and philanthropist," U of T will recognize Troost on Wednesday with a Doctor of Laws, honoris causa.
Since 2005, Troost has served on the advisory board for the Department of Chemical Engineering & Applied Chemistry – the same department where he earned his degree. He supported the construction of the Myhal Centre for Engineering Innovation & Entrepreneurship. He also helped establish the Institute for Leadership Education in Engineering (ILead), which launched in 2010. Built upon on a previous summer leadership program, the institute provides leadership learning and professional opportunities, industry outreach and leadership research.
In 2018, Troost's $3-million gift to ILead allowed the institute "to dig deeper into complex research questions about engineering leadership in the workplace and the classroom, and reach out further to engineering leadership educators and engineering-intensive enterprises," says Professor Doug Reeve (ChemE), ILead's inaugural director told U of T Engineering News.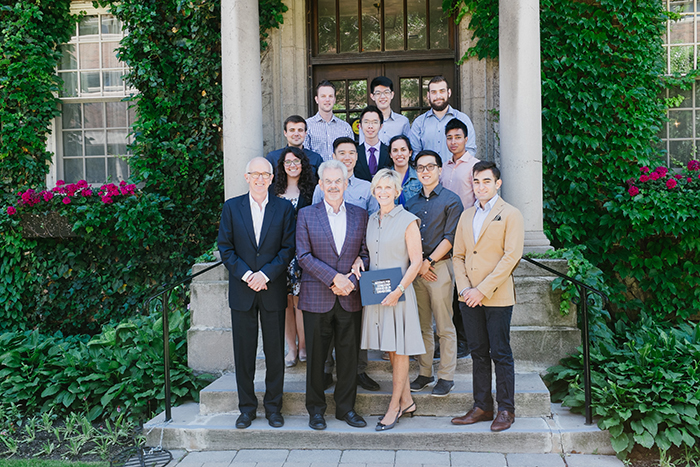 The donation was matched by the Faculty and, in recognition of the Troosts' longstanding support, the institute was renamed the Troost Institute for Leadership Education in Engineering (Troost ILead).
The Troosts contributed nearly $10 million to U of T Engineering during the Boundless campaign. That includes a $1 million gift for student support – endowed funds meant to generate annual scholarships – and the establishment of the J. Edgar McAllister Foundation-Troost Family Award for Engineering, named for the same award that once gave Troost the opportunity to study at U of T.
Troost told U of T he wanted to give other students the same leg up that he once received. "I was fortunate," he told the Boundless campaign. "And whatever success I've had in business, I certainly wouldn't have gotten there without that kind of financial support."
With the help of the scholarship, Troost earned a bachelor's degree from U of T Engineering and an MBA from the University of Western Ontario (now Western University) in 1975. He founded Peel Plastics in 1978, which has since grown into a vital regional employer.
William Troost's message to the Class of 2019:
Technical mastery by itself does not make you an effective and efficient engineer. To be effective and efficient, you must be able to translate your technical knowledge into positive change. You must be able to quickly identify problems and opportunities, and you must be able to make right decisions based on incomplete information, leading to conclusions, recommendations and action.

Thus leadership is a core component of an engineer's ability to translate technical skills into practice.