Twenty-two multidisciplinary student teams unveiled their design solutions to industry challenges at this year's Multidisciplinary Design Projects (MCP) Showcase on April 4, 2019.
Since the launch of MCP in 2013, more than 550 students have benefitted from the experiential and collaborative learning that the immersive design course fosters, resulting in over 120 completed projects for 64 clients.
Students are challenged to leverage their diverse engineering backgrounds to generate novel designs that address complex challenges.
These three innovative projects were among those presented at this year's final showcase:
Redesigning the lower body of a space suit to improve blood flow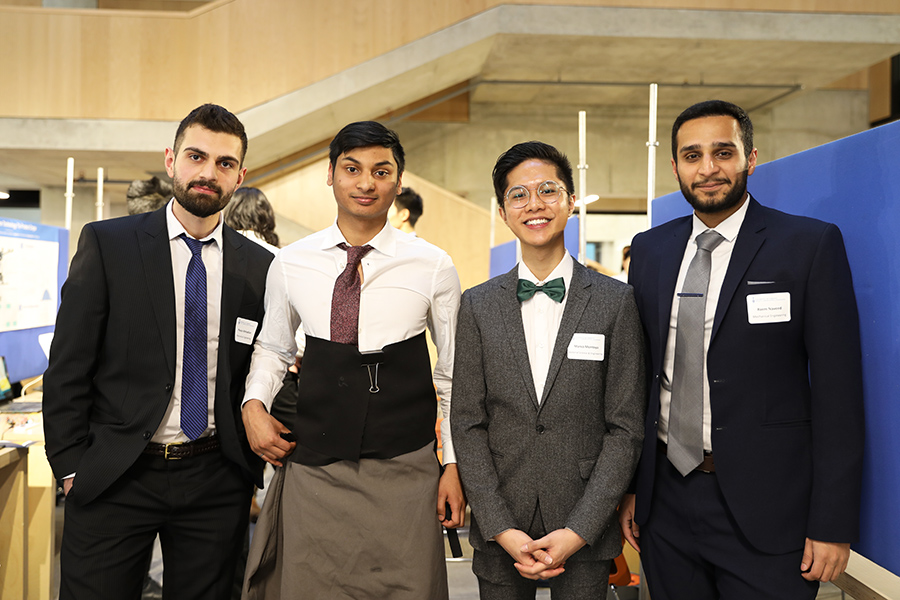 On Earth, the human body is constantly regulating blood flow to counteract the downward force of gravity that pulls blood into the legs and feet.
In zero-gravity conditions, the opposite is true: this force balance is disrupted, causing blood to flow toward the upper body. Prolonged exposure in zero gravity can lead to bone loss, changes in eye structure, pressure on the brain and a noticeably puffy appearance to the face.
Current designs of Lower Body Negative Pressure (LBNP) space suits counteract this problem by introducing a negative pressure gradient on the lower body, thereby creating an artificial gravitational force that shifts fluids downward.
However, these suits are made of rigid materials and are in need of an update. Working with clients at the Association of Spaceflight Professionals, the team designed a new iteration of the LBNP space suit that introduces more flexible material, as well as an inflatable waist seal and pressure sensor to ensure the negative-gradient pressure is constant.
Space suits have made headlines in recent weeks, with the news of NASA cancelling an all-female spacewalk because the agency did not have enough spacesuits that fit both astronauts.
Ariel Seebarran  (Year 4 MSE) says the news only underlines the need to improve the space suits, especially if humanity continues to aim for ambitious expeditions in the future.
"It's so important to keep in mind that your designs should be accommodating. That's why our waist seal is made of flexible material that can fit a variety of body sizes," says Seebarran.
The team hopes to build a full-scale prototype and ultimately see astronauts one day use their redesigned LBNPs on the International Space Station.
Reducing exposure to contaminated soil flooring in Guatemalan Indigenous communities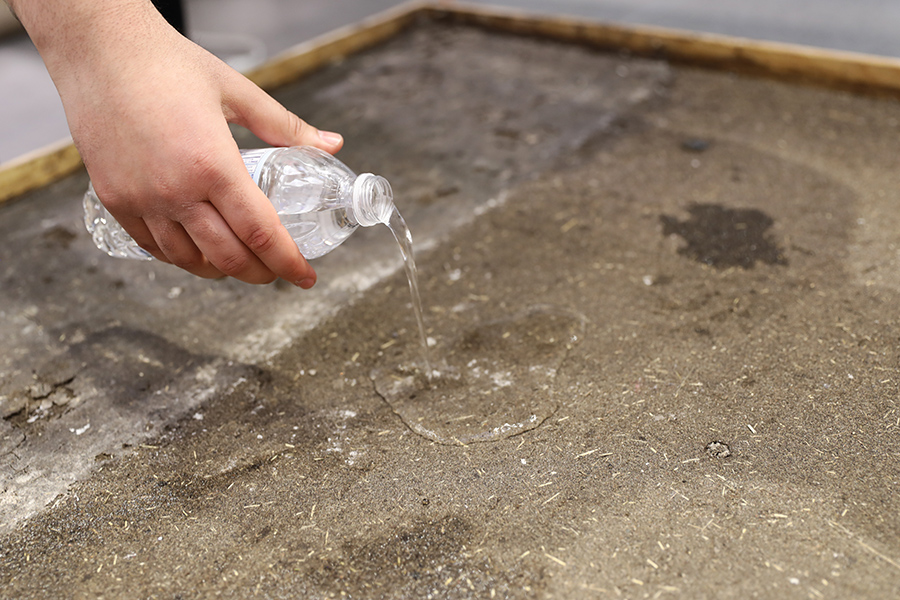 In the Indigenous Chorti communities in Guatemala, residents live in homes with soil flooring that is prone to contamination. Exposure to fecal contamination, especially for children, can lead to serious health problems including bacterial infections and stunted growth.
Working with Action Against Hunger, the U of T Engineering student team was tasked with creating a flooring solution built for less than $280 USD per household, and composed of local, natural materials.
The team designed an earthen floor made of sand, clay and palm tree fibres sealed under a layer of water-resistant finishing oil. The expected lifetime of the floor is 15 years.
"The Chorti community is already a marginalized group in the country, so we wanted to make sure to approach the problem in a sensitive manner," says Sayuri Guruge (Year 4 MSE), whose teammates, from MIE and CivMin, visited the Chorti communities before embarking on the design solution.
"We didn't want to come up with a solution that would change their way of life or rapidly change their household," adds Guruge. "This was a very human-centred project and a meaningful journey for us."
In addition to the design, the team developed an implementation plan and a hygiene education awareness plan for their clients. Next year's MCP team will continue improving the design before it is implemented.
Creating an intelligent insurance claims bot
Artificial intelligence (AI) has enabled a new way to file insurance claims, automating and simplifying claims procedures.
For this project, students Kyle Bimm (Year 4 MechE) and Haozhe Sheng (Year 4 EngSci) put themselves in a unique position to be their own bosses: their startup company, Liscena, was the client.
Licensa builds AI-enabled insurance adjuster systems for home and auto insurance companies to reduce the time for adjustment claims, while increasing transparency and engagement for customers.
The U of T Engineering students aimed to further the startup's AI capabilities. The team developed a real-time, conversational claim-reporting bot that gathers data, while automating questions and responses to customers via existing communication channels such as Facebook Messenger and iMessage.
"The chat experience on the front end walks customers through a list of questions specific to their case," says Bimm. "It also enables a more convenient and accessible experience for
claimants. It solves the inconvenience of customers who have to continually repeat their incident to different staff, and feel disengaged from the progress of their claims."