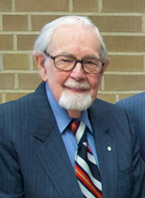 University Professor Emeritus Bernard Etkin (UTIAS), an Engineering alumnus and former Dean of the Faculty, has been selected to receive the American Institute of Aeronautics and Astronautics (AIAA) Aerospace Guidance, Navigation, and Control Award for 2014. This award has been bestowed on Professor Etkin "for outstanding achievement in and dedication to research and education in the field of guidance, navigation and control for over a half century."
A graduate of the Faculty's Engineering Physics program, Professor Etkin's accomplished career encompassed aeronautical research, consulting, teaching and academic leadership. In 1957, he joined the University of Toronto Institute for Aerospace Studies, where he taught 30 courses in aeronautics over the course of his career. He served as Dean of the Faculty of Applied Science & Engineering from 1973-1979.
Professor Etkin's research on aerodynamic theory led to eight patents and three widely used books on flight dynamics, which have been published in several languages. He contributed to the design and production of two gliders and most of the Avro and de Havilland aircrafts. Professor Etkin also made many contributions to space flight. Most notably, he was a member of the team at UTIAS which helped avert a tragedy when an in-flight explosion damaged the Apollo 13 spacecraft. When the service module became crippled, they performed crucial calculations on the correct pressure needed to separate the entry module from the damaged spacecraft, allowing the astronauts' safe return.
Professor Etkin is a Founding Fellow of the Canadian Academy of Engineering and a Fellow of the Royal Society of Canada, the American Institute of Aeronautics and Astronautics and the Canadian Aeronautics and Space Institute. He was inducted into the Order of Canada in 2003.
"Bernard Etkin exemplifies the commitment to excellence and to service that we strive to instill in all our graduates," said Cristina Amon, Dean of the Faculty of Applied Science & Engineering. "It was our great good fortune that he chose to spend his career at U of T. On behalf of the Faculty, I offer my warmest congratulations on this prestigious award."
The award was presented on January 14, 2014, at the AIAA Science and Technology Forum and Exposition in National Harbor, Maryland.