On October 25, U of T Engineering hosted a mental health & wellness pop-up event in the atrium of the Bahen Centre for Information Technology, drawing more than 280 students. 
This was the second iteration of Build U Up, and featured interactive booths, led by participating units from across the University and wider community, which engaged students to learn more about mental health supports.  
"The event not only raises awareness of the mental health resources available to students, but it also aims to destigmatize conversations around mental health and well-being," says Cherie Mak, U of T Engineering's mental health programs officer.  
"This time around, we expanded the event to include community resources, so students know that there are many supports outside of regular business hours that they can seek out when needed."  
Event participants such as Health & Wellness, TELUS Health Student Support, Office of Diversity, Inclusion & Professionalism, SKULE™ Mental Wellness, the University of Toronto Mental Health Student Association, National Society of Black Engineers: U of T Chapter and GOOD2TALK held demonstrations and activities, including origami, positive affirmations, trivia and self-care prompts.
At each booth, students received a building brick. After visiting at least five booths they could assemble a positive symbol for a chance to win a prize. Mak also provided students with building bricks that opened to reveal messages of encouragement from faculty members, student leaders, alumni and staff.  
"We want students to know that the Faculty is here to build you up," says Mak. "But at the same time, we want to encourage them to build themselves up by building their own peer support network."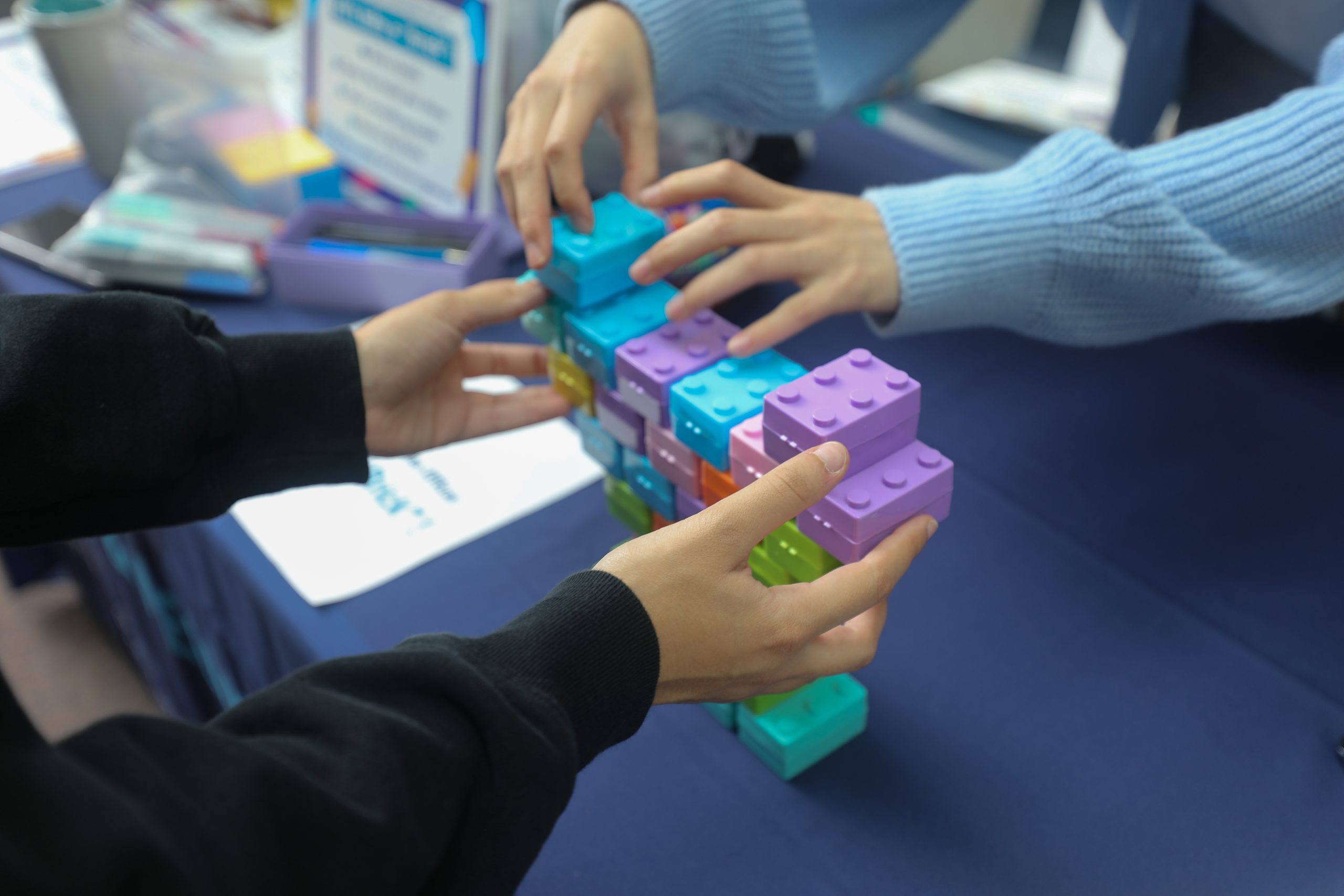 Since joining U of T Engineering in 2022, Mak, who is a registered social worker, has worked with faculty members, students and staff to promote mental health initiatives and to advance the Faculty's commitment to fostering a culture of care and support.   
"I lead workshops, provide suicide prevention training and additional learning opportunities like the Mental Health Initiatives Community of Practice. I also have one-on-one resource navigation meetings with students, where they can share what they are going through, so I can help guide and connect them towards relevant resources," says Mak.  
"We have so many resources listed online, and that can be overwhelming for a student who may not know which one to choose.   
"But I can make connections and referrals on their behalf and help ease any stress —they don't have to do it all on their own. I understand that it takes a lot of courage to seek help." 
Mak also helps to administer the Skule™ Mental Health Bursary, a financial aid program that is meant to supplement the mental health support offered by the University and Faculty.  
Through a collaboration between the U of T Engineering Society (EngSoc) and the Faculty, students can apply to receive up to $450 for each cycle toward the cost of counselling, therapy sessions, workshops, medication, assistive devices, peer support groups, resource guides and more, based on their needs to take care of their mental health.   
"We are working across U of T Engineering to increase donations to the bursary so we can offer the funding to even more applicants," says Mak. 
To further boost the fund, EngSoc and Dean Christopher Yip are matching all contributions to triple the impact of each gift to a maximum of $50,000. 
Applications for the winter cycle are open from December 11, 2023 to February 2, 2024. 
"While my office doesn't provide counselling, I want students to know that they can always reach out to me if they have any questions about the mental health and well-being services available to them at U of T. They do not need to wait until things hit rock bottom before seeking help," says Mak.  
"They're not alone: we have a community here to support them in their academic journey with us."