Kevin Qu (Year 1, EngSci) got hooked on science when he first went fishing with his dad.
"I loved it," says Qu. "And as I grew up, my first academic interest was toward ichthyology and biology. When I was eight years old, I could identify most fish that you could pull out of the water in Ontario."
Qu soon expanded his horizons to include programming, then engineering. "I took on an internship with a company called Brain Power," he says. "They build tech with augmented reality for autistic kids. It was really touching for me because I have a brother who has autism. I was able to both code and engineer things, but for university, I chose engineering. My dad pointed out that in engineering, real-world application and theoretical ideas all come together. I want to try out entrepreneurship, focusing on what I'm good at, what I'm interested in, or what I most want to fix."
Qu is one of five U of T Engineering recipients of a 2021 Schulich Leader Scholarship. Now in their 10th year, the awards recognize Canadian high-school graduates who exemplify academic excellence, community leadership and a passion for STEM — science, technology, engineering and mathematics.
Philanthropist Seymour Schulich founded the awards in 2011 through the Schulich Foundation. This year, ten students from across U of T earned scholarships valued at $80,000 for science, technology or mathematics students and $100,000 for engineering students. The award also includes membership in the growing Schulich Leaders Network of successful alumni.
"Being able to win the scholarship out of so many nominees — it felt special," says Qu. "I feel like with the financial liberty that I now have, I'm able to do a lot more. I can try out what it's like to be an entrepreneur. I'd like to thank Mr. Schulich for giving the youth across the country an opportunity to have a more enjoyable university experience: to pursue what we set out to do."
"Solutions come from thinkers who leverage the transformative power of great ideas," says Meric Gertler, president of the University of Toronto. "Seymour Schulich embodies that ideal, and the scholarship program he established enables our emerging innovators to shape new frontiers in science and technology. On behalf of the University of Toronto, I would like to extend a warm welcome to our newest Schulich Leader Scholars, and to thank Seymour Schulich for his vision and generosity."
---
Meet the 2021 U of T Engineering Schulich Leaders
Lisa Bera, Engineering Science
With a passion for robotics design, Bera sees technological innovation as a key to saving lives from natural disasters. The engineering student is excited to kick-start her career at U of T, with a special interest in innovations to help global populations living in high-risk areas.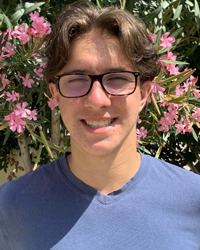 Lucas Crupi, Mechanical Engineering
Crupi didn't just start a robotics club at his high school—he inspired both his teachers and his peers with his passion for the subject. He's looking forward to meeting more alumni of the Schulich network, and launching his career in mechanical engineering at U of T.
Andrew Magnuson, Engineering Science
From founding his high school's Computer Science Society to participating in a teen innovator program, Magnuson is on his way towards his ambition: to break ground in the field of machine intelligence. A musician, debater and Model UN alumnus, he brings a well-rounded mind to the task.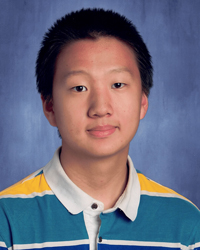 Kevin Qu, Engineering Science
Qu's accomplishments include founding a youth leadership group that created community events from a basketball tournament to a hackathon. His ultimate goal: to found a startup that builds sustainable tech, as well as assistive technology for people with developmental disabilities.
Emily Zhou, TrackOne
A dedicated volunteer, Zhou has organized community fundraisers and served on her school's student council. And she also found time to dance, play piano, and create a prototype app with business plan. She looks forward to learning about the breadth and depth of tech innovation at U of T.