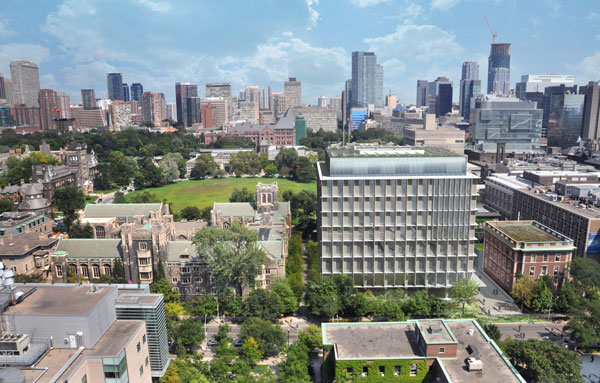 On April 27, 2018, U of T Engineering's newest building, the Myhal Centre for Engineering Innovation & Entrepreneurship officially opens its doors. So what exactly is in store for students, staff, faculty and alumni as they enter for the first time? In this two-part series, we provide a floor-by-floor preview. (Update: read Part II, which focuses on the building's upper floors.)
Level 0 — Unleash your creativity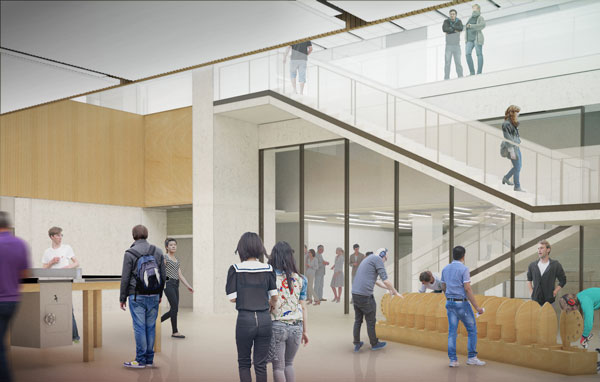 This versatile space is the perfect place to bring brilliant ideas to life, whether it's writing a piece of software, building a robot or performing a symphony.
The Engineering Society Arena — supported by a $1 million gift from the students themselves — is designed to support the rich variety of co-curricular clubs and teams that enhance our vibrant community. More than half a dozen groups will receive dedicated space for fabrication, storage and offices, including the award-winning Human Powered Vehicles Design Team, the Supermileage Team and the creatively playful Spark Design Club.
The arena also serves as an open, flexible meeting space, perfect for hosting events, meetings and even concerts.
Speaking of concerts, the sound-proof multimedia music room is a great place for members of our talented Skule™ Music community, including the orchestra, choir and stage band, to make some noise.
Rounding off the lower level are the Stewart Blusson Visualization Laboratory with immersive screen technology and a computer teaching lab that will be invaluable for helping students learn the software they need to power their dreams.
First and second floors — Awe-inspiring event space and auditorium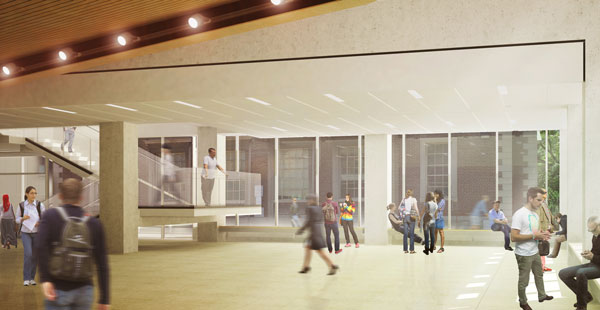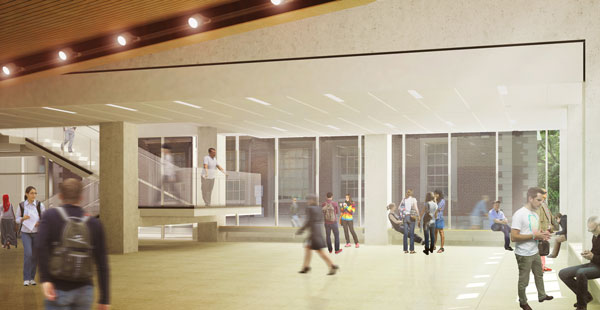 The Myhal Centre's main doors open on a spacious and welcoming foyer overlooked by a café and a number of casual study spaces. Illuminated with plenty of natural light, the foyer will be a hub for the U of T Engineering community, hosting receptions, vehicle unveilings, outreach events, career fairs, poster sessions, workshops and much more.
The foyer's openness is designed to facilitate the chance encounters that catalyze innovation — as students, faculty, staff, alumni and external partners stroll through it, their next interaction has the potential to spark a fresh idea, a shift in perspective or a new collaboration.
Backing the foyer is the Lee & Margaret Lau Auditorium, which re-imagines the relationship between the speaker and the audience. It's designed to make every class, guest lecture or special event a forum for two-way engagement and spontaneous interaction.
Doing away with linear seats in tiered rows, its 468 chairs are arranged around tables in groups of four or six to encourage collaboration. A data communications system embedded in each table enables the lecturer to display any team's work onto the stadium-style display array to share their ideas with the entire class.
The communications system can make even the smallest demonstration large enough to see from the back of the room, and the stage is large enough to accommodate a full-sized vehicle.
Third and fourth floors — Classroom meets makerspace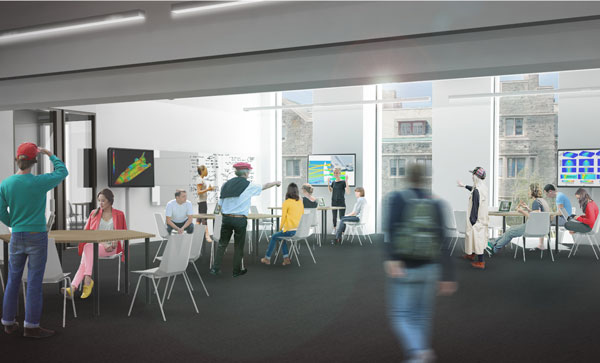 The Myhal Centre includes dozens of unique spaces that enable students to move seamlessly from learning new ideas and abilities to putting them into practice in a concrete, practical way.
Technology Enhanced Active Learning (TEAL) rooms support blended modalities of teaching and creative design activities. There is no "front" of a TEAL room: with screens located on every wall, any student can see material from the instructor, and share their ideas with the rest of the class. Instead of desks, moveable tables can be configured to facilitate many different kinds of collaborative learning activities.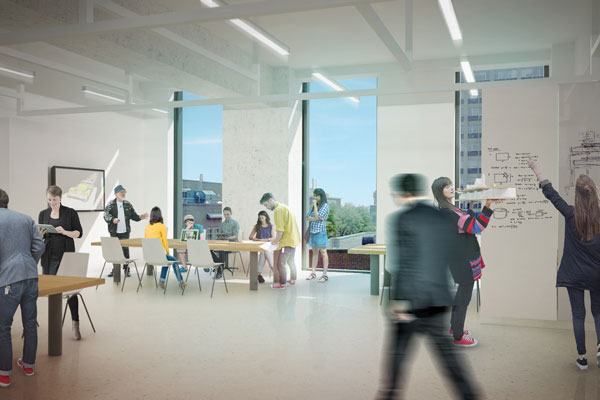 Adjacent to the TEAL rooms are the design studios, large open areas where students can meet and expand on the ideas they generate in their courses.
There are also light fabrication facilities where students can build components out of plastic, metal or wood before returning to the rest of their group, including a rapid prototyping room equipped with 3D printers and a laser cutter.
Many of the design studios and fabrication facilities are open outside of regular classroom hours, ensuring that a group's momentum is never lost. In addition, large banks of lockers enable students to store their creations on site, ready for their next meeting. These additions will not only help in course-based projects, but also enable student clubs and design teams to stay at the top of their game.