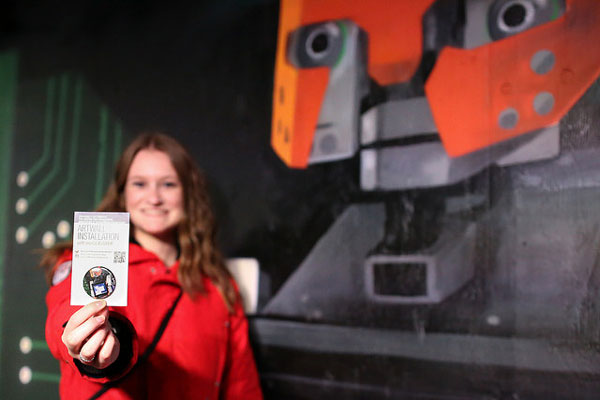 From sunset on Oct. 3 to sunrise on Oct. 4, Scotiabank Nuit Blanche revelers interacted with #CEIExSKAM, the street art installation created by a collaboration between U of T Engineering and street artist Jason Wing (a.k.a. SKAM).
The tenth anniversary of Toronto's free all-night contemporary art event provided the perfect opportunity to highlight the connections between the University of Toronto and the vibrant city of which it is part. The longest single graffiti installation in Toronto, #CEIExSKAM was one of five Scotiabank Nuit Blanche exhibits on St. George campus.
Lit by floodlights, the mural was interpreted for visitors by engineering student ambassadors, who handed out buttons and used the imagery as a starting point to share their own stories of what engineering means to them. A 'making of' video allowed spectators to hear from the artist himself about the process and motivations behind the artwork.
The conversation continued on social media, using the hashtags #CEIExSKAM, #uoftengineering and #snbTO. Here is a sampling of posts from the event: