Seven U of T Engineering researchers have been honoured with Connaught Innovation Awards, advancing research into a wide range of technologies, from implantable electrodes to relieve pain to a waste-reducing tool for the oilsands.
The Connaught Innovation Awards recognize and support innovations that have strong socio-economic or commercial potential. This year, a total of 12 researchers from across U of T will share almost $600,000 in funding.
"We extend our congratulations to all the winners of this year's Connaught Innovation Award," said Vivek Goel, U of T vice-president of research and innovation. "They represent a tremendous range of research and innovation work with considerable potential to have a great impact on society."
The recipients include:
Paul Yoo (IBBME, ECE)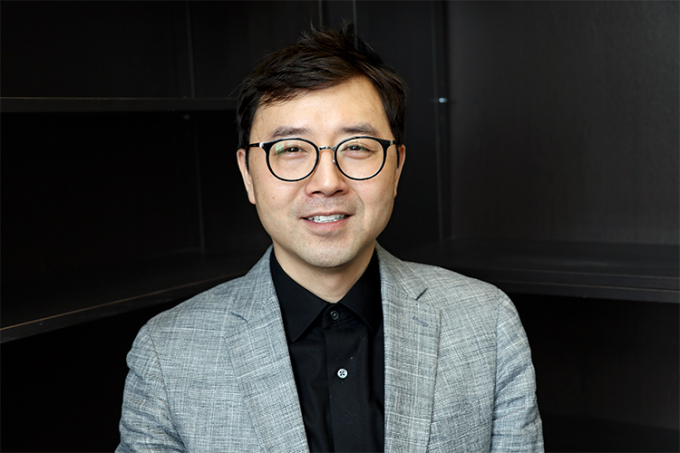 As the son of a doctor and an engineer, Paul Yoo (IBBME, ECE) was always drawn to figuring out how the body works and finding better ways to treat chronic conditions.
Yoo and his research team have studied the nervous system and built microscopic, implantable electrodes that stimulate nerves and could help relieve pain, treat pelvic dysfunction and encourage healing.
But there was a problem. "There are cases where if you want to take it out, the encapsulation tissue might make it difficult to cleanly take it all out" – such as when a patient needs to remove it before entering an MRI machine, or if the device fails, he explained.
So, in a collaboration with Polumiros, a startup spun out of the lab of Professor Paul Santerre (IBBME), Yoo is testing a novel polymer coating added to the implants that could prevent extraneous tissue growth.
"We've combined their technology with my expertise," Yoo said.
Yoo and his team also have a partnership with Novela Neurotechnologies, a startup that is developing a brain implant as a way to treat depression and epilepsy. They are looking to change how such implants are manufactured and how patients are treated.
"In my lab, we'll be testing the long-term performance of this new device," said Yoo, who has worked with the Santerre lab for about two years.
"With the Connaught Innovation Award, it's the opportunity to get this off the ground," he said.
Vladimiros Papangelakis (ChemE)
How do you make industrial effluent – the discharged liquid waste sitting in tailings ponds and other bodies of water – clean enough that it can be reused?
Vladimiros Papangelakis (ChemE) answered that question by treating water as a chemical.
"You have to do something to preserve, recover and reuse," said Papangelakis, who is also the director of the Institute for Water Innovation. "To the same extent, you do similar things for all other expensive chemicals in any chemical process.
"The design is always in a way that you don't waste your expensive chemicals."
His forward osmosis-freeze concentration (FO-FC) hybrid process integrates the use of a spontaneous osmotic membrane step with natural freezing and simple chemicals, such as common salt, to separate and recover water from contaminated industrial effluents.
The water will likely not be drinkable after the process, he said, but it will be quite acceptable to be reused for industrial projects, which means the chemical plan won't need to draw as much fresh water for its operations.
Forward osmosis is a process that has been refined and tested for about 10 years, using salt solutions like ammonium carbonate that decompose to gases and separate from the solution with modest heating.
Papangelakis and his research team were working with a new FO chemical invented by the Queen's University department of chemistry. At the same time, his team was building a freezer unit simulating the effect of freezing on a Canadian lake in the north in order to produce ice to clean dirty water – when a eureka moment struck.
"The eureka moment was when we tried to combine these two things," he explained. Instead of using a smelly, organic salt, "we found out that we could use any salt, if we combined the two processes and still be able to pull water through the membrane with minimum overall energy cost."
In the end, the ice becomes the cleaner water that is recycled for industrial use.
"My shift (in thinking) is to the medium itself, treating water as a chemical rather than as something that is abundant and there in infinite amounts."
Papangelakis said he believes FO-FC could have local applications in Canada taking advantage of the cold in winter, with the mining, food and oilsands industries. With the Connaught Innovation Award, his research team can begin to build an integrated prototype to demonstrate to industrial partners.
"When you compete with the entire university powerhouse – of  brains and ideas – the fact that your idea is being recognized as the winning ones is a satisfying thing."
Other U of T Engineering recipients are:
Mark Chignell (MIE) — Centivizers for managing behaviour in dementia using rewarded activities;
Roman Genov (ECE) — Clinical validation of an intelligent, implantable neurostimulator for treating drug-resistant epilepsy;
Andreas Mandelis (MIE) — Wavelength-modulated intravascular differential photoacoustic radar imaging (IV-DPARI) for minimally invasive human coronary lipid-rich plaque arterial wall (intima) imaging diagnosis;
Alison McGuigan (ChemE) — An in-vitro human muscle cell potency assay for cell product QC and muscle endogenous repair drug identification; and
Ding Yuan (ECE) — Non-intrusive software failure resolution.