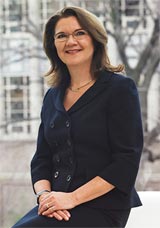 Professor Cristina Amon (MIE), Dean of the Faculty of Applied Science & Engineering, has been inducted into the Hispanic Engineer National Achievement Awards Corporation (HENAAC) Hall of Fame.
The annual honour recognizes a member who has achieved a level of excellence that opens doors to advances in science, technology, engineering and math, and opens minds about the contributions of Hispanics in these fields.
Great Minds in STEM established the Hall of Fame to recognize its most accomplished winners. Dean Amon has already been twice named one of America's most important Hispanics in technology.
Previous inductees include Louis Martin-Vega, Dean of Engineering at North Carolina State University, Adalio Sanchez, General Manager of IBM's System x server unit and John Tracy, chief technology officer of The Boeing Company and senior vice president of Engineering, Operations & Technology.
Dean Amon was inducted into the Hall of Fame at the HENAAC conference in New Orleans on Oct. 4, during a ceremony that also honoured other top engineers and scientists within the Hispanic community for various technical and professional achievements.
Since her appointment in 2006, Dean Amon has provided strategic and visionary leadership of one of the world's most distinguished Engineering schools.
A pioneer in the development of Computational Fluid Dynamics for formulating and solving thermal design problems subject to multidisciplinary competing constraints, Dean Amon continues her research at the University of Toronto in nanoscale thermal transport in semiconductors, energy systems and bioengineered devices.
She received her Mechanical Engineering diploma from Simón Bolívar University and continued her education at the Massachusetts Institute of Technology, where she earned her MS and ScD degrees.
"The University community is delighted to see Dean Cristina Amon honoured again. She has fostered research excellence, championed educational enhancements, and accelerated innovation at the Faculty of Applied Science and Engineering. And as this latest award indicates, she is also an inspiring role model," said David Naylor, President of the University of Toronto.
Dean Amon has been inducted into four academies, the Canadian Academy of Engineering, the Spanish Royal Academy, the Royal Society of Canada and the U.S. National Academy of Engineering.
She has also received numerous awards, including the ASME Gustus Larson Memorial Award, ASEE Westinghouse Medal and the ASME Heat Transfer Memorial Award. Most recently, she was recognized as one of Canada's most Influential Women in 2012 and was honoured with the Society of Women Engineers' (SWE) highest honour, the 2011 SWE Achievement Award, for her outstanding contributions to engineering over more than 20 years. She was also the recipient of the prestigiousYWCA Toronto Woman of Distinction award, which recognizes her achievement in improving the lives of girls and women in science and engineering.