In October, Ashley McIlvena (MechE 1T7 + PEY) boarded a plane for her first-ever trip to China. Along with her teammates — Milan Yang, Alice Wolfe and Jelica Bornath (all MechE 1T7 + PEY) — McIlvena met up with a team of engineering students from Beihang University in Beijing, with whom they had been collaborating for the last three months.
"Most of our team had never even been anywhere in Asia before so it was a very new experience for us," says McIlvena.
The trip was part of the Department of Mechanical and Industrial Engineering's international capstone course, in which teams of students from U of T Engineering and its partner universities — which this year include Beihang University, Shanghai Jiao Tong University and Tsinghua University — work collaboratively across continents and cultures on industry-sponsored engineering projects.
McIlvena and her collaborators are designing a pod for a Hyperloop, a concept introduced by Tesla CEO Elon Musk in 2013. Hyperloops are essentially high-speed trains operating in a tube from which air has been partially evacuated, enabling speeds of up to 1,200 kilometres per hour. At that pace, the train travel time from Toronto to Montreal would be reduced from the current average of approximately 5 hours down to 30 minutes.
Since September, the two teams have been collaborating online, using Skype and other tools to exchange ideas. But McIlvena says that nothing compares to a face-to-face meeting.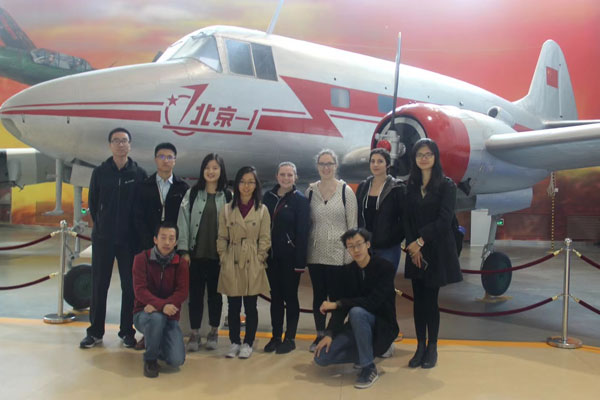 "It was extremely beneficial for us to collaborate in China," she says. "Our project is primarily focusing on the aerodynamics and structure of the pod which will be propelled inside the tube. It was very helpful to hear input from the Beihang University students, since their whole institution is focused on aerospace engineering."
In total, four U of T Engineering teams totaling 16 students went to China this year, supervised by Professor Kamran Behdinan (MIE). Though the trip lasted only four days, the students were still able to fit in some sightseeing.
"The highlight was probably seeing Summer Palace and its gardens from the Qing dynasty," says McIlvena. She is already looking forward to hosting the students from China at U of T when they meet again to present their final design in February. "Since they're coming in the winter they were really excited to try skiing. We may also take them to Niagara Falls and some cool spots around Toronto."
Behdinan says that the international capstone course provides valuable experiences for students on both ends of the partnership.
"We live in a global marketplace where companies around the world are competing for top talent," he says. "When our students get the chance to work in another country and experience another culture, and those students get a chance to come here, they develop a sense of global fluency that will serve them well, whatever path they choose after graduation."