Each year Toronto Fire Services responds to more than 100,000 emergencies throughout the city, according to a 2017 report. For firefighters arriving at the scene of an active fire, controlling who enters the building and when can mean the difference between life and death.
That's why teams of first-year U of T Engineering students worked closely with Toronto Fire Station 322, responsible for the densely populated downtown area, to develop a smarter solution.
"We spent a lot of time in the station to learn about their existing entry control process and their needs before we began developing our prototypes," said Haochen Zhang (Year 1 EngSci). "We heard a lot of concerns around the cost and reliability of their current technology."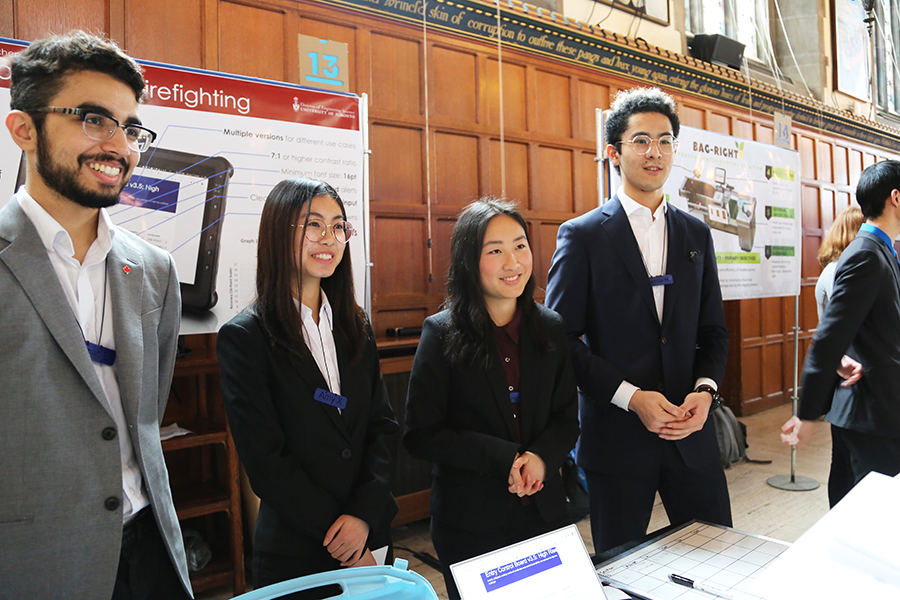 Zhang and her team developed a solution that focuses on minimizing human error in chaotic situations, by allowing fire captains to monitor the location of each member of his or her team simultaneously.
Their project was among the prototypes and renderings showcased on April 12 at the Praxis Showcase. This year, first-year engineering science students unveiled their design solutions to 15 of the Greater Toronto Area's most pressing and persistent problems.
The event is the culmination of Praxis, a unique first-year course that challenges students to collaborate with Toronto communities, agencies and companies to find innovative ways to improve their city.
"In the end I think it was a much more enriching process than just doing an in-class assignment," said Aman Bhargava (Year 1 EngSci), a member of the team addressing entry control for firefighters. "Working with real people on a pressing challenge of importance to them was a very rewarding experience for us."
In 2019, students took on a diverse mix of projects and clients, including:
Streamlining the assembly of harm-reduction kits
Improving firefighters' navigation during active fires
Prioritizing safety at the Toronto Tool Library's Makerspace
Developing phone charging stations in the Centre for Addiction and Mental Health's women's in-patient unit
Designing an aviation-concept game to improve flight cadets' knowledge retention
Developing a more accurate fermentation test to tell bakers when a batch of dough is ready
Preventing the intrusion of Dementia patients into other patients' rooms
Creating an easier way of packing reusable bags at cashier stations
Preventing false Personal Alert Safety System (PASS) alerts among Toronto firefighters
Collecting and organizing shuttlecocks at KC Badminton Club
Improving removal paint mechanisms at Sgt. Splatters
Reforming the motorboat transportation system at the Richmond Canoe Club
Improving the frying station in food trucks
Containers capable of transporting frozen and fresh across Canada
Improving sidewalk salting practices for business owners in areas of heavy foot traffic
"This course doesn't just challenge students to use their engineering design thinking and communication skills — it challenges them to think about what type of engineer they want to be and how they want to contribute to improving both their local and global communities," says course coordinator Professor Jason Foster (EngSci). "Every year, I'm impressed by both the projects our students find and the designs they present at the Praxis Showcase."