A more reliable way to remember birth control pills, a single tool that fixes most bike problems, and a satellite communications network that can help ensure tragedies like the missing Malaysian Airlines flight MH370 never happen again.
Students from across U of T Engineering pitched these and 10 other startup ideas at this year's Hatchery Demo Day last Thursday, vying for $42,500 in seed funding and the chance to see their ideas boosted toward commercialization.
"You have made us proud, you have delivered and you have raised the bar once again," said Joseph Orozco, executive director of The Entrepreneurship Hatchery at U of T Engineering. "Today is the culmination of a rigorous journey, but what you've started is just the beginning."
Prior to the Demo Day competition, students developed their ideas through the Hatchery's intensive summer program that involved building prototypes, assessing business viability and receiving valuable mentorship from professors and industry experts. Teams will continue to access the Hatchery's resources to build their ventures in the time ahead.
The seed funding at Demo Day was provided through three prizes donated and presented by alumnus Anthony Lacavera (CompE 9T7), chairman and CEO of the Globalive Group and Wind Mobile, as well as a fourth — the Orozco prize — which was provided through funds raised by the students themselves.
See the winning teams in action in this video from Hatchery Demo Day 2015
Here are this year's four winners:
---
Kepler Communications ($20,000 Lacavera Prize)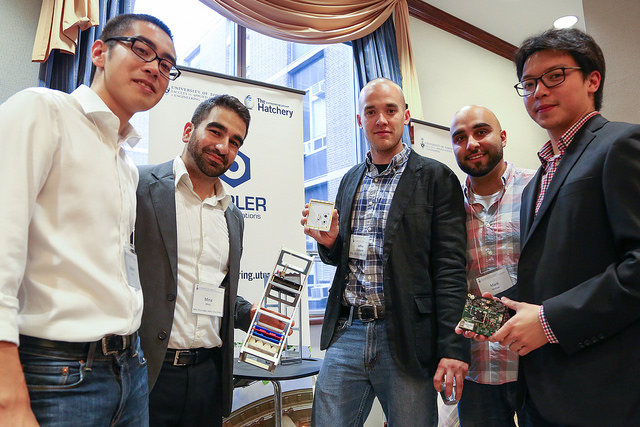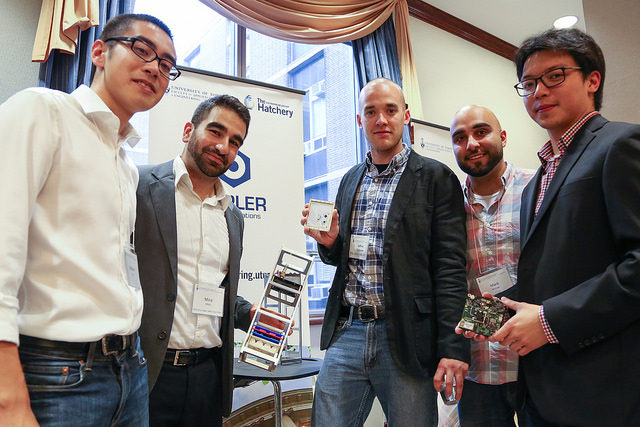 Kepler Communications aims to do nothing less than revolutionize communications infrastructure in space. Despite a rapidly increasing number of satellites — including small, standardized devices known as CubeSats — most can only relay their information to Earth when they are near a ground station. This leads to long periods of data blackout, which in turn limits the usefulness of satellites for many applications, such as real-time aircraft tracking.
Mina Mitry (EngSci 1T2, AeroE MASc 1T4) and Jeffrey Osborne (AeroE PhD Candidate) met on the University of Toronto Aeronautics Team (UTAT). "Jeff approached me with the problem that small satellites are facing this big communications bottleneck," said Mitry. "I thought it was an amazing idea." They brought on board Wen Cheng Chong (EngSci 1T3) and Mark Michael (ECE PhD Candidate) who were also part of UTAT. Together, the team began work on what they call a "cell phone tower network in space."
Their idea is that existing satellites will convey their data to Kepler's network of 50 low-cost, easily replaceable CubeSats specifically designed for data transmission. These in turn will pass data via a secure protocol to a network of five ground stations at various geographical locations. Mitry says that as few as 10 Kepler CubeSats and one ground station would be enough to provide a useful system. At the Demo Day event, they unveiled their first CubeSat prototype, and they hope to have their first launch by the end of 2016.
Winning top prize "feels fantastic" according to Mitry: "we believe that we have the best possible people we could, and it's reaffirming to get validation that we really are the right team to do this."
---
TeleHex ($10,000 Lacavera Prize)
Peter Wen (Year 3 MechE) has been a serious cyclist for many years, and honed his craft working on the University of Toronto Human Powered Vehicle Team. His company, TeleHex, aims to make bike repair easier, not just for pros like himself, but for newbies as well. "Biking should be a simple pleasure, but a lot of people don't fix their bikes," he said. "One of the barriers is that they don't want to mess around with the tools."
For example, on many bikes, the hexagonal-shaped socket that adjusts the handlebars might be a completely different size from that which controls the brake line. This forces riders to carry and fumble around with many different-sized keys.
Wen has designed a unique telescoping tool that automatically adjusts to fit the metric bolt sockets on most bikes. He partnered with U of T Rotman MBA student Rishi Persad to form the company.
The device is half the weight and volume of products currently on the market, and it generated major buzz when the team posted about it on the online forum Reddit. In addition to the Hatchery prize money, Wen and Persad are well on their way to raising a further $15,000 in a Kickstarter campaign.
"I'm very humbled that there are so many people enthusiastic about being early adopters of this technology," said Wen. "It's an engineer's dream come true."
---
 MedChart ($10,000 Lacavera Prize)
Today, most of our personal information — from university transcripts to credit ratings — is stored online. Yet more than 60 per cent of our medical information exists only in paper format, and is not easily shared between hospitals, doctors and specialists.
James Bateman (EngSci 1T3, ECE PhD candidate) experienced this limitation first hand while watching his family care for his grandmother after she broke her hip, as well as his father-in-law, who had been diagnosed with cancer. "My mother-in-law ended up carrying around this massive 300-page binder," he said. "There is no reason why in 2015 our medical records should not be as accessible and secure as our banking information."
Together with his business partner Derrick Chow (EngSci 1T3, AeroE MASc candidate) Bateman aims to simplify the process of obtaining and maintaining medical records. For a fee, their company, MedChart, will do all the legwork of obtaining records from any care provider and uploading them to its secure, online platform. Scans of the records can be accessed from anywhere with an Internet connection, and MedChart will conduct all the follow-up to make sure that they stay up to date. Users can easily interact with the records, for example, to correct errors. They can also print medical ID cards that connect to the database using QR codes.
The team plans to use their prize money to subsidize the cost of obtaining their first set of records. Their goal is to have upwards of 1,000 subscribers by the end of 2016. Bateman attributes MedChart's success to the mentors they had at the Hatchery. "Even when Derrick and I thought that we had something that was good, they'd tell us: 'No, you have to make it better,'" he said. "They kept pushing, and I think that's what brought us to the next level."
---
Pillsy ($2,500 Orozco Prize)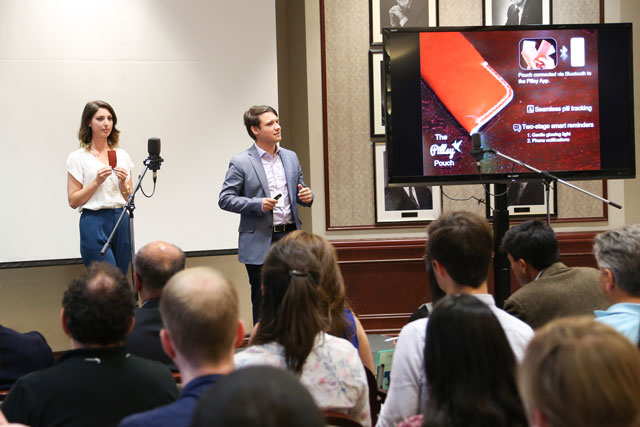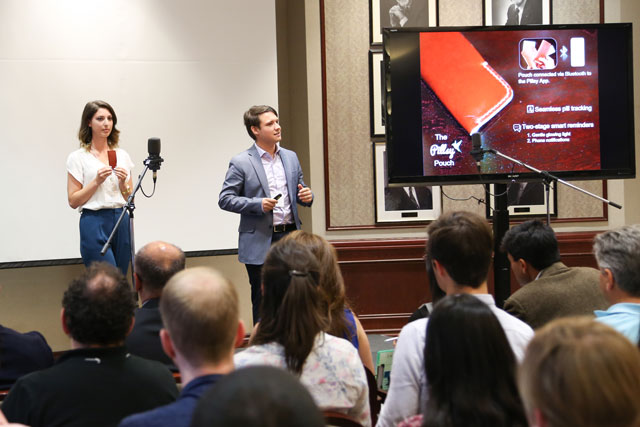 Late last year, Valentin Peretroukhin (EngSci 1T3, AeroE PhD Candidate), Eric Ma (EngSci 1T3, BioMedE MASc Candidate) and Tony Zhang (EngSci 1T3, AeroE MASc Candidate) all came together around a major health-care problem: people who forget to take their pills when they are supposed to.
This is an issue with many medications, but particularly with birth control pills, which are used by 80 per cent of women in Canada at some point in their lifetime. The team soon expanded to include Simon Bromberg (EngSci 1T3, BioMedE MASc candidate), Sandra Fiset (MHSc Candidate) and MPH Epidemiology Candidate Courtney Smith.
While there are dozens of apps designed to help women remember to take their pill on time, they all suffer from the same drawback. "They're all passive and therefore ineffective," said Fiset. In other words, they rely on people to enter information manually, a task that can be forgotten almost as easily as the pill itself.
The team's solution was simple: Ma, a hobbyist leatherworker, designed a small pouch to hold the pills. This pouch was then modified with off-the-shelf Bluetooth sensors that connect to a user's mobile phone. Unlike other apps, Pillsy can use the sensors to tell if a user did indeed take her pill, and can provide her with gentle reminders until she does. It also provides helpful information on what to do if a pill is missed.
The team hopes to create an initial run of 150 pouches by the end of this year. They will be used in a research trial designed by Smith to confirm that the product really does improve compliance. Feedback from the trial will also be used to further improve the product. "We wanted to find a niche where we could sink our teeth into the problem," said Peretroukhin. "This is a user group that we feel could really use the technology." If successful, the long-term plan is to expand the product into other types of medications.
---
For more information on The Entrepreneurship Hatchery and the other teams who competed, please visit the Hatchery website.