Four projects led by U of T Engineering faculty — in fields from from tissue engineering to computing with light — have earned support from the Canada Research Chairs (CRC) program.
The new and renewed chairholders join 24 of their colleagues across the University of Toronto for a total of 28 CRCs, the highest number of any Canadian institution. In total, 142 new or renewed CRCs were announced in the latest round.
"From human health to digital communication, our researchers are developing innovative solutions to the world's most pressing challenges," said Ramin Farnood, Vice-Dean, Research (Acting) at U of T Engineering. "The Canada Research Chairs are an important recognition of their leadership, as well as the global impact of their work. On behalf of the Faculty, I warmly congratulate all the recipients."
"The University of Toronto is proud of the tremendous globally important research our 15 new and 13 renewed Canada Research Chairs are involved in," said Vivek Goel, U of T's vice-president of research and innovation. "We also appreciate the ongoing support of the Government of Canada in funding this research, which enables U of T to attract and retain some of the top scholars in the world."
Launched in 2000, the Canada Research Chair program aims to help the country attract and retain research leaders in engineering and natural sciences, health sciences, humanities and social sciences. Tier 1 Chairs last for seven years, and recognize outstanding researchers acknowledged by their peers as world leaders in their fields. Tier 2 Chairs are for exceptional emerging researchers and last for five years.
The U of T Engineering recipients are:
Constantin Christopoulos (CivE) — Canada Research Chair in Seismic Resilience of Infrastructure (Tier 2, Renewal)
Preventing earthquake damage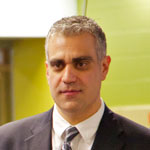 Christopoulos and his team develop strategies for making the built infrastructure more resilient in the face of severe wind or catastrophic earthquakes. He has pioneered the development of new self-centering and energy absorbing systems that aim to eliminate damage to structures even when they are subjected to extreme hazards. His work has led to the creation of two U of T spinoff companies, Cast Connex and Kinetica. Christopoulos is also partnering with researchers at the Indian Institute of Technology Bombay to design a simple, low-cost seismic isolation platform that could be adopted on a massive scale to enhance the resilience of Indian and Canadian cities.
Rodrigo Fernandez-Gonzalez (IBBME) — Canada Research Chair in Quantitative Cell Biology and Morphogenesis (Tier 2, New)
Helping heal wounds with insight from fruit flies
When our bodies are injured, groups of cells must communicate and coordinate their actions, working together to form new tissue and close the wound. In developing embryos, wounds repair rapidly, with no inflammation or scarring. By studying wound repair in fruit fly embryos, Fernandez-Gonzalez and his team aim to understand the chemical and physical mechanisms that underlie cell communication during scarless tissue repair. Their insights could lead to new drugs or therapies that help wounds heal faster, reducing the time needed to recover from surgery or injury, and offering relief to patients such as diabetics, who often suffer from chronic wounds.
Joyce Poon (ECE) — Canada Research Chair in Integrated Photonic Devices (Tier 2, Renewal)
Lighting up the cloud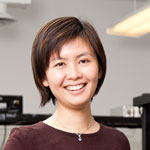 Starting in the 1980s, fibre optics — which use lasers to transmit data at the speed of light over optical fibres — greatly enhance long-distance communications. However, most local networks, including the giant server farms that power cloud computing, still rely on copper wire, which is slower and generates significant amounts of heat. Poon and her team are addressing this challenge by creating smaller, less expensive devices and circuits for short optical communication links. These photonic integrated devices could reduce the energy needed to cool server farms while enhancing their speed, making cloud computing an even more convenient option.
Milica Radisic (IBBME, ChemE) — Canada Research Chair in Functional Cardiovascular Tissue Engineering (Tier 2, Renewal)
Mending broken hearts
Radisic and her team create sophisticated systems for growing human cells outside the body. Their lab-grown constructs include heart tissues that beat realistically and liver tissue that can metabolize certain drugs. Through the spinoff company TARA Biosystems, Radisic's creations are already being used to test new drugs for potentially dangerous side effects. In the future, they could be implanted back into the body to repair organs damaged by disease or injury.