U of T Engineering recognized three key industry partners at its annual Industry Partners' Reception on Wednesday, Nov. 14.
More than 180 industry leaders, government partners and faculty members gathered at the Myhal Centre for Engineering Innovation & Entrepreneurship to acknowledge this year's achievements in academic-industry collaborations.
"Tonight is our opportunity to say thank you to our partners for their continuous support, guidance and enthusiasm for collaborative research at U of T Engineering," says Professor Ramin Farnood (ChemE), Vice-Dean, Research. "We're looking forward to an exciting year ahead."
The annual event celebrates the faculty's ties with over 400 industry partners across multidisciplinary innovation clusters, including advanced manufacturing, data analytics and AI, human health, robotics, sustainability and water.
"This event is a testament to the strength of our ongoing relationships with industry, the number of new partnerships launched this year and the momentum we continue to maintain," says Allison Brown, Director of Corporate and Foundation Partnerships at U of T Engineering.
The three awardees for 2018 are: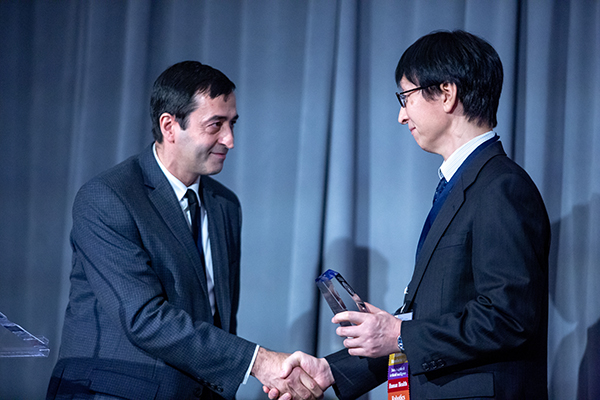 Corporate Research Partner Award – Fujitsu Laboratories Limited
The relationship between U of T Engineering and Fujitsu Labs started with a six-week internship by Ali Sheikholeslami at the company's headquarters in 1998.
Twenty years later, Sheikholeslami is now a professor in The Edward S. Rogers Sr. Department of Electrical & Computer Engineering, and together with his long-time collaborator Fujitsu Labs Fellow Dr. Hirotaka Tamura, has worked on projects including developing ferroelectric devices, high-speed interconnect technology and creating the world's first Digital Annealer.
In March, U of T Engineering officially launched the Fujitsu Co-Creation Research Laboratory at U of T, which is located in the Myhal Centre, to accelerate collaborative work in fields including machine learning, quantum-inspired computing, smart cities, advanced health care and financial technology.
"Fujitsu Labs is working with over 10 faculty members across three departments. We have professors from electrical and computer engineering, chemical engineering and mechanical and industrial engineering so it's a true interdisciplinary research, and for this research, we needed a home where we could come together, hence the Co-Creation Research Laboratory," says Sheikholeslami.
The lab is also an idea incubator that leverages the creativity of students and faculty.
"One thing I've found to be extremely impressive is the diversity of students in U of T Engineering, and the differences in their way of thinking. U of T has students from many different countries and cultures and this impacts how they think and how they describe things," says Tamura. "Sometimes I give the students a problem, expecting them to resolve it in the way I would but they come up with a totally different solution and that's very interesting."
To date, the partnership has resulted in over 50 scientific papers and journals and led to 10 patents.
"The research with University of Toronto is very important because if a company just focuses on the business, it tends to only look at the surface level and that's not sustainable. We need a solid foundation to keep things going and academia is a place to build this foundation of knowledge," says Tamura.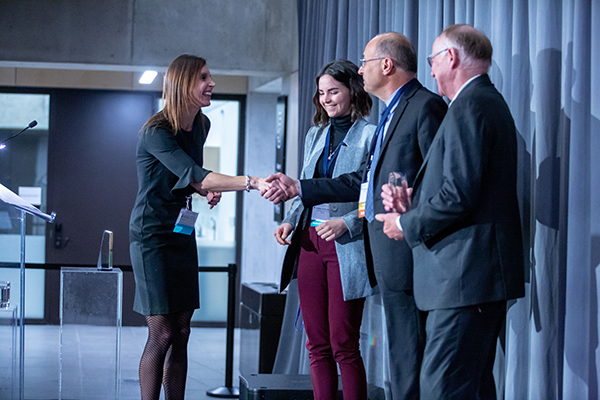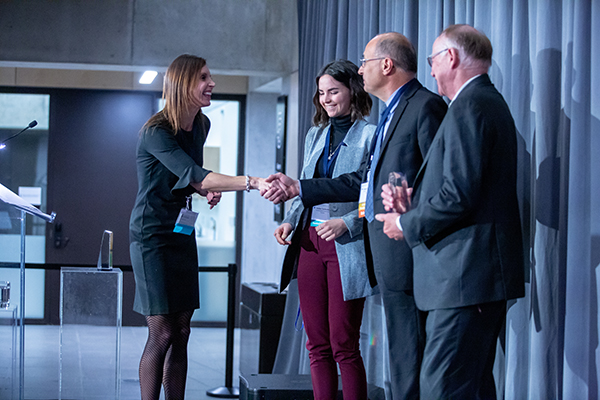 Corporate Academic Citizen Award – EllisDon
Many large-scale infrastructure projects come with an equally large carbon footprint — but Mississauga-based construction company EllisDon is collaborating with U of T Engineering to mitigate greenhouse gas emissions and reduce the carbon impact.
The project focuses on developing a decision-support tool that can be used throughout the stages of design and planning to realize efficiencies that lower climate-warning emissions.
"EllisDon believes in providing the solutions for an ever-changing future and industry," says EllisDon Sustainability Coordinator Kaitlyn Tyschenko. "Through this tool we will be able to not only receive mass amounts of region and EllisDon-specific data to better understand our carbon emissions, but also help our clients make the most applicable carbon-based decisions for their projects."
EllisDon is also closely involved in academic-industry mentorship with U of T Engineering students.
"Student mentorship and teaching is an important part of [this] partnership we are committed to," says EllisDon Senior Vice President Chris Andrews.
"This allows us to reach outside of our industry to connect students and leaders in academic research. It is fascinating and important to see what we can do by working together on some of the broader challenges we are seeing and to begin to find answers. Our relationship with U of T Engineering has been very important and we look forward to continuing this work with the university."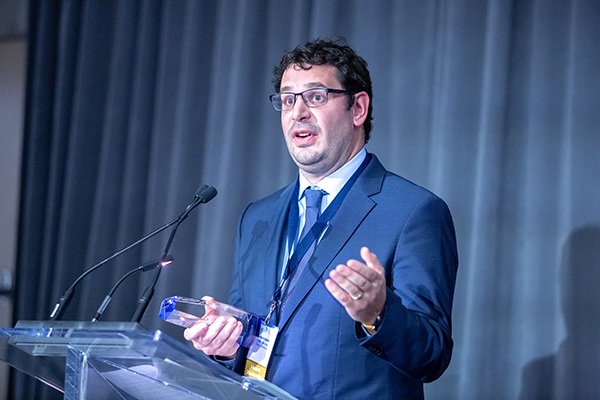 Small to Medium Enterprise Partner Award – Tenova Goodfellow Inc.
With spiking demand for electronics and other devices that rely on steel production and rare earth elements, the race to develop sustainable means of producing these materials is heating up.
Tenova Goodfellow has partnered with Professor Gisele Azimi (ChemE, MSE) to develop more energetically efficient techniques for the steelmaking industry.
"The objectives of the collaborative project are multiple," says Manager of Research and Design, Metals Division Vittorio Scipolo. "We want to investigate high-temperature materials to improve the design of Tenova furnaces and sensors for an improved steelmaking control, find innovative ways to valorise steelmaking waste material, and verify the advantages and limitations of molten metal electrolysis for the steel industry."
Scipolo describes the partnership as "very positive," yielding promising results across all objectives.
"We've gained fundamental knowledge on high temperature materials and on the actual composition of steelmaking waste," he says. "In particular the waste valorisation portion of the project has already provided few good insights on how to better transform the waste material into a valuable resource."
"[But] the most rewarding part of the collaboration has been to be able to create a very collaborative and friendly environment. Results and next steps are always discussed together driven by passion and a desire to do better."