This summer, dozens of ECE students will consolidate their engineering skills by building solar-powered flashlights, designing motorized robots or creating computer programs that can generate sudoku puzzles.
The projects are part of the ECE Summer Workshops, which bring together dozens of engineering students between their first and second years of study to build something over the course of several days — just for the fun of learning.
For organizer Professor Hamid Timorabadi (ECE), it's how quickly and eagerly the students acquire new skills that makes it all worth it.
"When they're studying an isolated module during the school year, a diode, say, or electromagnetics in a circuit theory course, it's easy to miss the bigger picture," he says. "Software shines when it's with hardware and vice versa."
From June 12–21, Timorabadi held the second of the three 2023 workshops, called MicRobotics, in the Energy Systems lab. After a brief review of concepts and equipment from the first-year curriculum, the 30 participating students were introduced to computer-aided design (CAD) software so that teams could design their own robot.
The designed models were 3D-printed at the Myhal Fabrication Facility, after which the students undertook a full system assembly.
"They learn how the processor works, how the programming runs from the microprocessor to get the LED lights and light sensors to work, how to read an infrared switch, how to bridge a circuit, how to get the motors running forward and reverse, slow and fast," says Timorabadi.
There's a friendly competition at the end of the ten days, to see which team's robot can follow a circuitous track in the shortest time. Top prize is a mini bluetooth speaker, and all teams get to take their robot home to experiment further.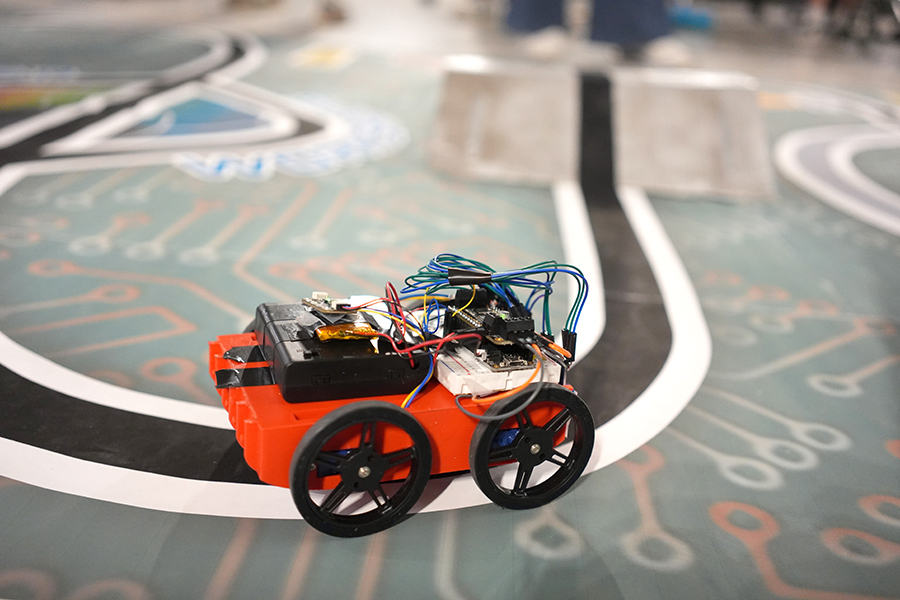 The workshops' emphasis on hardware integration is no accident. While Timorabadi does teach workshops on software — a weekend workshop later in the summer will introduce students to the programming language C++ — he finds that the students' gap in hardware skills is more urgent.
"I'm always talking to our second-year ECE students, or soliciting feedback through workshop surveys, asking what concepts from their first year either went by too fast, or were extra challenging," he says, "and many have this idea that they're not good at hardware, that they don't get it."
Part of that, says Timorabadi, is the built-in advantage that software has — it's just easier to learn on one's own.
"To really learn hardware, you need to work with physical components. I don't have access to that," says Christina Pizzonia (Year 1 ElecE). "The opportunity to do it here is something I wouldn't normally get outside the classroom."
Pizzonia, who is on a MicRobotics workshop team with Racqueish Robinson (Year 1 CompE) and Sofiia Savchyn (Year 1 ElecE), credits the workshop with opening her eyes.
"I was dead set on being a software developer," she says. "I came here and was like, 'Oh, hardware is actually really fun.'"
"I really love working with CAD software," says Robinson. "Learning that here, in an environment where you can ask lots of questions, that experience for me is the best."
Timorabadi's pedagogical approach frees the students to throw themselves into their project. He fosters a sense of unity within the group early in the workshop so they come to know one another, and he maps out exactly how they're going to achieve their goals.
There are no evaluations, and Timorabadi and his TA team of second-year ECE undergraduates pay the students a lot of attention.
"We always check in on them, talk to them, and if they're stuck on something, we show them the solution," Timorabadi says. "We're not here to test whether they can figure it out by themselves. Don't worry, I tell them. Break it. Make mistakes. You're here to learn."
Crucially, Timorabadi doesn't move forward with the lesson until every student is on the same level.
"It's a bit different from a class setting. You don't have the fear of doing something wrong," says Savchyn, noting that Timorabadi's sense of humour contributes to the relaxed atmosphere.
Professor and ECE Chair Deepa Kundur, who attended the final robot race, says that undergraduate ECE students have been high achievers for a long time, and it can be difficult for them to see failure as a learning experience.
"Every engineer knows that not everything is going to go as planned," she says. "Workshops like these teach our students to assert themselves, to work together and to build up that often overlooked skill — resourcefulness.
"And when those robots crossed the finish line, it was so delightful to hear everyone give a big cheer."