Yellow hard hats and purple paint — two colourful symbols that signal the longstanding traditions of U of T Engineering F!rosh Week. Although the class of 2T4 won't be together in-person this fall, the organizing team is on a mission to make sure first years won't miss a beat.
"It's been incredibly tough, but easily the most rewarding thing I've done," says Gabe Sher (Year 4 ElecE), Orientation Chair. "It's an opportunity for us to really focus in on the core of F!rosh Week: helping students make friends and get excited for their undergrad journey. Moving to virtual forced us to rethink F!rosh Week at the micro and macro levels and build it back up from scratch with those goals in mind."
Happening September 7 to 13, the Orientation team plans to welcome more than 800 incoming U of T Engineering students, logging into all-virtual events.
"A big challenge throughout the summer has been making sure that everyone can access F!rosh Week, regardless of where they are in the world," says Sher. "Having accessibility be a central tenet of our planning has been a good way to centre ourselves in making this all happen."
"Our team completely rebuilt the Orientation Week website with a robust infrastructure that can handle redirecting Zoom calls, video hosting, everything that's happening, our site will be the hub for that week," says Dana Kokoska (Year 4 ElecE), Orientation Vice Chair, Marketing.
Sher adds that a benefit of hosting F!rosh Week virtually this year is that students can participate at their own pace. "You're in the comfort of your own home or residence, and you can engage exactly as much as you want to," he says. "Of course, we want that to be more than less, but if you need a break, it's easy to just close your webcam and go grab a snack."
Events include virtual drop-in hours to meet student Leedurs [sic] and new classmates; matriculation and tours of the campus; a space-themed design challenge, an online scavenger hunt; and even the instantly recognizable purple paint.
Purple face paint, along with a yellow Skule™ hard hat, t-shirt, backpack, stickers and other F!rosh Kit items were mailed to students across the globe, from Vancouver, B.C. , to Yangon, Myanmar, to Lagos, Nigeria.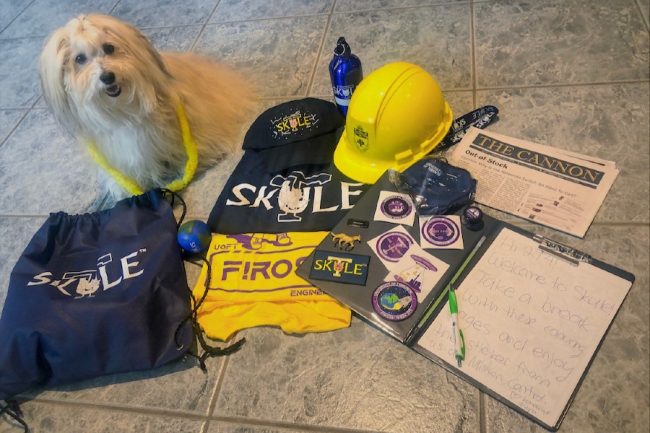 The team have blocked a time — dubbed the Dye Station — for students to all get together on Zoom and paint their faces with natural dye included in the Orientation kits. "It'll be different than previous years, but it'll still be fun. It's amazing we found a solution to keep this tradition going," adds Kokoska.
For students like Caitlin Chee-Kirkpatrick (Year 1 EngSci) who live in the Toronto and GTA, some kits were personally delivered by team members wearing masks and practicing physical distancing.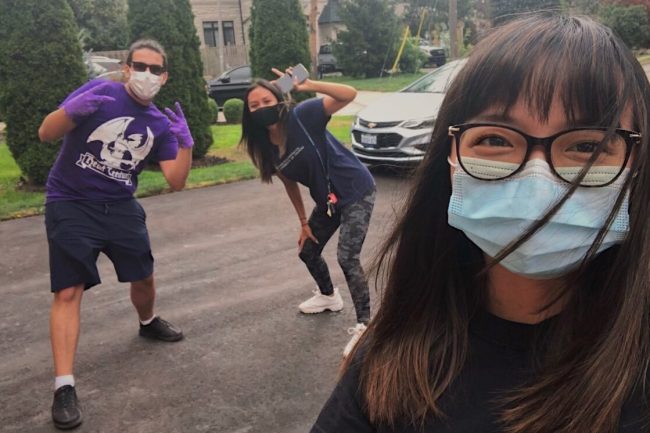 "My Leedurs [sic] were so kind, and chatted with me about academics and social life at U of T. I really appreciated the warm welcome extended to me," says Chee-Kirkpatrick. "Even though this is a highly unusual year, everyone at U of T Engineering has really gone out of their way to welcome us to the engineering community — receiving this package in person is like the icing on the cake."
With F!rosh Week just days away, Sher and the team are putting the finishing touches on their site and event plans. His advice to students participating: "Everyone else is feeling the same excitement and nervousness for school as you are, so take time to see what you've got in common with the people you meet in F!rosh Week. You'll be surprised just how many great people you meet."