For Emerson Grabke (Year 4 EngSci) the most memorable moment of last summer came early one morning as he stood on the lip of Mount Fuji, watching the sunrise.
"The hike up the mountain was really thrilling," he said. "You can't see anything, because you're level with the clouds, and the wind wants to blow you over if you stand too high."
Grabke's moment of zen came in the middle of a fourth-month research placement in the lab of professor Fumio Miyazaki at Osaka University. Working alongside graduate students from around the world, he helped to design new ways of stimulating muscles that can enhance physiotherapy for people recovering from injury.
On March 20, along with classmates Netra Unni (Year 2 EngSci), Momin Daanish (Year 3 EngSci) and Rahul Chandan (Year 4 EngSci), Grabke shared his story for a group of undergraduate students who are considering international exchange programs.
"At U of T, we get so many opportunities to go abroad that we wouldn't otherwise," said Daanish, who travelled to Singapore to study alternative energy generation under the Engineering Science International Research program.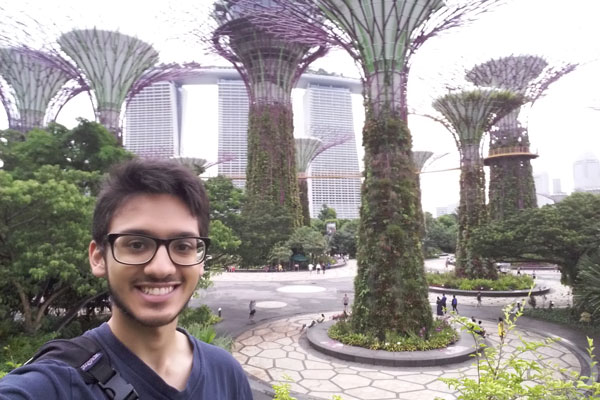 Daanish listed other examples, including exchanges organized by the Centre for International Experience and PEY internships, many of which take place outside of Canada. "On my own, it would have been very hard to take four months and go abroad, but here there are programs that will support you every step of the way," said Daanish.
Unni forged her own path, creating a summer research placement by cold-calling professors at the National University of Singapore. She spoke about the personal development she gained studying cancer cells under Professor Yi-Chin Toh.
"They didn't treat me like a first-year student. I really did feel like I was part of the lab," she said. "This is really what transformed me and made me decide that my career would be in biomedical engineering research."
Professor Yu-Ling Cheng, Director of the Centre for Global Engineering, spoke about the impact that her many international trips have had on her research and teaching.
"When you travel, you talk to a lot of people," she said. "Maybe they are people with problems you are trying to address, or maybe they are also trying to address those problems, but from a very different perspective. If you don't keep your mind open and listen to other approaches, you're not going to get as far."
Professor Joseph Wong, Associate Vice-President and Vice-Provost, International Student Experience, echoed these thoughts as he made the case for including international exchanges part of what can be a packed undergraduate schedule.
"We know, as engineering students, there are a lot of constraints, but this is your time to do something that puts you outside of your comfort zone, and it's an opportunity you won't have again," he said. "We want to make it easier for you to take advantage of experiences that will transform the rest of your life."